Helping Saint Paul Residents Find IMMEDIATE Dental Services Everyday.
Get relief from chipped, cracked or lost tooth
Abscess, toothache, mouth pain
Emergency dental surgery
24 hour services - Includes weekends, nights and holidays
Find a Dentist 24/7
Near You IMMEDIATELY
Click or Call Toll-Free
1 (703) 810-3500
Emergency Dentist St. Paul, MN
---
We Specialize in St Paul Emergency Dentistry: Call 24/7: 1 (703) 810-3500
Monday – Friday, See A St. Paul Dentist The Same or Next Day/Night You Call!.
Saturday And Sunday, "See A St. Paul Emergency Dentist In Hours."
Your search for an emergency dentist in St. Paul ends here, all you need to do is take 2 minutes to call our emergency dental referral phone service and operators will help you find the best after hours dental clinic near you. It's simple, easy and takes no time at all. We've also put together a listing of emergency dentists near you that you can browse and attempt to contact directly.
There are emergency dentists in St. Paul, MN available to see you when you are staring down an emergency dental complication.  Dental injuries or complications can happen at any time. It can be an unexpected recreational accident that results in jarring a tooth loose from our mouth.  It can be a massive toothache due to an infected area of the gums.  There are a variety of things that can happen and when they occur on a weekend or in the late hours of the night, it is not necessarily practical to rush down to the hospital emergency room due to the extreme cost of seeking care there. Instead it's best to find an emergency dentist.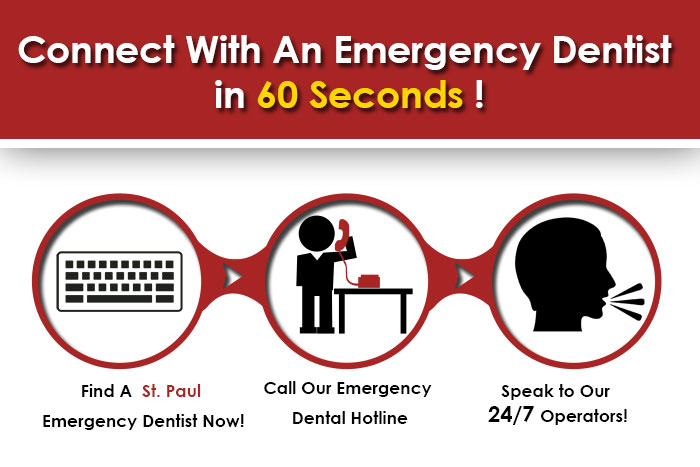 Call 24/7: 1 (703) 810-3500
What you ideally need is a 24 hour emergency dentist, that way you can be served anytime day or night.   It would also serve you well if you could identify an urgent dental care clinic open on a Saturday or Sunday.  We have done research on your city and the surrounding area to locate those practices that offer help during the night and are willing to help you with your dentistry needs.
St. Paul Emergency Dentist Listings
Over the years, a cottage industry has grown to service people's dental needs on a 24/7 basis, sometimes 365 days a year.  Some of the clinics that could be of help to you offer an emergency hot line and are willing to accommodate your scheduling needs if the situation is pressing or dangerous.  We look for practices that offer after hour appointments along with weekend hours and walk in patients.  There is no need for you to have to wait any longer to get the help of an emergency dentist for your pain.
---
Emergency Dentists USA Referral Service St. Paul
Phone Number: 1 (877) 507-0879
Address: Referral Service to a number of Dental Offices in St. Paul
DescriptionThis city situated right next to Minneapolis is a well-traveled through suburb, and can become suddenly unfamiliar and strange when you encounter a dental emergency. Make the decision to pick up the phone and contact us immediately, and let us give you a quick connection to an after hours professional that cares about your dental health and well being.
---
Now Care Dental
Number: 866-748-4180
Office: 1380 Duckwood Drive • Suite 108,Eagan, MN 55123
Doctors: Dr. Nicholas S. Geller
Website: http://www.nowcaredental.com/
Description: It is rare to find a dental facility willing to take patients 365 days a year 24/7 but that is the situation here with this Dentist open on Saturday and Sunday. Dr. Nicholas Geller, DDS, has been providing dentistry services to patients since 2005. His clinic offers emergency dentist services and general dentistry to families in St. Paul, Minneapolis, and Egan, MN. Dealing with toothaches, sports injuries to the jaw or mouth, broken or loose teeth, crowns that go missing, issues with painful or incorrectly seated fillings, this dental facility should be among those you consider. It is a a real plus to have an after hours dentist in this area and many of his patients come from all over the area given the availability of dental appointments by phone or walk in basis.
Hours of Operation:
Monday-Sunday: 10:00am-8:00pm
---
Shamblott Family Dentistry
Number: 952-935-5599
Office: 33 10th Avenue South, Suite 250 Hopkins, MN 55343
Doctors: Dr. Scott Shamblott
Website: http://www.shamblottfamilydentistry.com/
Description: Handling your walk in dentist in St. Paul, MN health care needs, this facility is located in nearby Hopkins and is primed to address your same day business dentistry needs. They take your pain seriously and pride themselves on their no fear dentist attitude in handling all types of emergencies. They also serve the Minnetonka, Eden Prairie, and St. Louis Park areas. Given that one of four people end up suffering an oral injury they understand teeth can be knocked out, extruded, or even fractured any time day or night, and people will need an emergency dentist and the Shamblott family is here to serve you.
Hours of Operation:
Monday-Thursday: 7:00am-7:00pm
Friday 7:00am-4:30pm
Saturday: 8:00am-4:00pm
---
Emergency Dental Care
Number: 651-778-9911
Office: 1700 W Highway 36 • Suite 860 • Rosedale Tower
Doctors: Dr. Nana Yeboah
Website: https://www.emergencydental.com/minneapolis/
Description: Open 7 days a week, this clinic scores very high marks with local residents because it is also open until 9pm. What residents who were asked how an emergency dental clinic could really make them happy answered is "by being punctual, non-judgemental, and having competitive pricing". This clinic offers all three of these great aspects, and always strives to deliver a standout experience. You can call now for an immediate appointment, and look forward to getting service from a staff that goes above and beyond daily, and to not having your teeth aching the next day.
Hours of Operation:
Monday-Sunday: 9:00am-9:00pm
---
Community Dental Care East St Paul Office
Number: 651-774-2959
Office: 828 Hawthorne Ave E, St Paul, MN 55106, USA
Doctors: Dr Amanda Elbert
Website: http://www.cdentc.org/our-east-st-paul-office.html
Description: Now accepting medical assistance patients and having a schedule that renders then open on Saturday, this after hours dental clinic provides stellar linguistics translation services for those who need Hmong, Thai, Laotian, Vietnamese, Karen, French, Spanish, and even Hindi. Chief Officer Vacharee Peterson, Financial officer Phil Lacher, General Manager Carolyn Bass, and dentist Amanda Elbert all do their best job daily to assure that everyone who walks in the door here leaves feeling well-informed, positive about their dental future, and most of all, pain-free.
Hours of Operation:
Mon-Thurs: 8:15am-7:00pm
Fri-Sat: 8:15am-1:00pm
---
Hagerman Steven R DDS
Number: 651-646-2392
Office: 1605 W Minnehaha Ave, St Paul, MN 55104
Doctors: Dr. Steven Hagerman
Website: http://www.hagermandentalcare.com/
Description: This St Paul dentist is a great choice for an emergency dentist in St. Paul MN, and are open predominantly for during-the-week hours. Located just off of Minnehaha Ave in St. Paul, Dr. Hagerman and his able staff are here to help you with the need from anything you may encounter such as the need for an extraction, root canal, or non-emergency dentistry. This is one of the biggest Suburbs in the US, and having a contact such as theirs in your address book with give you peace of mind if you face any emergency dentist situation that is unexpected.
Hours of Operation:
Mon-Thurs: 8:00am-6:00pm
Tue-Wed: 7:00am-5:00pm
Fri: 7:00am-1:00pm
---
HealthPartners St. Paul Dental Clinic
Number: 651-293-8300
Office: 205 Wabasha St S, St Paul, MN 55107
Doctors: Dr. Gerald A. Brost
Website: https://www.healthpartners.com/public/find-care/location-detail.html?networkId=hp&locationId=1229
Description: This Saturday Dentist in St Paul MN is open Saturdays for your convenience, and has a long-standing reputation as being known for excellence. Handling childrens' dental issues, going out of their way for every senior citizen that walks in the front door, and being knowledgable about all of the latest technology are all more reasons to stop in and visit St. Paul Dental Clinic today.
Hours of Operation:
Monday: 9:00am-7:00pm
Tuesday-Wednesday-Thursday-: 7:30am-5:30pm
Friday: 7:30am-5:00pm
Saturday: 7:30am-Noon
---
As a final thought we'd like to express our gratitude that you have chosen to use Emergency Dentists USA to find an emergency dentist in St Paul, MN. Typically we recommend to our visitors that they use a local dental society website to investigate the background history of any dentist they're visiting for the first time. This is just a common sense idea to protect yourself against bad practices. Please visit this site: https://www.mndental.org/about/districts/saint-paul/ and take a look at any dentist you're considering working with on your teeth!