Helping Temecula Residents Find IMMEDIATE Dental Services Everyday.
Get relief from chipped, cracked or lost tooth
Abscess, toothache, mouth pain
Emergency dental surgery
24 hour services - Includes weekends, nights and holidays

Emergency Dentist in Temecula, CA – Find A 24-Hour Dentist Now
Table of Contents
Emergency Dentists USA is your premier source for finding that great Temecula emergency dentist when your dental emergency strikes unexpectedly. A variety of convenient office hours and locations makes the dental listings on Emergency Dentists USA perfect for anyone who has a dental emergency while visiting this beautiful city. From 24-hour on-call dentists who offer immediate care for that painful toothache to dental clinics that are open after hours to cater to anyone with a dental problem that crops up overnight, Temecula emergency dentists are always available. Select the perfect Temecula dental clinic for your dental needs, make an appointment and get back on the road to recovery quickly.
Emergency Dentists USA also provides a 24-hour emergency dental hotline that connects you to a live person who can answer your questions about Temecula emergency dentists, provide you with a convenient dental office location and even setup an appointment for your dental emergency.
Finding A 24 Hour Emergency Dentist in Temecula, California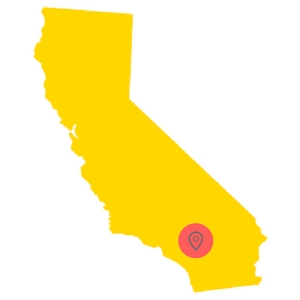 There are a variety of great emergency dental clinics in the Temecula area. These clinics include offices that provide dental services on an emergency basis, even late at night or early in the morning. You can also find after hours dentists who offer emergency services outside of the normal 9 a.m. to 5 p.m. office hours. Walk-in dental patients are not accepted at most clinics, but reaching an emergency dentist is as easy as making a phone call.
Walk-in dental clinics – Dental clinics that allow patients to come in without an appointment are not available in Temecula, but there are several excellent hospitals with emergency departments that do not require an appointment.
Emergency 24-Hour Dental Clinics – Clinics that specialize in being open 24-hours a day are a bonus for patients with an emergency that occurs late at night. Ku Family Dentistry offers access to a dentist 24-hours a day via their dedicated dental hotline.
After Hours Dentists – Regular dental clinics that are open after hours are a wonderful asset for the Temecula area. Temecula Dental provides office hours until 6 p.m. on most weekdays and is open on Saturday for your convenience.
Emergency Dentist Listings in Temecula, California
Emergency Dentists USA offers an excellent service to suit your dental needs. Our Temecula emergency dentists are listed below, and they provide the dental care that you require with office hours that suit your schedule. Simply scroll through our comprehensive listing of Temecula emergency dentists and choose the dentist with a location or office hours that are perfect for you. Access our 24-hour dental emergency hotline to speak with a live person who can help you to choose a great Temecula emergency dentist.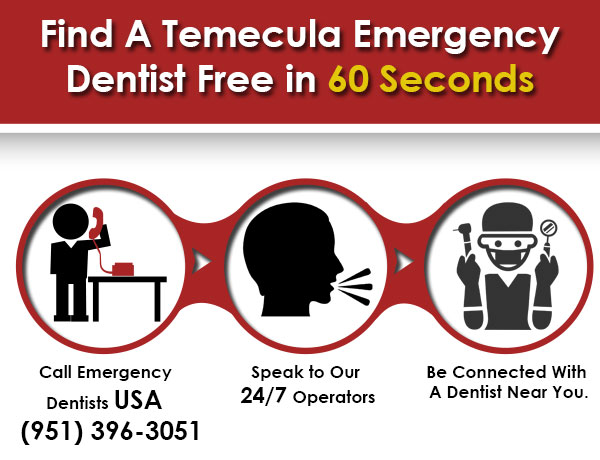 ---
Temecula Emergency Dentists USA Referral Service
Phone Number: 1 (855) 401-2701
Address: Referral Service to Various Dental Offices across Temecula
Doctors Multiple
Description Call us today to find the perfect emergency dentist in Temecula for whatever your situation may be. Getting a hold of a dentist office at night or on the weekends can be a nightmare. We make the process simple by maintaining a relationship with thousands of dentist throughout the nation. Call today, speak to the operator 24 hours a day, 7 days a week, and make an appointment with a dentist near you!
---
Temecula Dental
Website: www.temeculadental.com
Address: 29560 Rancho California Rd, Temecula, CA 92591
Phone Number: (951) 699-2144
Description:
Temecula dental is one of the top practices in the Temecula area. They offer services that tailor towards serving your emergency needs. They offer favorable hours on weekdays and have 3 dentists, 4 specialists, a hygienist and an office manager. They can fix broken crowns, fillings, teeth, abscess teeth and even do braces!
Monday 8 am to 6 pm
Tuesday 8 am to 6 pm
Wednesday 8 am to 6 pm
Thursday 8 am to 6 pm
Friday 7 am to 3:30 pm
Saturday 8 am to 5 pm
Sunday – Closed
---
Ku Family Dentistry
Website: www.temecula-family-dentist.com
Address: 27349 Jefferson Ave, Suite 202, Temecula, CA 92590
Telephone: (951) 296-6330
Description:
Ku Family Dentistry is a good option for emergencies. One of the top reasons we picked them was that they offer hours on a Saturday.
You can expect them to take on just about any urgent oral health problem that may potentially arise. However, the thing that really makes Ku Family Dentistry a fit for our database is the fact that they have a 24 hour dentist on call willing to assist you in your emergency. So, if you have a problem you need to get taken care of right away simply give them a call and schedule an appointment.
Monday 9 am to 5 pm
Tuesday 9 am to 5 pm
Wednesday 9 am to 5 pm
Thursday 9 am to 5 pm
Friday 9 am to 5 pm (closed every other friday)
Saturday By appoinment
Sunday – Closed
---
Susivien Martinez-Aban, DMD
Website: www.familydentalcenteroftemecula.com
Address: 32483 Temecula Parkway , Ste. E119 , Temecula, CA 92592
Phone Number: 951-303-1399
Description:
Family Dental Center of Temecula is an interesting practice. While there hours may not be as flexible as some of the other options that we have listed here they make up for it by the fact that they offer a lot of services covering a lot of different areas of the practice of dentistry. Also, they offer a 10% discount if you pay with cash only.
Monday 9 am to 6 pm
Tuesday 9:30 am to 6:30 pm
Wednesday 9 am to 6 pm
Thursday 9 am to 6 pm
Friday 9 am to 3 pm
Saturday 9 am to 3 pm
Sunday – Closed
---
Nash Dental Care
Website: nashdentalcare.com
Address: 29740 Rancho California Rd #100, Temecula, CA 92591
Phone Number: (951) 699-0700
Description: Nash Dental Care provides standout service to the residents of Temecula, and is even open on Saturdays from 8AM until 2PM. Whether you have an emergency situation such as an extraction or root canal need, or a routine check-up that you need scheduled, this is a great place for either. Come visit and see why the staff, assistants, and scheduling personnel rank so highly with everyone who walks in the door today.
Monday 8 am to 5 pm
Tuesday 9 am to 6 pm
Wednesday 7 am to 6 pm
Thursday 7 am to 6 pm
Friday 7 am to 3:30 pm
Saturday 8 am to 2 pm
Sunday – Closed
---
How To Prepare For Your Temecula, California Emergency Dental Clinic Visit
– Similar to visiting your regular dentist, a Temecula emergency dentist provides routine dental care like x-rays and examinations. These dentists also offer more extensive procedures like tooth replacements and mouth restorations.
– Gather your recent dental records including any recent x-rays to bring with you to your Temecula emergency dentist. These records help your new dentist to choose the best course of treatment for your dental emergency.
– Try to arrive at least 15 minutes prior to your Temecula emergency dental appointment. This gives you plenty of time to ask questions regarding your procedure and to fill out the necessary paperwork.
– Make sure your new dentist accepts your payment method. Most Temecula emergency dentists accept cash, credit cards, personal checks and some even offer low-interest payment plans for more extensive services.
– Let your new dentist know if you have dental insurance. Choosing an in-network dentist can help to lower the cost of your dental treatments.
– Let the Temecula emergency dentist know if you are allergic to any medications. Bring a list of your current medications with you to the visit.
– Do you have intense dental anxiety or fear? Let the dental office staff know about your fears so that they can help by explaining the procedure to you.
Quality of Urgent Care Dentists In Temecula, California
With a population of just over 100,000 people, Temecula, California, borders the Pechanga Indian Reservation with gorgeous views of the Santa Rosa Plateau. Visitors to the area are invited to wander the Temecula Valley Museum and enjoy the fun exhibits at the Pennypickle's Workshop with a variety of items designed just for children. The city features a yearly balloon and wine festival that draws tourists from all over the world to enjoy the region's gorgeous vineyards and taste the California wine specialities.
Outdoor activities are a must in this beautiful area of California, with hiking and camping areas designed to highlight the natural beauty of the desert and its native wildlife. Take a break from hiking the trails to step into the Temecula Pechanga Resort and Casino and play casino games from dusk until dawn. With all of the fun activities available in Temecula, being saddled with a dental emergency is definitely not on the agenda.
Temecula is home to a variety of excellent hospitals that are open 24-hours a day for patients with a dental emergency. Temecula Valley Hospital has earned an "A" in patient safety and was voted the 2016 Platinum Business of the Year. Located on the Temecula Parkway, this hospital provides 24-hour emergency service to locals and visitors alike, without the need for an appointment.
Walk-in services are available through the emergency department with a large number of excellent physicians standing by to treat your dental emergency. This is especially important for visitors who receive an injury to their mouth via a fall, a car accident or even a sports injury. In these cases, being evaluated by a Temecula Valley Hospital ER physician is the right way to begin your dental treatment.
Also located in the Temecula area is the Temecula 24-hour Emergency Care facility. This urgent care clinic offers appointments or walk-in visits for anyone with a dental or medical emergency regardless of the hour. Located on Winchester Road, the Temecula 24-hour Emergency Care clinic provides a fast response to your dental pain. Rancho Springs Medical Center also offers a 24-hour emergency department with physicians standing by to treat your dental emergency. The Rancho Springs Medical Center is located on Medical Center Drive and offers urgent care for any type of emergency.
Common 24 Hour Dental Emergencies
The most common of all 24-hour dental emergencies is a nagging toothache that just will not go away. When you are faced with a dental emergency, being in a new city makes the decision of choosing a new dentist a hassle. Emergency Dentists USA takes away that hassle by offering an extensive listing of Temecula emergency dentists right at your fingertips.
Common 24-hour dental emergencies include painful abscesses that could be potentially dangerous if left unaddressed. Another emergency you might encounter is a broken tooth or a tooth that has been chipped. A knocked out tooth, a lost filling or a loose or lost crown are also common 24-hour dental emergencies that send visitors to Temecula to the emergency room or to an emergency dentist.
You might also encounter soft tissue damage to the mouth, tongue, lips or cheeks or even a broken wire or bracket on your braces. These types of common 24-hour dental emergencies are definitely covered by our excellent Temecula emergency dentists listed on this website.
Reading advice on the EmergencyDentistsUSA.com website is not a substitute for seeing a medical profession. Every situation is unique, so you should see an emergency dentist for any of the situations listed below.
Loose or Lost Crown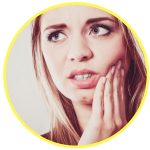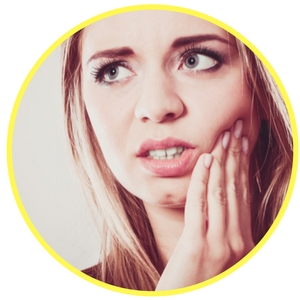 A loose crown or a lost crown is a dental emergency that requires immediate treatment. If you are able to find the crown, rinse it carefully and fill the inside of the crown with an over-the-counter dental adhesive or toothpaste. Place the crown back over the tooth to protect the tooth from further damage. If you are unable to place the crown back over the tooth, bring the crown with you to visit your Temecula emergency dentist. He or she will be able to replace the crown or create a new crown for your damaged tooth. It is important to have the crown repaired or replaced as soon as possible.
Broken or Loose Braces & Wires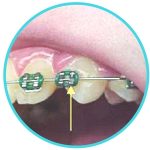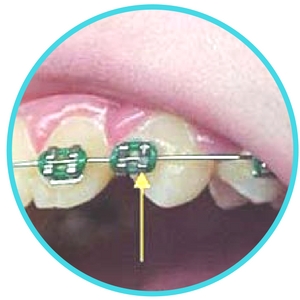 Broken or loose braces and wires require the immediate attention of a Temecula emergency dentist. If your wire is loose, do not cut the wire. You can use the eraser end of a pencil to push the wire into a more comfortable position. You can also use a small amount of orthodontic wax or a cotton ball to cover the sharp end of the wire. Loose braces can be reattached using an orthodontic wax. Be sure to visit your Temecula emergency dentist as soon as possible to replace the damaged bracket or to repair the loose wire before it causes further damage.
Chipped or Broken Tooth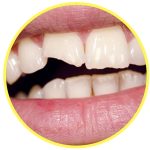 A chipped or broken tooth is a common dental emergency that can be both painful and embarrassing. If you are able to find the pieces of the tooth, rinse them with water and place them in a small container of milk to bring with you to the Temecula emergency dentist. Rinse your mouth carefully and use a small piece of moistened gauze to apply pressure to any areas of the mouth that are bleeding. If the bleeding will not stop after 10 minutes of continuous pressure, it is important to head to your nearest emergency dentist or to the emergency room of a local hospital.
Knocked Out Teeth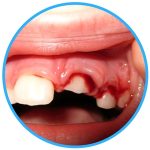 Knocked out teeth are another common 24-hour dental emergency. If your teeth are knocked out during an accident or a sports injury, visit your nearest hospital emergency room for immediate treatment. If you are able to find the tooth, rinse it with plain water and place it back into the gum. Grasp only the crown of the tooth and avoid touching the root. If you are unable to place it back into the gum, carry it with you to the emergency dentist in a container of milk or Save-a-Tooth. This can preserve the tooth so that the Temecula emergency dentist can repair or replace the tooth.
Do You Need an Emergency Tooth Extraction?
You might need an emergency tooth extraction if you have a tooth that has severely decayed and can no longer be repaired by a dentist. You might also require a tooth extraction if your tooth is crowding other teeth in your mouth. It is important to have the tooth extracted immediately so that the decay does not continue. Your dentist will generally take an x-ray of the tooth and perform an examination to determine the best way to remove it. He or she will then choose a local or general anesthetic to keep you comfortable during the procedure. A special tool is used to remove the tooth from the gum, and the gum is stitched closed using a type of suture that dissolves over time. A small piece of gauze is placed over the gum to control any bleeding and full healing usually occurs within one to two weeks.
After your emergency tooth extraction, it is important to take any medications that were prescribed exactly as directed. You will need to avoid eating foods that are hard and drinking from a straw for a few days following the appointment. Also avoid smoking or drinking alcohol until the gum is fully healed.
Emergency Room Versus Emergency Dentist

Visiting the emergency room for a dental emergency is a great idea if you have a broken tooth or a dental problem that began with an accident or a sports injury. The hospital ER physician can evaluate you for any other head injuries and refer you to a Temecula emergency dentist for the tooth repair. With most common dental emergencies, heading straight to the dental clinic is the best choice.
Your Temecula emergency dentist is able to evaluate your dental problem and plan your treatment at a lower cost and more quickly than most hospital emergency rooms. Many hospital emergency rooms are actually unable to provide dental care because they do not employ actual dentists. This means that visiting the emergency room for a common dental emergency causes you to pay a separate ER bill along with the bill that will be created when you have the actual tooth repair at a dentist's office. In most cases, a visit to your Temecula emergency dentist is the best choice for a dental emergency.
FAQ
What should I do if my tooth gets knocked out?
If your tooth gets knocked out, rinse your mouth and the tooth with plain water. Place the tooth back into the gum if possible. If you are unable to place the tooth back into the gum, bring it with you to the dentist in a small container of milk or Save-a-Tooth.
What is plaque and why is it bad?
Plaque is a very sticky substance that builds up on the teeth when you are not brushing and flossing them properly. This substance harbors millions of bacteria that cause tooth decay. Plaque eventually hardens into tartar that is extremely difficult to remove from your teeth.
Are electric toothbrushes better than manual brushes?
An electric toothbrush is better than a manual toothbrush if you have dexterity problems that affect your hands. An electric toothbrush is sometimes easier to use than a manual toothbrush for people with arthritis or other hand problems. Used properly, a manual toothbrush provides excellent dental care.
I've recently been diagnosed with diabetes. Are there any dental problems that are associated with this disease?
Yes, there are dental problems that are associated with diabetes. The decreased blood flow that is a common symptoms of diabetes can cause teeth to become loose or even to fall out completely. A dry mouth causes teeth to decay more quickly, and diabetic changes to the body can even make it difficult to repair teeth that are damaged.
Why don't my dentures seem to fit anymore?
Your dentures might not fit anymore because of changes in the bone structure of your jaw. When teeth are missing from the jaw, bone loss occurs. This causes the bone to change shape which makes dentures loose or uncomfortable. Dental implants help to reduce the loss of bone in the jaw.
24 Hour Dentist Temecula Options
Whether you are wandering the beautiful wineries or hiking through the gorgeous desert, Temecula has plenty to offer for visitors and locals alike. The city inspires a love of nature and encourages guests to feast their eyes on the beauty of the surrounding plateaus and incredible art galleries. Delicious wines and scrumptious food make your visit to Temecula even better, and the large selection of Temecula emergency dentists ensures that your dental emergency is treated quickly and with great care.
Choose Family Dental Center of Temecula to care for that aching tooth. With office hours that continue until 6:30 p.m. on Tuesdays and until 3 p.m. on Saturday, this dental clinic provides treatment when you need it. Located on Temecula Parkway, the Family Dental Center of Temecula is convenient to most of the city. You can also select Nash Dental Care if you need an appointment on a Saturday. The office is open until 2 p.m. on Saturday and offers evening appointments until 6 p.m. on most weekdays. Friendly and competent, the staff at Nash Dental Care is dedicated to providing great dental services even after hours.
You can also choose Temecula Dental if you need a weekend dental visit. Open from 8 a.m. until 5 p.m. on Saturday, this dental clinic specializes in both routine care and orthodontics. Visit one of three dentists at this location to ensure that your dental emergency is handled quickly. Ku Family Dentistry provides a 24-hour hotline so that you can reach a great Temecula emergency dentist at any hour of the day or night. Open by appointment only on Saturday, they do offer weekend services. You also have the option of visiting one of Temecula's excellent hospital emergency departments when a dental emergency strikes and you are unable to make a dental appointment.
Choosing a great dentist means ensuring that he or she is properly licensed in California. You can use the American Dental Association website to check current licensing and certification. The California Dental Association also provides excellent dental information. The website offers resources that are relevant to the state of California.
This Emergency Dentists USA portal is a website for information only, and should be not used to replace the actual advice of a medical professional. If a patient is having an emergency and cannot reach a dentist, call 911 to assure immediate response and safety.
Who's the best 24 hour emergency dentist in Chula Vista California?