Helping Wichita Residents Find IMMEDIATE Dental Services Everyday.
Get relief from chipped, cracked or lost tooth
Abscess, toothache, mouth pain
Emergency dental surgery
24 hour services - Includes weekends, nights and holidays

Emergency Dentist in Wichita, Kansas – Find A 24-Hour Dentist Now
Table of Contents
Welcome to Emergency Dentists USA where you will find a comprehensive listing of Wichita emergency dentists with office hours available when you need them. From handling a simple lost filling or a chipped tooth to completing a full mouth restoration, Wichita emergency dentists are trained to handle any dental problem that comes up. Emergency Dentists USA offers a selection of dentists in the Wichita area with after hours dental care in the evenings and on the weekends. From emergency dental clinics with an on-call dentist available to save a knocked out tooth to routine dental care on your schedule, we provide exactly the information that you need to select your new Wichita emergency dentist.
Check out our 24-hour emergency dental hotline to speak with a live operator who can point you in the right direction for replacing that lost crown, handling a soft tissue injury, or fitting an entire set of dentures. Emergency Dentists USA provides the contact information that you need to get the friendly and reliable Wichita emergency dentist who cares about your dental emergency.
Finding A 24 Hour Emergency Dentist in Wichita, Kansas

Whether you are spending the weekend exploring the history of Wyatt Earp and Billy the Kid or picking up a delicious White Castle hamburger from the very first White Castle restaurant, Wichita has plenty to keep you busy. A dental emergency does not have to spoil your fun because Wichita has a large selection of emergency dentists available for your dental care.
Walk-in dental clinics – Walk-in dental clinics in Wichita allow patients to have their dental emergency addressed without the hassle of waiting days or even weeks for an appointment. With emergency dental services available, Precision Dental provides dental care on an emergency basis.
Emergency 24-Hour Dental Clinics – Dental clinics that specialize in 24-hour dental care are available in Wichita and include Alpha Omega Dental Center.
After Hours Dentists – After hours Wichita emergency dentists provide convenient office hours so that you can have your dental emergency taken care of without missing a day of work. Offering Saturday hours until 4 p.m. Wichita Family Dental has the appointment hours that make your dental emergency easy to handle.
Emergency Dentist Listings in Wichita, Kansas
Emergency Dentists USA provides an excellent resource for choosing the right Wichita emergency dentist to handle your broken tooth, lost filling, or soft tissue injury. With plenty of choices and all of the information that you need to make a good decision, Emergency Dentists USA is ready to help you resolve that dental problem. Walk-in dental clinics and after hours dental services make it simple to get the quality dental care that you need without the hassle of searching for a dentist on your own.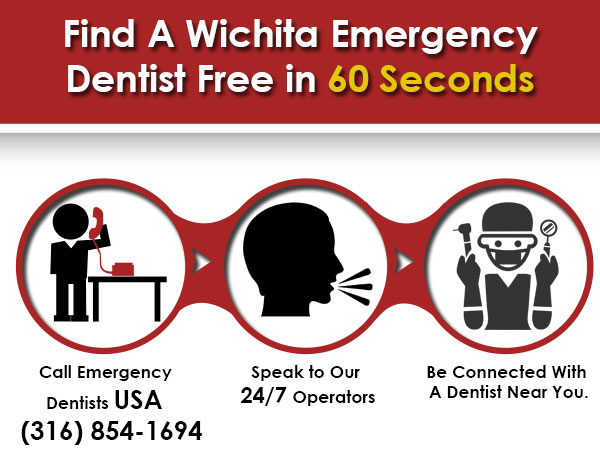 ---
Emergency Dentists USA Referral Service Wichita
Phone Number: 1 (855) 401-2701
Address: Connected to Various Dental Offices across Wichita
Doctors Multiple
Description Call to be connected with the perfect dentist for you. Wichita is a large city and we have the connections to find a dentist to fit your needs, and can get you an appointment immediately. Easily find Kansas emergency dentists with our service.
---
Wichita Family Dental
Number: (316) 630-9339
If Closed: Call 1 (855) 276-1128 and let our Operator help you find an emergency dentist.
Office: 9339 E. 21st St. N 67206 Wichita, KS
Doctors: Dr. Pierson, Dr. Begnoche, Dr. LeMaster, Dr. Decker, Dr. McDaniel and Dr. Cohlmia.
Website: http://www.wichitafamilydental.com/
Description: Wichita Family Dental uses the latest technology to create beautiful and healthy smiles! We are pleased to offer our patients dental services in a friendly and comfortable environment. Wichita Family Dental has the experience and knowledge in the practice of cosmetic dentistry to transform the appearance of your smile and to improve your overall dental health. Dr. Pierson graduated from UMKC dental school in 1983, and served as an instructor before beginning his practice in Wichita, Kansas. After graduation he completed extensive training in Orthodontics, and Implant surgery. Dr. Pierson is a member of American Dental Association, the American Orthodontic Society, the Academy of Osseointegration, and the Flying Dentist Association.
Mon 7:00am – 6:00pm
Tue 7:00am – 6:00pm
Wed 7:00am – 6:00pm
Thu 7:00am – 6:00pm
Fri 7:00am – 5:00pm
Sat 8:00am – 3:00pm
---
Precision Dental
phone: 316 558 3993
If Closed: Call 1 (855) 276-1128 and let our Operator help you find an emergency dentist.
Website: WichitaPrecisionDental.com
Address: 404 S Edgemoore, Wichita, Kansas
Description:
At this Wichita emergency dentist office,  Dr. David Guerrero at Precision Dental is the attending dentist providing quality dental care services to patients who have urgent dentistry needs.  He works within a state of the art environment and surrounds himself with quality dental staff that can attend to your emergency needs that may crop up late a night or weekends.   This office can manage your needs on weekdays, Saturdays, and evening appointments are available by appointment. Services include cleanings, exams, xrays, painless root canals, tooth extractions, and complications with dentures and crowns.  If you are looking for a qualified weekend dentist in Wichita, Kansas, then Dr. David Guerro may very well be the doctor you need.  He graduated from Creighton University School of Dentistry in Omaha Nebraska in 2007 and obtained from Wichita State University an undergraduate degree in Chemistry. His office offers dentistry services for individuals and families with and without insurance, with low-cost financing available.
---
Alpha Omega Dental Center
phone: +1 316-722-6336
Website: lansdownedds.com
Address: 250 N. Tyler Road, Wichita, Kansas
Description:  Dr. Lansdowne is a 24-hour dentist in Wichita KS who provides exceptional quality care and is among the dental emergency clinics in Wichita that can assit you with your urgent dental care needs.  His office hours are from 8 am to 5 pm, Monday through Friday, and weekends are reserved by appointment for dental emergencies.  He graduated from Baylor University College of Dentistry in 1968 and promptly got started with his dental practice in Wichita, Kansas.  His extensive experience as a dentist is reflected by the numerous organizations he has been a member of.  His office is outfitted with state of the art technology to aid his staff in delivering dentistry services in such areas as general dentistry, pediatrics, endodontics, periodontics,  and orthodontics.  If you are facing a surprising toothache or are searching for a dentist open on Sunday or Saturday to address your dental complication, this is one experienced dentist you should give consideration to.
---
Emergency Dentist Wichita Kansas
Website: emergencydentistwichitaks.com
Description:  This around the clock emergency dentist in Wichita KS can assist you with full emergency services.  Their focus is to provide comprehensive dental services and pain relief treatment in the most cost-effective manner.  If you are looking to eliminate pain from a toothache, broken tooth or teeth, impacted tooth, or if you have something lodged in your teeth that is creating an urgent dental crisis and you live in Wichita, then this place may be for you.  Not only do they address Wichita's emergency dental needs, but they also provide general services such as teeth cleaning, X-rays, dental implants, and teeth whitening.  They have been serving the Wichita, Kansas area for many years and you can schedule an appointment by calling the number provided.
Map Is Not Available
---
Precision Dental Wichita
phone: 316-558-3993
Website:http://www.wichitaprecisiondental.com/services/dental-extraction/
Address: 404 S Edgemoor St, Wichita, KS 67218
Description:The hard-working folks at Precision Dental understand that if you have a broken or chipped tooth, you may only have an hour or two to make sure that it can be implanted correctly, and survive the rest of its lifespan. Dedicated to providing the highest quality care when you need it, Dr Guerrero and the staff here will be able to make sure that your dental emergency subsides. During his third year of dental school, he went on a two-month mission trip to the Dominican Republic, where he sparked a deep love of the nation and desire to return.
Driving Direction
---
Hunter Health Clinic Emergency Services
phone: 316.262.2415
Website:http://hunterhealthclinic.org/
Address:2318 E. Central Wichita, KS 67214
Description:This health clinic has 3 different locations in Wichita, and is an excellent provider for exams, x-rays, root canals, extractions, and other emergency services. Committed to offering affordable care, this is one of the many blessings for a clinic that patients come across in the Wichita Metro area. Striving to educate everyone that comes in so they can improve their life outside of the clinic, many lives really have been changed by this excellent anchor in the community.
Driving Direction
---
How To Prepare For Your Wichita, Kansas, Emergency Dental Clinic Visit
Your Wichita emergency dental clinic is just like your regular dental office. These dentists provide services that range from simple examinations and x-rays to full mouth restorations. Emergency dental offices provide a larger range of office hours than a standard dental clinic.
Collect all of your recent dental records and x-rays to bring with you to your Wichita emergency dentist. This information can help your new dentist to choose the correct treatment for your dental problem.
Arrive at least 15 minutes prior to your new dental appointment. This gives you plenty of time to ask questions and fill out paperwork prior to seeing the dentist..
Check to ensure your Wichita emergency dentist accepts your payment form. Most emergency dental clinics accept credit cards, cash, personal checks, and many dental insurances. Some emergency dental clinics even offer low interest payment plans for your dental services.
Check to be sure your new dentist takes your dental insurance. Choosing an out-of-network dentist can cost more out of pocket.
Let your Wichita emergency dentist know if you are allergic to any medications. Bring a list of your current medications to your dental appointment.
Do you have intense dental anxiety or fear? Let the receptionist know if you are frightened during your dental appointment. The staff can help you to calm your anxiety.
Quality of Urgent Care Dentists In Wichita, Kansas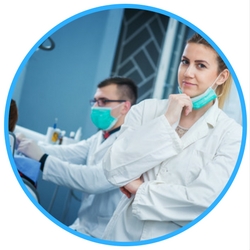 While you are on your vacation in "Cowtown," the city provides you plenty of opportunities for a fun time. With a long history of famous cowboys, railroad industry, and delicious food, Wichita is a wonderful place to spend a vacation or settle down with your family. Take in the Old Cowtown Museum or the beautiful Wichita Botanical Gardens and enjoy the beauty of this exciting town along with its fun and entertaining nightlife. When a dental emergency crops up, Wichita emergency dentists are standing by to alleviate the pain and get you back on the road as soon as possible.
Known more for its cowboy heritage more than its medical care, Wichita actually ranks ninth among cities in the United States with excellent healthcare at an affordable price. This ranking makes the "Air Capital of the World" a great place to access excellent healthcare and affordable dental services whether you are a visitor or a Wichita native. The city has some excellent hospitals that provide 24-hour emergency care for those times when you have a dental emergency and cannot reach an emergency dentist. Hospitals like AMG Specialty Hospital Wichita provide access to a well-trained emergency physician who can help to get you out of pain and then refer you to an excellent emergency dentist.
Other great hospitals in the Wichita area include Kansas Heart Hospital and Kansas Medical Center with 24-hour emergency departments standing by to treat that midnight dental pain that makes you miserable. When your dental emergency results from a fall, a car accident, or even a sports injury, a Kansas hospital emergency room is the first stop that you should make to get a complete examination and ensure that you do not have any other injuries aside from the dental problem.
Wichita emergency rooms are open seven days per week, making them a great choice for emergencies that crop up late on a Saturday night or even on a Sunday. Excellent standards of care and caring physicians are always a great solution for that dental emergency. Visiting a Wichita emergency room will get you back on your feet at least until you can see your regular dentist or a new Wichita emergency dentist.
Common 24 Hour Dental Emergencies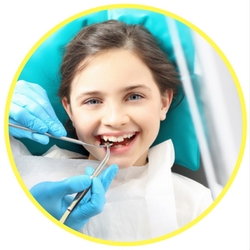 There are a variety of common dental emergencies that are definitely going to make it tough to enjoy a weekend in the city. Some of these emergencies can be quite painful and include a simple toothache or even a dangerous dental abscess. Other common dental emergencies include soft tissue injuries due to accidents or falls, lost fillings, or crowns and broken teeth. A cracked tooth can cause quite a bit of pain and should be treated as quickly as possible at a Wichita emergency dental clinic.
Common 24-hour dental emergencies occur at any time of the day or night, making it tough to decide where to seek treatment. Emergency Dentists USA has a comprehensive listing of dentists available to treat broken or loose braces, knocked out teeth, or even a loose tooth without making you wait for an appointment that takes days or weeks. A common dental emergency does not have to ruin your visit to Wichita, no matter when the dental emergency occurs.
Soft Tissue Injuries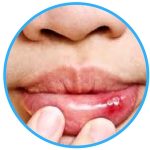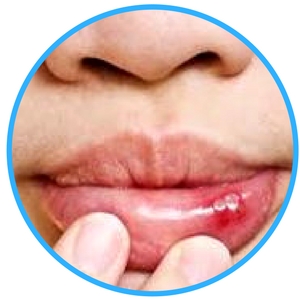 Soft tissue injuries affect areas of the mouth, gums, lips, and tongue. These types of emergencies sometimes result from a car accident, a sports injury, or even a fall. When other areas of the body are involved, it is a great idea to go to a hospital emergency room for treatment before heading to your Wichita emergency dentist. You can control bleeding by placing pressure on the bleeding area using a damp piece of gauze or a tea bag. You can also use a cold compress against the cheek or lips to alleviate pain and swelling.
Lost Filling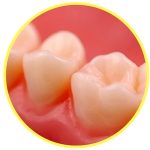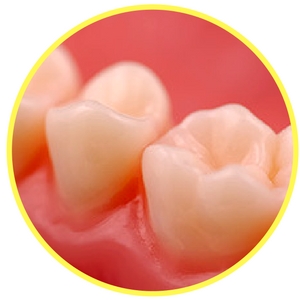 A lost filling might not be a painful dental emergency, but it is always important to have the filling replaced as quickly as possible to avoid damage to the tooth. You can replace the lost filling with a piece of sugarless gum or over-the-counter dental cement. Use a small amount of clove oil on a cotton ball to relieve any pain associated with the lost filling. Do not use gum with sugar to fill the hole in the tooth as this can cause pain. Visit your Wichita emergency dentist as soon as possible to address the problem and avoid continued tooth decay.
Loose or Lost Crown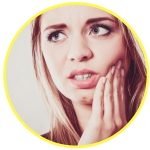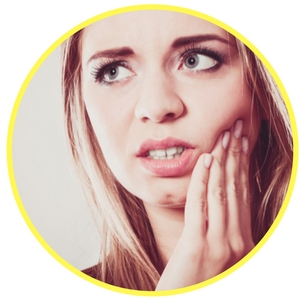 A crown might become loose or even fall out if the tooth below the crown has continued to decay or becomes damaged. You might even lose a crown if you eat foods that are sticky like taffy or caramels. If you lose a crown, you can rinse it carefully with water. Rinse your mouth with water and apply some toothpaste or over-the-counter dental cement to the crown. Place the crown over the tooth if possible. If the crown will not fit over the tooth, remember to bring it with you to visit your Wichita emergency dentists. He or she might be able to replace the crown at your visit.
Emergency Toothache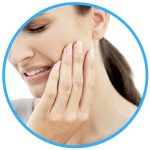 An emergency toothache can have a variety of causes, from an abscess that indicates infection in the gum or between the teeth, to a cracked tooth or decayed tooth. An emergency toothache is one of the most common of all of the 24-hour dental emergencies. Use warm salt water to rinse your mouth several times to help alleviate the pain. You can also use dental floss to remove any food lodged between the teeth. Apply a cold compress to the outside of the mouth to alleviate pain and swelling. Never place aspirin against the gum as it can burn the gum. Contact your Wichita emergency dentist as soon as possible to treat the toothache.
Do You Need an Emergency Tooth Extraction?
You might need an emergency tooth extraction if you have a tooth that has decayed beyond the point where it can be repaired by a dentist. Many people have emergency tooth extractions because they are afraid to visit a dentist and have not had routine dental care. You may also require an emergency tooth extraction if a tooth is crowding other teeth. It is important to have the procedure done as quickly as possible to avoid more tooth damage or an increased need for medications.
Your Wichita emergency dentist will decide how to accomplish the emergency tooth extraction by first performing an x-ray and examination. He or she then chooses a local anesthetic or a general anesthetic to alleviate pain during the procedure. A special tool is used to break the tooth and remove it or remove the tooth whole. The gum is then sewn closed over the empty space. A piece of gauze is placed over the hole to control bleeding. Complete healing generally occurs within one to two weeks of the procedure.
While you are healing from your emergency tooth extraction, follow all of the dentist's orders carefully. Avoid eating hard foods or drinking from a straw during the first few days following the procedure.
Emergency Room Versus Emergency Dentist

Choosing an emergency room or an emergency dental clinic depends on the type of dental emergency you are experiencing. If your dental trauma is the result of an accident, a sports injury, or even a fall, an emergency room should be your first stop for treatment. This ensures that no other parts of your body are involved in the injury.
Going to the emergency room means a physician can give you a thorough exam and decide which injuries should be treated first. Keep in mind that an ER physician is not a dentist, so he or she is not trained to repair a broken tooth. In most cases, you will have to follow up with a Wichita emergency dentist following treatment in the hospital emergency room. The combination of two visits can be quite expensive, so most common dental emergencies should be treated at a dental office rather than the emergency room.
FAQ
Are electric toothbrushes better than manual brushes?
Electric toothbrushes are better than manual toothbrushes if the patient has a dexterity issue that affects the handling of a toothbrush. Patients with arthritis are often more comfortable with an electric toothbrush. When brushing and flossing are accomplished correctly, both manual toothbrushes and electric toothbrush are equally efficient.
It's been a long time since I've visited the dentist. What do I need to do?
If it has been a long time since you have visited the dentist, it is definitely time to choose a Wichita emergency dentist and make an appointment. With office hours that include evenings and weekends, you can get a great appointment without missing work. Talk to the dental office staff to ensure that they offer anxiety medication that you have regarding your appointment.
Why should I have my teeth cleaned twice a year?
You should have your teeth cleaned twice each year in order to allow your dentist to monitor any tooth decay and ensure that you are caring for your teeth correctly. Visiting a dentist twice a year means less major dental problems because the issues are handled quickly before they become a problem.
Now that I'm pregnant, my gums are more sensitive and bleed more easily. Why? What happens if I have a dental problem when I am pregnant?
The hormones during your pregnancy cause your gums to become more sensitive and they may even bleed more easily. This is normal during the pregnancy. Most dental services are considered absolutely safe during pregnancy so there is no reason to miss routine dental appointments or even get those cavities filled.
When will my child get his first tooth?
Each child is different, so your child might not get his first tooth until he is as early as three months of age or as late as 14 months of age. On average, children get their first teeth around six months of age. These teeth require brushing just like the permanent teeth.
24 Hour Dentist Wichita Options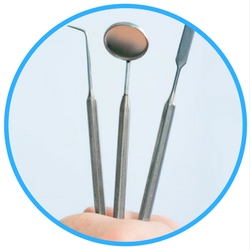 There are plenty of things to do in Wichita, including visiting the many museums, exploring the gorgeous botanical gardens, or wandering the streets where Wyatt Earp once roamed. Having a dental emergency means taking time away from your fun and heading to a Wichita emergency dental clinic to get that pain addressed. With a large selection of kind and well-trained dentists available on Emergency Dentists USA, it is simple to pick the right dentist to suit your needs when you need them.
Visit Wichita Family Dental to have a filling replaced, get a complete dental exam, or even repair that loose crown. Dr. Pierson has the skill necessary to create a lovely smile, even while you are on vacation. Choose his office for evening dental appointments until 6 p.m. or even on Saturday until 4 pm. Precision Dental offers emergency dental services with a dentist who is on-call when you need him and offers Saturday appointments for those weekend emergencies. Pick Alpha Omega Dental Dental Center for your 24-hour dental emergency and contact a great dentist no matter what the time of day or day of the week.
Remember that you can also use one of the Wichita hospital emergency rooms for treatment of a dental emergency when you are unable to contact a 24-hour emergency dentist and you need help right away.
When you choose a Wichita emergency dentist, it is important to check on his or her certification using the American Dental Association website located here: www.ada.org. This website offers up-to-date information on dentists and their credentialing that makes it easy to choose an excellent dentist. You can also research your new dentist on the Kansas Dental Association website located here: www.ksdental.org. This website is dedicated to dentists in the state of Kansas only.
Keep in mind that Emergency Dentists USA is website that is designed for informational purposes only. This website should never be used to replace the advice of a medical professional. If you are experiencing a dental emergency and are unable to reach a Wichita emergency dentist, be sure to go to the nearest hospital emergency room or call 911 to assure prompt care and safety.