Helping Akron Residents Find IMMEDIATE Dental Services Everyday.
Get relief from chipped, cracked or lost tooth
Abscess, toothache, mouth pain
Emergency dental surgery
24 hour services - Includes weekends, nights and holidays
Find a Dentist 24/7
Near You IMMEDIATELY
Click or Call Toll-Free
1 (234) 312-4735

Emergency Dentist Akron, Ohio
Call 24/7: 1 (234) 312-4735
We cannot emphasize how important it is to seek out qualified and capable dental care from those trained to address emergency dental crises in Akron, Ohio.  There is always a concern among those people who we talk with that they will not be able to find a dentist to help them in their predicament when it really counts.  And when is that time?  When do we feel pushed against the wall?  Well, it generally is when we have a complication with a tooth or oral health matter that requires urgent attention.  If that time is happening on a late week night or in the midst of our weekend, then we are indeed engaged in a bit of a crisis because there are not many oral physicians who are willing to handle patients during these times.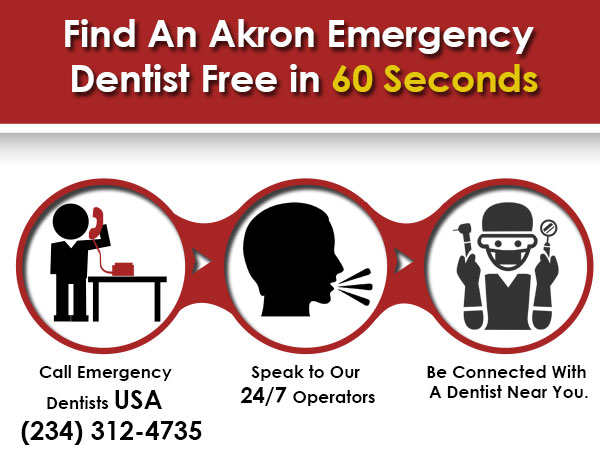 Call 24/7: 1 (234) 312-4735
But worry yourself not, because there are 24 hour dentists in Ohio and you need not have to drive too far to find them in many cases.  Sometimes, the location of the clinic is in a neighboring community and it only takes some pre-planning to get a handle on just where you might want to go to receive urgent dental care.  So take a moment out of your day and remember this website because we have taken time to locate those Akron emergency dental clinics that can be of tremendous help to you.
After Hours Dentist Akron, Ohio
The thing about dental pain is that it knows no time of day or week.  It does not matter to a toothache if it is a holiday or your birthday.  When your oral health goes south, you will want to be able to respond by having a game plan on where you wish to go if indeed the severe discomfort you feel is occurring at the worst possible time of day.
---
Emergency Dentists USA Referral Service Akron
Phone Number: 1 (877) 507-0879
Address: Connected To Various Dental Offices across Akron
Doctors Multiple
Description Call to be connected with the perfect dentist for you. Akron is a large city and we have the connections to find a dentist to fit your needs, and can get you an appointment immediately.
---
ImmediaDent – Urgent Dental Care
Website: www.immediadent.com
Address : 726 Howe Ave, Cuyahoga Falls, OH 44221
Phone Number: (330) 752-1003
Description:
Yes, you can find a dentist open on Saturday/Sunday in Akron Ohio. While you sure don't want to be in a position to visit an ER dentist, if you must then ImmediaDent is one place you can count on being open 365/7. An Akron dentist open on Sunday is particularly unusual.
But urgent dentistry treatment knows no timeline given the hectic nature of many people's lives. Dental accidents can occur with much greater frequency than you would imagine so a facility open 7 days a week with hours ranging from 9:00 am to 9:00 pm will be quite important if you or a family member are backed up against the wall. You do not require an appointment and there are a wide range of payment plans and insurances that are accepted at this clinic. It may be time for you to take a good look at this self described "outstanding full service dental care" practice.
Office hours:
Monday 9 am to 9 pm
Tuesday 9 am to 9 pm
Wednesday 9 am to 9 pm
Thursday 9 am to 9 pm
Friday 9 am to 9 pm
Saturday 9 am to 9 pm
Sunday 9 am to 9 pm
---
Dental Works Chapel Hill
Website: dentalworks.com
Address: 2000 Brittain Rd, Akron, OH 44310
Phone Number: (330) 633-9671
Description:
Dental Works Chapel Hill has the knowledge and skill to assist you with any dental service ranging from extractions to routine cleaning, and are able to care for you and the entire family. They are open on Saturdays from 9AM until 3PM, and this is optimum for the busy family or college student that suddenly has pain. Let the friendly staff here care for you at the highest level of skill, and you'll soon be on the way to a pain-free existence.
Office hours:
Monday 10 am to 8 pm
Tuesday 10 am to 8 pm
Wednesday 10 am to 8 pm
Thursday 10 am to 8 pm
Friday 10 am to 5 pm
Saturday 9 am to 3 pm
Sunday – Closed
---
Angel Dental Care
Website: www.angel-dentalcare.com
Address: 1494 S Arlington St, Akron, OH 44306
Phone Number: (330) 773-7100
Description:
Angel Dental Care is located conveniently just off of Arlington St in Akron, and has the years of experience to make sure that you and your family are entirely taken care of. They are open Monday and Wednesday until 7PM, and other weekdays until 5. They also have their practice open on Saturdays from 9AM until 2PM, and this will help the busiest students and families with their heavy to-do list.
Office hours:
Monday 10 am to 7 pm
Tuesday 10 am to 5 pm
Wednesday 10 am to 7 pm
Thursday 10 am to 5 pm
Friday 10 am to 5 pm
Saturday 9 am to 2 pm
Sunday – Closed
---
DentalWorks South Plaza
Website: www.dentalworks.com
Address: 378 E Waterloo Rd, Akron, OH 44319
Phone Number: (330) 724-7401
Description:
Dental Works South Plaza is an Ohio dental specialist that you can use for family dentistry, issues such as routine check-ups, and emergencies such as root canal therapy. They are open on Monday and Tuesday until 7PM, and Wednesday until 6PM. Fridays is a short day of operation from 9AM until 1PM, but Saturdays they do they same, catering to those who may not have time to get to the dentist during the week. An ideal place to call your personal home for dentistry ranging from routine to serious issues, they are always here to provide service to you with a smile.
Office hours:
Monday 9 am to 7 pm
Tuesday 9 am to 7 pm
Wednesday 9 am to 6 pm
Thursday 9 am to 7 pm
Friday 9 am to 1 pm
Saturday 9 am to 1 pm
Sunday – Closed
---