Helping Albuquerque Residents Find IMMEDIATE Dental Services Everyday.
Get relief from chipped, cracked or lost tooth
Abscess, toothache, mouth pain
Emergency dental surgery
24 hour services - Includes weekends, nights and holidays

Emergency Dentist in Albuquerque, NM – Find A 24-Hour Dentist Now
Table of Contents
Locating a dentist in Albuquerque, New Mexico on the weekends or later in the evenings on weekdays can be difficult to say the least. If you are not familiar with what dentists offer after hours or emergency dental services, you may feel defeated when you need to find one who does. We have made it much more simple for you to locate an emergency dentist by providing you with hassle-free listings of those available in the Albuquerque area.
Let's face it, a dental emergency never really occurs quite when it's convenient for you. A 24-hour dentist can provide you with such treatment for relief, regardless if it's a weekend or not. The last thing you want to end up doing is waiting until Monday arrives because this can cause additional damage and leave you in even more pain. Emergency dental clinics in Albuquerque can help get you back to feeling like yourself again in no time.
Finding A 24 Hour Emergency Dentist in Albuquerque, NM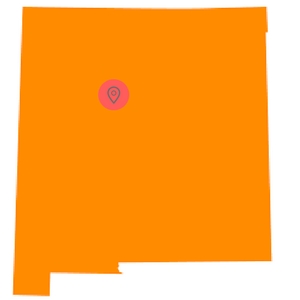 Albuquerque offers a host of options when it comes to receiving emergency dental treatment in a pinch:
Walk-in dental clinics allow you to be seen without a scheduled appointment. When you need to see a dental professional about an emergency situation and cannot wait to schedule an appointment, a walk-in clinic may be the best option for you.
After hours dental clinics are just your regular dentist offices with one difference; they extend their office hours far past what your typical dentist does. This gives you the ability to get an evening or weekend appointment when an emergency arises.
24-hour emergency dentists offer you the ability to be seen no matter the time or day . These dentists are similar to your regular dentist except they are able to effectively treat dental emergencies swiftly and quickly; most of the time without a scheduled appointment.
If you find that you or a family member are in need of emergency dental care beyond your regular dentist hours, it should be refreshing to know that there are qualified professionals readily available to provide you with the proper treatment so that you can get back to feeling better in no time at all.
Emergency Dentist Listings in Albuquerque, NM
Don't let the weekend prevent you from receiving the proper dental care in a time of emergency. Instead, be prepared by reviewing our emergency dentist listings in Albuquerque, New Mexico. Below you will find a detailed list of all emergency and after hours dental clinics available to you. Don't spend another moment trying to figure out where to be seen in your time of crisis.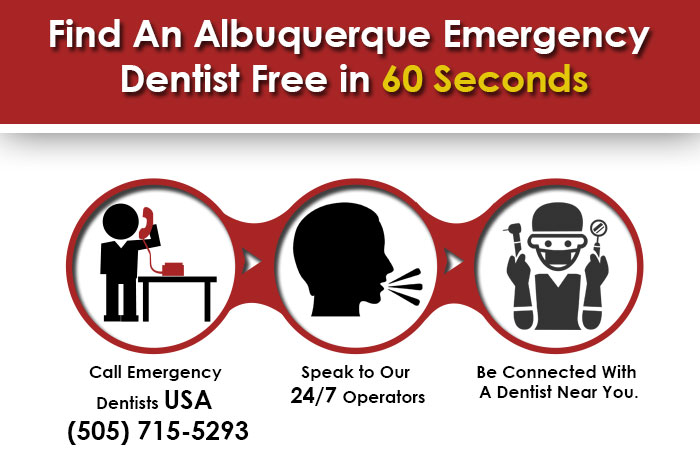 ---
Emergency Dentists USA Referral Service Albuquerque
Phone Number: 1 (855) 401-2701
Address: Connected To Various Dental Offices across Albuquerque
Doctors Multiple
Description This is a hotline to help people looking for emergency dental care in Albuquerque. You can get a list of dentists similar to the one you have here. When you get off the phone, the choice will be yours which one you want to go see for your emergency dental care. A great place to find emergency dental care with or without insurance. Easily find New Mexico emergency dentists with our service.
---
Grant, Davis, & Dribble Emergency Dentistry
Number: 505-898-1976
If Closed: Call 1 (855) 276-1128 and let our Operator help you find an emergency dentist.
Office: 3610 Calle Cuervo NW Albuquerque, NM 87114
Doctors: Dr. Steve Grant
Website: www.grantdavisgribble.com/emergency-dentistry/
Description: This clinic has emergency dentists on call at all times, and they always leave a few slots in the schedule open every day. You do not have to be an existing patient to be seen here, where you can always obtain the best in service for root canals, toothache diagnosis, extractions, and more. If you have cracked or chipped teeth, a broken crown, or have lost a filling, this Albuquerque clinic can get your mouth in a healthy state again quickly. There is nothing as disappointing as the intense pain of a toothache getting worse and worse, and here is where you'll find the incredibly able folks for a solution.
Office Hours
7 AM-7 PM Monday – Thursday
8 AM-5 PM Friday
---
True Care Dental Emergency Albuquerqe
Number: 505-369-0074
If Closed: Call 1 (855) 276-1128 and let our Operator help you find an emergency dentist.
Office: 4824 McMahon Blvd NW #119•Albuquerque, New Mexico 87114
Doctors: Dr. Andrea Patterson
Website: www.trucaredentalnm.com/emergency-dentist/
Description: When you have a dental emergency, the pain of a needed extraction or abscess can get so bad, that you may feel as if you simply cannot wait another hour. Whether it is you, a close friend, classmate, or family member, the staff at this clinic will see to it that you are seen as soon as possible. Messages are checked very often, and any after-hours emergency will be taken very seriously and responded to right away. Teeth that need root canals and abscess treatment are going to be throbbing, and you will always want to be seen immediately.
Mon – Fri: 7:00AM – 6:00PM
Sat: By appointment only
---
NE Heights Modern Dentistry
Number: 505-821-4422
Office: 5901 Wyoming Blvd NE Ste W Albuquerque, NM 87109
Doctors: Dr. Andrea Patterson
Website: www.neheightsmoderndentistry.com/?sc_cid=googlelocal
Description: This after hours dentist in Albuquerque has a great selection of hours of service in which you can receive treatment. They offer professional service, and Dr. Andrea Patterson has extensive technical training to take care of whatever your dental emergency. Their extended hours on weeknights as well as their saturday dentist hours make for a great place to go to solve your emergency.
OFFICE HOURS
Mon 9:00 AM -6:00 PM
Tues 10:00 AM-7:00 PM
Wed 8:00 AM -5:00 PM
Thurs 7:00 AM-4:00 PM
Fri 9:00 AM – 6:00 PM
Sat 9:00 AM – 1:00 PM
---
Desert Ridge Dental West
Number: 505-890-3000
Office: 6521 Paradise Blvd NW, Suite M Albuquerque NM 87114
Doctors: Dr. Jacob Rogers
Website: www.desertridgedental.com/
Description: Desert Ridge Dental West has limited hours and none on the weekends. However we've listed them because they do offer weeknight urgent care dentist hours until 6pm on Monday and Tuesday. This allows you to get to their office after work!
Mon: 11am to 6pm
Tue: 11am to 6pm
Wed: 7am to 2pm
Thu: 7am to 2pm
Fri: 7am to 2pm
---
Cottonwood Smiles Dentistry and Orthodontics
Number: 505-244-1111
Office: 3400 New Mexico 528 NW Ste A-107 Albuquerque, NM 87114
Doctors: DAVE KING
Website: http://www.cottonwoodsmilesdentistry.com/?sc_cid=googlelocal
Description: Cottonwood Smiles is another excellent option for a walkin dentist appointment in Albuquerque. Thier office hours on weeknights are perfect because they are open until 6pm every night which hopefully will make using them as your Albuquerque urgent care dentist so easy! Finally they offer Saturday dentist hours as well from 9am til 1pm! The only thing missing are Sunday dentist hours, too bad they don't open on Sundays!
OFFICE HOURS
Mon 8:00 AM – 6:00 PM
Tues 8:00 AM – 6:00 PM
WED: 8:00 AM – 6:00 PM
Thurs 8:00 AM – 6:00 PM
Sat 9:00 AM – 1:00 PM
---
High Desert Dental
Number: 505-888-2606
Office: 3520 Montgomery Blvd NE Albuquerque, NM 87109
Doctors: Dr. Gary M. Ross
Website: www.highdesertdental.com/
Description: Another excellent choice if you're in need of emergency dentistry services. This dental office, the High Desert Dental Clinic is open from 7am til 2pm on Saturday making them a great weekend dentist choice.
Monday: 9am – 5pm
Tuesday: 9am – 5pm
Wednesday: 9am – 5pm
Thursday: 9am – 7pm
Friday: 7am – 2pm
Saturday: 7am – 2pm
---
William C. Gardner DDS
Phone Number: (505) 828-2669
Address: 8200 Carmel Ave NE Suite 101 , Albuquerque NM 87122
Website: N/A
Doctors: Dr. Gardner
Description: Dr. Gardner is an Albuquerque emergency dentist specializing in dental care of adults and children. With a 24/7 dental clinic in Albuquerque, you can seek care for just about anything that you're dealing with orally any time of the day or night. To find out which services he offers, give his office a call at the number above. Many of the Google reviews for him are positive, indicating that he is a well-established, trustworthy emergency dentist in Albuquerque.
---
Lapour and Associates Same Day Dentists in Albuquerque NM
Number: (505) 298-7475
Office: 5110 Masthead St. NE Ste AAlbuquerque, NM 87109
Doctors: Dr. LoPour
Website: http://www.smilesbydesign.biz/emergency-dentist-albuquerque/
Description: Here at this clinic, they truly understand that emergencies can happen at the drop of a hat, and they are generous enough to schedule a block of time just specifically for walk-ins. There is nothing as frustrating as having the throbbing of an aching tooth or cavity get worse, and the staff here fully understands that discomfort. Here you will acquire true peace of mind, knowing that you are receiving high quality dental care from some of New Mexico's most skilled and competent after hours dental professionals.
Driving Directions
---
How To Prepare For Your Albuquerque, NM Emergency Dental Clinic Visit
Preparing for your Albuquerque, New Mexico dental appointment is the same as any other new patient dental appointment. Since you are not a frequent patient with the emergency dentist you choose, you will have to fill out some paperwork prior to being seen.
During an emergency, you may feel a bit overwhelmed, which is why it is important to remember the necessary information that an emergency dentist will require. You will want to make sure you have your forms of insurance as well as any dental history information you may have available with you at your emergency dentist appointment.
Because of the paperwork you will need to fill out, try to arrive at least 15 minutes early if you have a scheduled appointment. While you may not have been prepared for an emergency to arise, it's still important to know how you will be paying for any services rendered if your form of insurance is not accepted.
Similar to other medical appointments, you will want to alert the staff to any allergies to medicine you may have so that no one is caught by surprise. If you also suffer from anxiety when going to the dentist, you will want to make them aware of this as well. The staff can ensure you are comfortable and relaxed during your treatment to make it less nerve-wrecking on you.
Common 24 Hour Dental Emergencies
Remember that Emergency Dentists USA does not serve as a substitute for actual medical advice. Every situation is unique, which means that it is vital that you see a dental professional so that you can ensure you receive the proper treatment for your condition.
It can be difficult to determine what constitutes a dental emergency because there are many different dental issues that can occur. What you may think is a simple toothache and an OTC pain reliever will alleviate may actually be something much more serious. By speaking with an emergency dentist about your dental concerns, you can make sure you are able to get proper treatment quickly and efficiently.
Sometimes home remedies are not the best option to treating a dental condition. Some dental issues require the use of antibiotics and much stronger pain relievers to help you through the healing process. Additionally, while you may feel it's nothing serious, you could be putting yourself at risk for long term complications and additional damage down the road.
Abscess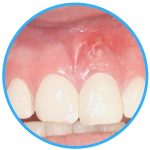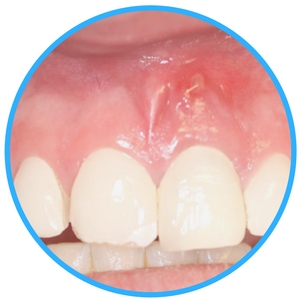 A dental abscess is considered to be a more serious infection in the mouth. It can start at the root of your teeth or in the area between your teeth and gums. It can be very painful and if not treated quickly enough, may even spread to surrounding areas of your mouth.
One of the reasons a dental abscess is so serious is it can spread to other areas in your body pretty quickly, which is why prompt treatment by an Albuquerque emergency dentist is important. Common symptoms associated with a dental abscess can consist of pain while eating, a foulness to your breath, tender and red swollen gums, low grade fever, swollen glands, general feeling of not feeling well, and an open sore in your mouth.
While the only way to heal a dental abscess is through professional dental treatment, home solutions such as rinsing out your mouth thoroughly with a mild salt water mixture can help to relieve any discomfort you may be experiencing. Using an 8 oz glass of water with a ½ tsp of salt can provide you the proper mild solution for temporary relief.
Lost Filling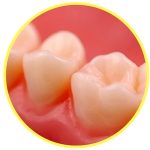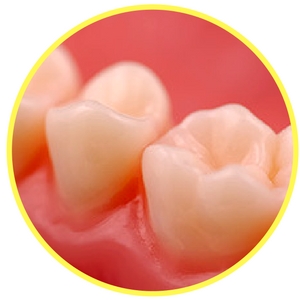 If you have a filling fall out, it's important to ensure no additional damage is done to the tooth until you are able to get it refilled by a dentist. Remember that prompt treatment by an Albuquerque emergency dentist can help to ensure that the tooth is saved and not damaged any further.
You can apply some clove oil to the exposed tooth. This helps to dull any tooth pain. An over the counter dental cement, which can be purchased at a pharmacy or over the counter health store. Do not use any type of glue on the tooth as it could damage the tooth even further. The over the counter cement can help protect the exposed tooth until you are able to see an emergency dentist.
Tooth Trauma Caused by an Accident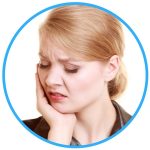 Dental injuries due to trauma happen more frequently than you may think. They can be from an accident or even a sports-related injury. Any type of dental injury from trauma, even if it seems minor, should always been examined by a dental professional.
Home care for dental trauma should only be a temporary solution until you are able to get seen by an Albuquerque dental clinic or emergency dentist. It's important to rinse the mouth with a salt water solution if it's bleeding to help limit the bleeding. If this doesn't stop the bleeding completely, try placing a small piece of gauze on the affected region for up to 15 minutes to get the bleeding to stop. As soon as you are able to get in contact with a dental professional so that you can get prompt treatment and care.
Soft Tissue Injuries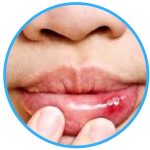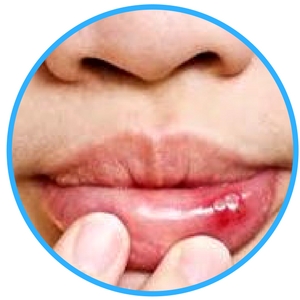 Areas of your mouth such as your gums and lips contain a larger number of blood vessels. This is why most often injuries of the soft tissue regions tend to bleed more frequently. If you experience a soft tissue injury such as biting down on your lip too hard, consuming a food or beverage that is too hot or falling, the first step you want to take is to reduce the bleeding completely.
You can rinse out your mouth with a salt water solution. If the bleeding does not stop after this, press a small piece of gauze to the affected region for up to 15 minutes to help provide pressure to stop the bleeding. You may want to place an ice pack on the area to help reduce any swelling or pain afterwards for up to 10 minutes. Be sure to call an emergency dentist in Albuquerque for immediate treatment for the soft tissue injury.
Do You Need an Emergency Tooth Extraction?
Taking care of your natural teeth is important as they are beneficial for chewing, biting, and keeping the structure of the mouth and jawbone in tact. However, there are times that an extraction is unavoidable.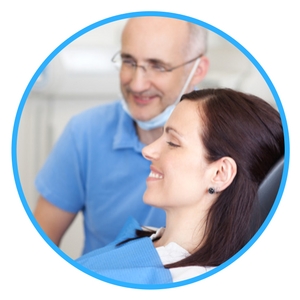 An emergency tooth extraction may be necessary due to tooth decay, trauma, or disease of the mouth. When you go through the procedure of an extraction, there will be changes that occur naturally in your mouth after it's removed. This is to be expected and something your dentist will help prepare you for during the process of your extraction.
Before you get a dental extraction, you will be given an anesthetic to help reduce any discomfort you may feel. You will notice that your mouth is numb for up to a few hours afterwards. This should go away shortly. There may be gauze placed on the extraction location to help limit any bleeding from it. This gauze should remain in place for up to 45 minutes after you left the dentist's office to help with the healing process.
You may notice a small blood clot that forms in the position of the missing tooth. This is all part of the natural healing process and it should be left alone. Do not rinse your mouth for up to 24 hours after the procedure is completed. You may also experience some swelling and pain after this is completed. You can reduce the swelling with ice packs on your face towards the affected region. You may also be given a prescription pain reliever to help alleviate some of the pain you experience afterwards as well.
Emergency Room Versus Emergency Dentist

A dental emergency can be a very frightening experience if you have not been through one before. When we experience such situations we tend to get into the fight or flight response and have difficulty making a decision on what the necessary treatment option should be. Because of this, many people often times go to their nearest emergency room to seek treatment for such issues.
Sometimes this isn't the best option when it comes to getting the proper and timely treatment for a dental emergency. Emergency rooms, while they are equipped to handle a great deal of emergencies, often times do not have the same options available to them for treatment that dentistry that emergency dentists do.
Dentists specialize in the anatomy of the mouth, which means they understand what may be occurring more than an emergency room doctor. They also have the tools and treatment options available to them at their office that an emergency room may not.
With that being said, if you suffer from a severe chronic or immune system illness, a trip to the hospital may be a better option for you as they are more equipped to handle any risks associated with your additional conditions.
FAQ
Back To Top
It's been a long time since I've visited the dentist. What do I need to do?
It's important to first contact a local dental professional so that you can schedule an appointment to be seen. Having your teeth cleaned two times yearly by the dentist can also help to prevent any dental damage or issues from occurring that may require emergency or additional treatment in the future.
24 Hour Dentist Albuquerque Options
Albuquerque offers a variety of emergency dental options when you find yourself in need of immediate treatment. Choosing the one that is best for you can help to ensure you get your dental condition handled in an efficient manner.
True Care Dental Emergency offers later evening hours until 6pm each day during the week. Additionally, they feature Saturday hours by appointments only for those in need of immediate weekend care.
NE Heights Modern Dentistry is one of the leading emergency dentists in Albuquerque because they feature later evening hours during the weeknights, which are as late as 7pm some evenings. Additionally, Saturday hours are available until 1pm for those in need.
Desert Ridge Dental West may offer limited hours during the weekdays, but that is because they allow for extended evening hours on Monday and Tuesday until 6pm. There are no hours on the weekends so it is important to call ahead of time.
High Desert Dental with Dr. Gary Ross features evening hours until 7pm on Thursdays and extended hours on Saturdays until 2pm for those in need of weekend treatment.
Albuquerque features some of the best highly rated dental and medical facilities in the country. There may be many in-network options available to you that can provide you with the proper and timely dental treatment. If you find that you are in an emergency situation during after hours and are unable to get ahold of a dentist, it might be most beneficial to seek treatment at the nearest emergency room.
When it comes to you or your family member's oral health, it's always important to know ahead of time which dentists are available during emergency hours when you need them the most. This will help to provide you with the proper planning ahead of time so you are not caught off guard when a crisis arises. Remember before you use any new dentist check in Albuquerque, check the New Mexico State Dental and the American Dental Association to ensure all certification and proper verification prior to your visit.
This Emergency Dentists USA website is for advice only and does not provide a substitute for actual medical treatment and advice. If you are experiencing an emergency be sure to contact a dentist for actual advice and treatment should it be required.