Helping Thousands of People Each Year Find Dental Services
Emergency dental surgery, cavities, general dental care.
Find immediate help, no insurance required.
Get relief from chipped, cracked or lost teeth, abscesses or toothaches.
Aurora, Colorado Emergency Dental Clinics
We specialize in Aurora Emergency Dentistry:
Click to go to list of Dentists
Table of Contents
Tooth pain can be very painful but before you start to worry, take a deep breath and check out the many options available to you listed below. These emergency dentists in Aurora are ready to help you and eliminate the pain you feel. You can receive care around the clock so you do not have to sit and suffer in silence.
You can also take a minute to call our hotline and let our staff find the dentist closest to you!
Finding Emergency Dentists USA was a lifesaver for me. I was facing extreme tooth pain and was about to head to the ER when I found this site online. I called and their staff was able to find several dentists in my area who were open that day. So glad I found them instead of having to pay high ER fees!!
Finding a 24-Hour Emergency Dentist in Aurora, CO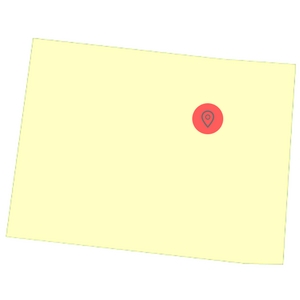 When you start to look for emergency dental options in Aurora, you will find that many of the dental offices are only open Monday through Friday and they close at 5:00 pm. However, there are many options for emergency dentists in Aurora and this means that you will be able to receive the care you need, when you need it.
Emergency dentists are prepared to handle any issues that may arise with your mouth and they can provide you with the procedures needed to alleviate the pain. You will find that Aurora offers after hour dentists whose offices are open until about 8:00 pm and walk-in clinics that do not require an appointment to be seen.
"Walk-in clinics are a great option when you have a dental problem and don't know where to turn. Not every city has them, but Aurora does."
Emergency Dentist Listings in Aurora, CO
Tooth pain is not something to mess around with! Fortunately, Emergency Dentists USA has created a list of emergency dentists in Aurora. All you need to do is take a moment and choose which one works best for you.
---
Emergency Dentists USA Referral Service Aurora
Phone Number: 1 (855) 401-2701
Address: Referral Service to tens of Dental Offices within the range of Aurora
Description If you are staying here on business or to see the mountains, don't let extreme dental pain halt you in your tracks. Get in touch with our referral service immediately when you start to have pain. Find Colorado 24 hour dentists today.
---
Associates in Family Dentistry
Number: (720) 506-4410
If Closed: Call 1 (855) 276-1128 and let our Operator help you find an emergency dentist.
Office: 15425 East Iliff Avenue Aurora, CO 80013
Doctors: Dr. Timothy Biel
Website: http://auroradentistry1.reachlocal.net/
Description: This emergency dentist in Aurora, CO can handle your urgent dental problem if you need immediate assistance. As a family dental office serving the Aurora area for over twenty years, they describe themselves as private practice whose aim is to continually please their patients. They also emphasize they are more than willing to take on emergency dentist cases that arise and extend their hours into the evenings if needed.
Hours of Operation:
Monday – Wednesday: 7:00am – 8:00pm
Thursday: 7:00am – 5:00pm
Friday: 8:00am – 4:00pm
Saturday: 8:00am – 3:00pm
---
Associates In Family Dentistry
Number: (303) 755-5768
If Closed: Call 1 (855) 276-1128 and let our Operator help you find an emergency dentist.
Office: 15425 E Iliff Ave, Aurora, CO 80013
Doctors: Dr. Timothy Biel
Website: http://auroradentistry.com/
Description: The Associates In Family Dentistry office is open until 8pm on Mondays and Wendesdays, making them a great walkin dentist option on those weeknights. You can also find the dentist available for Saturday dentist appointments from 8am to 3pm.
Hours of Operation:
Monday – Wednesday: 7:00am – 8:00pm
Thursday: 7:00am – 5:00pm
Friday: 8:00am – 4:00pm
Saturday: 8:00am – 3:00pm
---
Aurora Modern Dentistry
Number: (303) 366-5100
Office: 10650 East Garden Drive #106, Aurora, CO 80012
Doctors: Dr. McCann
Website: http://www.auroramoderndentistry.com/?sc_cid=googlelocal
Description: If you're in need of an emergency dentist on Saturdays you can find the Aurora Modern Dentistry office open from 830am til 3pm. You can also count on them for an urgent care dentist appointment on weeknights from Monday to Thursday until 7pm. This makes them overall an excellent option for emergency dental services in the Aurora area!
Hours of Operation:
Monday – Thursday: 8:00am – 7:00pm
Friday: 8:00am – 4:00pm
Saturday: 8:30am – 3:00pm
---
Dr. Joshua Zenon, DDS
Number: (303) 307-8282
Office: 3471 Salida St #60, Aurora, CO 80011
Doctors: Dr. Joshua Zenon
Website: https://joshuazenondds.com/
Description: Aurora has a strong selection of emergency dentist offices as you can see by the many listings we have that have hours on Saturdays as well as late on weeknights. As a patient you have many emergency dental clinics to choose from including this one. You can find an after hours dentist appointment with this clinic Monday and Tuesday until 7pm or Saturdays 8 to noon!
Hours of Operation:
Mon-Tue: 10:00am-7:00pm
Thurs: 8:00am-5:00pm
Fri: 9:00am-4:00pm
Sat: 8:00am-12:00pm
---
Valley Modern Dentists
Number: (303) 617-4488
Office: 16900 E Quincy Ave, Aurora, CO 80015
Doctors: Dr. O'Neill
Website: http://www.valleymoderndentists.com/
Description: This facility will work with your schedule if you have critical dental case. These emergency dentists will extend their normal office hours to address an evening emergency and providing you with quality care to diagnose and eradicate the pain you may be suffering is their first order of business.
Hours of Operation:
Monday – Tuesday: 10:00am – 7:00pm
Wednesday: 9:00am – 6:00pm
Thursday – Friday: 7:00am – 4:00pm
---
Windsor Dental Care
Number: (720) 213-0004
Office: 1155 S Havana St #43, Aurora, CO 80012
Doctors: Dr. Saffa F. Alani
Website: https://www.dentalworks.com/practice/367/Aurora-CO-80012-Windsor-Dental-Care
Description: The Windsor Dental care center is a solid choice for an after hours dental clinic as they have hours on Monday and Wednesday until 7pm. If you're suffering from a lost tooth, lost filling, chipped tooth or whatever dental emergency don't hesitate to come to this dental clinic for the help you need.
Hours of Operation:
Monday: 9:00am – 7:00pm
Tuesday – Thursday: 7:00am – 4:00pm
Wednesday: 10:00am – 7:00pm
---
How To Prepare For Your Aurora, CO Emergency Dental Clinic Visit
When you call your local Aurora emergency dentist, you will schedule an appointment to be seen immediately.
The first step you should take is to inquire about the price of services. If you have dental insurance, you should let the office know so that they can properly bill your insurance company for the services rendered.
If you have never been to the emergency dentist's office before, you will need to fill out paperwork that will ask you about your dental and medical history.
If you have any allergies, you should alert the staff immediately, so that they can accommodate your needs. Lastly, be sure to discuss any dental sedation options, especially if you suffer from dental anxiety.
Common 24-Hour Dental Emergencies
There are several dental emergencies that can develop in your mouth and some take time to form and others can arise quickly without warning. No matter the type of dental emergency you experience, you need to receive care for it. Below we discuss some of these dental emergencies and some at home remedies you can try until you are able to get into an emergency dentist in the Aurora area.
Lost Filling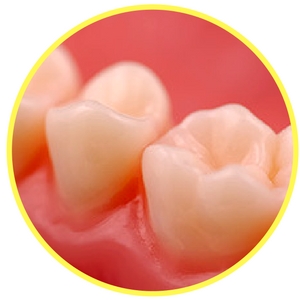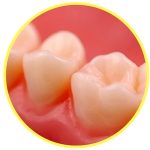 If you have lost your filling, you should place a piece of sugar-free gum into the hole left by the tooth. You want to make sure the gum is sugar free or it will cause more pain. If you do not want to use gum, you can choose a quality dental cement to place inside.
Loose or Lost Crown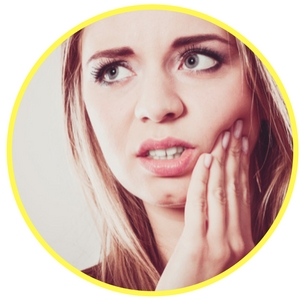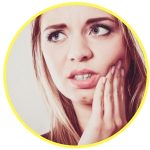 If you have lost your dental crown, try your best to recover it, as it will come in handy as you wait for dental care. If your crown did fall out and you have it in hand, you should try to apply a dental cement to it and place it back into your mouth. If you cannot get it to go back on top of the tooth, avoid forcing it, as this may cause more damage to the gums or tooth itself. If you are experiencing pain, you can apply clove oil directly to the tooth.
Chipped or Broken Tooth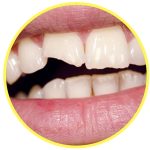 If you have broken your tooth, the first thing you want to do is save any of the pieces that broke off. You can rinse your mouth out with lukewarm water and then apply a piece of moist gauze to the site of the break if there is any bleeding. Once the bleeding has stopped, you can apply a cold compress to the exterior of your cheek where the pain is. It is important that you do not touch or try to wiggle the tooth, as this will lead to further problems.
Do You Need an Emergency Tooth Extraction?
Not all dental emergencies will require an extraction and you may be able to avoid one with a dental crown or filling. If the tooth is not able to receive a crown or filling, your tooth will receive an extraction recommendation. Emergency dentists in Aurora usually extract teeth if you have:
-Serious infections
-Periodontitis
-Broken or fractured teeth
Most patients only need a day or two to recover from the extraction procedure and then they can go back to their normal activities. It is important that you follow all aftercare instructions provided to you by your emergency dentist.
Emergency Room Versus Emergency Dentist

Emergency rooms are prepared to handle medical emergencies and not dental emergencies. They are unable to handle the cause of the pain, which can delay your care. However, you should always visit the emergency room when you have suffered trauma or you have hit your head, whether it is a dental emergency or not.
Emergency dentists are prepared to provide you with the care you need and they have the tools and equipment to perform emergency procedures when you visit their office.
Aurora Dental Association Information
If you are unable to find an emergency dentist near you, then you should call our 100% free referral service and let our staff do the work for you! With one call you can be connected to a local after hours dentist near you.
Before you head into any new dentist's office, you should verify their credentials and licenses. You can do this by visiting the local dental society of Colorado or you can visit the Colorado Dental Board or the Colorado Department of Regulatory Agencies.
Medically Fact-Checked & Written by Our Dental Editorial Team
You can read more about our editorial guidelines by clicking this link and learn more about the Emergency Dentists USA editorial team here.