Helping Aurora Residents Find IMMEDIATE Dental Services Everyday.
Get relief from chipped, cracked or lost tooth
Abscess, toothache, mouth pain
Emergency dental surgery
24 hour services - Includes weekends, nights and holidays
Find a Dentist 24/7
Near You IMMEDIATELY
Click or Call Toll-Free
1 (703) 810-3500
Emergency Dentist Aurora CO
---
We Specialize in Aurora Emergency Dentistry: Call 24/7: 1 (703) 810-3500
Monday – Friday, See An Aurora Dentist The Same or Next Day/Night You Call!.
Saturday And Sunday, "See An Aurora Emergency Dentist In Hours."
It's never good to have a dental emergency. It's especially not good when you have one in the middle of the night or on the weekend. With most dentist closing their doors at 5 and during the weekend, most people think that they are stuck until business hours. Luckily, there are emergency dentists available. These emergency dentists in Aurora, CO will help you get the care you need, so you don't have to live with pain for days. Urgent care dentists are open during the evenings and weekends. You can walk in no matter what time it is and get the treatment you need.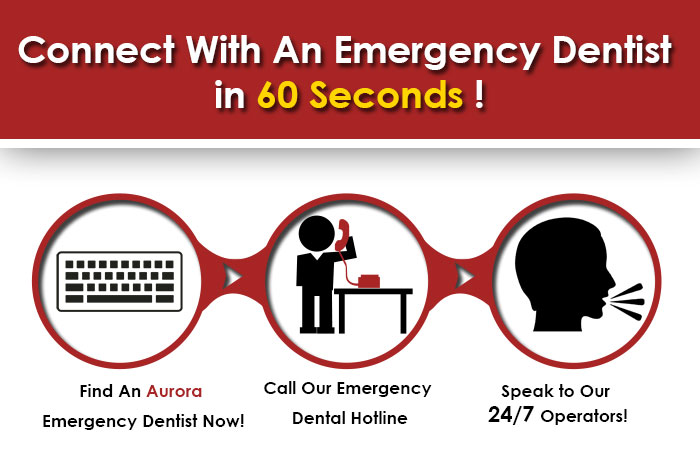 Call 24/7: 1 (703) 810-3500
Urgent Dental Care Clinics in Aurora, Colorado
Review the list we have below of weekend dentists open on Saturday and Sunday in Aurora, CO. With them being open 24 hours, you can get the oral care you need no matter what time it is day or night or whatever day it is during the week.
---
Emergency Dentists USA Referral Service Aurora
Phone Number: 1 (877) 507-0879
Address: Referral Service to tens of Dental Offices within the range of Aurora
DescriptionJust southeast of Denver, this city is where many stay traveling through one of the busiest airports in the nation, and where they connect by lite rail to downtown. If you are staying here on business or to see the mountains, don't let extreme dental pain halt you in your tracks, and get in touch with our referral service immediately when you start to have pain.
---
Associates in Family Dentistry
Number: 720-506-4410
Office: 15425 East Iliff Avenue Aurora, CO 80013
Doctors: Dr. Timothy Biel
Website: http://auroradentistry1.reachlocal.net/
Description: This emergency dentist in Aurora, CO can handle your urgent dental problem if you need immediate assistance. Finding an emergency dentist open on Sunday or Saturday in Aurora can be a challenge, but this local clinic offers quality dental care weekdays, and weekends, on Saturday. As a family dental office serving the Aurora area for over twenty years, they describe themselves as private practice whose aim is to continually please their patients. They also emphasize the are more than willing to take on emergency dentist cases that arise and extend their hours into the evenings and flex their schedule as may be needed.
Hours of Operation:
Monday-Wednesday: 7:00am-8:00pm
Thursday: 7:00am-5:00pm
Friday: 8:00am-4:00pm
Saturday: 8:00am-3:00pm
---
Valley Modern Dentists
Number: 303-617-4488
Office: 16900 E Quincy Ave, Aurora, CO 80015
Doctors: Dr. O'Neill
Website: http://www.valleymoderndentists.com/
Description: Driving to a 24-hour dentist in Aurora, CO can be a challenging task unless you have a game plan. This facility will work with your schedule if you have critical dental case. These emergency dentists will extend their normal office hours to address an evening emergency and providing you with quality care to diagnose and eradicate the pain you may be suffering is their first order of business. Their focus is also on delivering modern dentistry services to their patients which includes digital x-rays, intra-oral photos, and CEREC CAD/CAM restorations. This allows them to be more cost efficient and time efficient.
Hours of Operation:
Monday-Tuesday: 10:00am-7:00pm
Wednesday: 9:00am-6:00pm
Thursday-Friday: 7:00am-4:00pm
---
Associates In Family Dentistry
Number: 303-755-5768
Office: 15425 E Iliff Ave, Aurora, CO 80013
Doctors: Dr. Timothy Biel
Website: http://auroradentistry.com/
Description: The associates in family dentistry office is open until 8pm on Mondays and Wendesdays, making them a great walkin dentist option on those weeknights. You can also find the dentist avaialble for Saturday dentist appointments from 8am to 3pm on Saturdays. The only thing missing here are Sunday dentist appointments!
Hours of Operation:
Monday-Wednesday: 7:00am-8:00pm
Thursday: 7:00am-5:00pm
Friday: 8:00am-4:00pm
Saturday: 8:00am-3:00pm
---
Aurora Modern Dentistry
Number: 303-366-5100
Office: 10650 East Garden Drive #106, Aurora, CO 80012
Doctors: Dr. McCann
Website: http://www.auroramoderndentistry.com/?sc_cid=googlelocal
Description: If you're in need of an emergency dentist on Saturdays you can find the Aurora Modern Dentistry office open from 830am til 3pm. You can also count on them for an urgent care dentist appointment on weeknights from Monday to Thursday, until 7pm. This makes them overall an excellent option for emergency dental service in Aurora CO.
Hours of Operation:
Mon-Thurs: 8:00am-7:00pm
Fri: 8:00am-4:00pm
Sat: 8:30am-3:00pm
---
Dr. Joshua Zenon, DDS
Number: 303-307-8282
Office: 3471 Salida St #60, Aurora, CO 80011
Doctors: Dr. Joshua Zenon
Website: https://joshuazenondds.com/
Description: Aurora CO has a strong selection of emergency dentist offices as you can see by the many listings we have with hours on Saturdays as well as late on weeknights. This is great for you! As a patient you have many emergency dental clinics to choose from including this one. You can find an after hours dentist appointment with them Monday and Tuesday until 7pm or Saturdays 8 to noon!
Hours of Operation:
Mon-Tue: 10:00am-7:00pm
Thurs: 8:00am-5:00pm
Fri: 9:00am-4:00pm
Sat: 8:00am-12:00pm
---
Windsor Dental Care
Number: 720-213-0004
Office: 1155 S Havana St #43, Aurora, CO 80012
Doctors: Dr. Saffa F. Alani
Website: https://www.dentalworks.com/practice/367/Aurora-CO-80012-Windsor-Dental-Care
Description: The Windsor Dental care center is a solid choice as well. They have hours on Monday until 7pm as well as on Wednesday til 7pm. If you're suffering from a lost tooth, lost filling, chipped tooth or whatever dental emergency don't hesitate to show up as a walkin dentist appointment at this after hours dental clinic.
Hours of Operation:
Monday: 9:00am-7:00pm
Tuesday-Thursday: 7:00am-4:00pm
Wednesday: 10:00am-7:00pm
---
University of Colorado school of Dental Medicine
Address:13065 E. 17th Avenue | Aurora, CO 80045
Phone Number:303-724-6900
Website:http://www.ucdenver.edu/academics/colleges/dentalmedicine/Pages/DentalMedicine.aspx
Description: Known to be an excellent anchor in the Denver medical community for decades, this is where you can obtain emergency dental service from an aspiring 3rd or fourth-year student, who will be using their skill and talents to give you the best care possible. This is an entity that has long been recognized for a very high quality of care, and a place that you can come in confidence if you think you have a severe dental emergency. If you have a skiing or hiking trip planned and feel that tell-tale aching of an infected tooth, don't put off a visit to the Dental College; your future health depends on it!
Driving Direction
---
Saturday & Sunday Dentist Aurora CO
Weekend dentists in Aurora, CO are just a phone call away. You can start with the below phone number. They will connect you with an Aurora emergency dentist immediately. The alternative is browsing our list of after hour dentists below. You will find the phone number and website easily, so you can call to make arrangements to come in and get your oral issues taken care of quickly.
The face of pain is not anything we wish to stare into when our tooth is screaming out in agony or a game of soccer turns into a dental crisis with a broken, loose, or missing tooth.  This is where it is helpful to have a directory of some weekend dentists who can help you 24 hours a day, seven days a week, morning or night.  We have taken the time to review a number of dental services that can be there for you in your time of crisis. These emergency dentists in Aurora CO will take care of your needs.
Your dental health is important to us. We wouldn't search for emergency dentists in just about every city in the United States, if it wasn't. This is why we want to be sure you have all of the information need as you go in for your dental emergency appointment.Please see if you can bring someone with you to your urgent dental appointment in Aurora. You may have to have anethesia and not be able to drive afterwards. Plus, it's just nice to have someone there for you while you are seeking dental work.
Don't forget your cell phone. You will need it if you have to call for a ride home. It's also good to have it so you can be safe while out at night.
After you have your appointment, consider finding a regular dentist if you do not have one. Preventative care is just as important as emergency care. You can learn more about your dental health on the Colorado Dental Association website. It has a lot of information that every person should know to make sure they are taking good care of their teeth.
Please consider sharing this website with your friends and family. We have cities across the nation, so they can find an after hours dentist in their city as well.
We wish you a great appointment and pain relief as soon as possible. If you find any other dentists with emergency services, please let us know. We are always updating our records here, and would love to add more as they become available.