Helping Austin Residents Find IMMEDIATE Dental Services Everyday.
Get relief from chipped, cracked or lost tooth
Abscess, toothache, mouth pain
Emergency dental surgery
24 hour services - Includes weekends, nights and holidays
Find a Dentist 24/7
Near You IMMEDIATELY
Click or Call Toll-Free
1 (512) 969-2035
24 Hour Emergency Dentist Austin Texas
---
We Specialize in Austin Emergency Dentistry: Call 24/7: 1 (512) 969-2035
Monday – Friday, See An Austin Dentist The Same or Next Day/Night You Call!.
Saturday And Sunday, "See An Austin Emergency Dentist In Hours."
The amazing popularity of Austin TX lately means the population there is growing, and with that growth comes more 24 hour emergency dentist offices to supply needed services to the people living there. Finding a 24 hour dentist in Austin is as simple as calling our hotline or looking at the listings we provide below of emergency dental clinics in the Austin area. If you're searching for a walk in dentist office in your area, and aren't having any luck, you are in the right place. The dentists we have listed below often times have extra hours in the evenings and weekends, however if you're not able to reach them on their phone services please use our 24 hour hotline, call anytime 7 days a week and we will be able to connect you with an emergency dentist near you at their next available appointment time!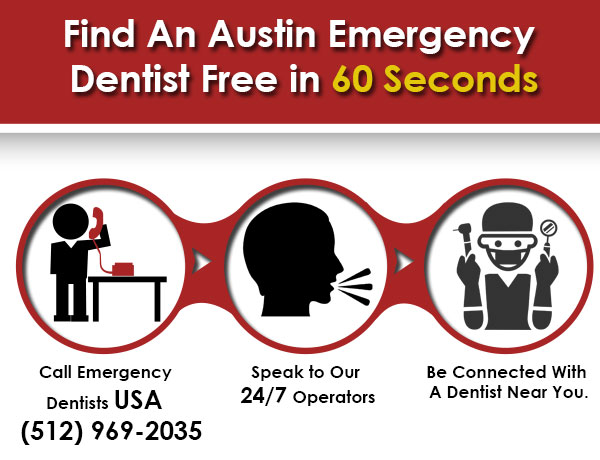 Call 24/7: 1 (512) 969-2035
Dental Emergency Clinics in Austin
Suffering from an urgent dental condition and be able to access urgent care dental clinics can be exceptionally helpful in the moment. Accidents happen and can occur at the oddest hours of the morning or evening, including weekends. If pain has made its way to your doorstep, you can get help and end the suffering.
---
Emergency Dentists USA Referral Service Austin TX
Phone Number: 1 (877) 507-0879
Address: Connected to Various Dental Offices across Austin
Doctors Multiple
Description Call to be connected with the perfect emergency dentist in Austin TX for you. Austin is a large city and we have the connections to find a dentist to fit your needs, and can get you an appointment immediately. Please don't hesitate to use our referral service, we provide direct connections to many dental professions in your area and its 100% free, as well as open 24 hours a day 7 days a week. If it's late at night or on the weekends, you're best bet is going to be to use our hotline because most dentist offices phone lines are not answered at night. There is a distinct lack of Sunday dentist offices in Austin and the referral service is going to be your only opportunity to find a dentist on Sundays.
---
Brident-Austin Dentist
Phone Number: 512-593-4463
Address: 9813 N. Lamar Blvd., Austin, TX 78753
Website: https://www.brident.com/en-US/dentists/texas/austin/9813-n-lamar-blvd/
Doctors: Dr. Woo Sung Jung, DDS
Description: An affordable family dentistry and orthodontics in Austin. Dental service provided includes digital x-rays, dentures, crowns, braces, cosmetic dentistry, and emergency dental care. All front staff speaks Spanish and we welcome walk ins and patients of any age. We love to take care of our customers and we have many affordable payment options and accept most insurance plans. They are a great choice for a walkin dentist in Austin.
Hours of Operation:
Monday – Friday: 9:00am-7:00pm
Saturday: 8:00am-4:30pm
---
Austin Emergency Dentist
Phone Number: 512-472-5633
Address: 2907 Duval St, Austin, TX 78705
Website: www.emergencydentistaustin.com
Doctors: Dr Michael Lessner
Description: We welcome new patients and have flexible hours for your convenience and emergencies! Most insurance plans accepted, so call us now, or when you're ready! Dr. Michael Lessner graduated from the University of Texas and attended Texas Health Science Center in San Antonio. Dr. Lessner has been practicing dentistry for 13 years and will definitely be able to help you with your Austin dental emergency today! A Great place to find emergency dental help with or without insurance.
Hours of Operation:
Monday – Friday 8:00am – 6:00pm
Saturday 8:00am – 1:00pm
---
Vida Dental
Phone Number: 512-640-7147
Address: 1901 West William Cannon Drive, Suite 143 Austin, Texas 78745
Website: http://www.myvidadental.com/
Doctors: Dr. Bryan Hassler
Description: Vida Dental is a family based, high technology practice that appreciates the trust you have placed in us. From cleanings to root canals, we offer a unique dental experience that is fun, affordable, interactive, and effective. We are proud of the technology we incorporate into our work to maintain the most advanced procedures available today. If you're looking for a weekend dentist in Austin they are a great choice because of their excellent Saturday dentist hours from 9am til 3pm.
Hours of Operation:
Monday – Friday: 9am-6pm
Saturday: 9am-3pm
---
Emergency dentist Austin
Phone Number: 512-345-5552
Address: 11645 Angus Road, Suite 10 Austin, Texas 78759
Website: http://www.emergencydentistaustin.net/
Description:
Located just off Highway 183 close to Mesa Park, this practice is here to serve those who encounter sudden dental emergencies, and in this very large city, there are many opportunities to have an accident. Full of college students, music festivals, and multimedia conferences, you don't want to be stranded on vacation here with intense tooth pain instead of enjoying this capitol of the Lone Star State.
---
Lakeline Ranch Dental
Phone Number: 512-859-3050
Address: 10900 Lakeline Mall Drive Ste 250 Austin, TX 78717
Website: http://www.dentistsaustintx.net/
Description:
This emergency and after hours clinic in Austin is open on Saturdays from 9 until 6, and is known for providing very high quality dental care for those under duress. They fully understand that every patient is different, and want to make sure that you feel relaxed the entire time. They are known for making oral Healthcare stress-free for the entire family, and have many positive reviews from past patients.
---
Common Dental Emergencies
Some common dental emergencies we have been helping clients with in the Austin, Texas area include soft-tissue injuries, lost crowns and chipped teeth.
If you're suffering from a soft-tissue injury dentists suggest that you try to first control any bleeding that may be occurring. Common solutions to this emergency dental situation are to clean your mouth with a salt and water infusion, rinse it to get rid of bacteria in the area of the wound. Then it's possible to use a piece of gauze or if you don't have gauze, you can easily substitute a water soaked tea bag, hold it on the site of the injury for at least 10 minutes. At this point you should have been able to stop the bleeding, if you cannot stop the bleeding be sure to consider the emergency room as an option if you consider yourself to be in a dangerous situation. However if not, please use our hotline or call one of the after hours dentists listed below in order to get an appointment with a dentist open 24 hours immediately.
If you have lost a crown from one of your teeth. Dentists suggest that you need to have an appointment quickly in order to replace it. Carry the crown with you to the dentist and they will be able to do what is needed to resolve the emergency. Typically it is suggested if you cannot see a dentist right away to purchase some dental cement (found at a pharmacy) and dab a bit of it on top of the tooth, and lightly replace the crown on the tooth.
I love Austin. I really enjoy its blend of modern skyline, coupled with the country feel of the surrounding area. For those who have visited this lovely Texas hill country city, you will immediately want to return so as to enjoy its beauty and rich heritage. If you live in the Capital or are visiting, be assured that emergency dentists in Austin, Texas are available to you in the event of a sudden, adverse dental condition. It is comforting to those who find themselves in the midst of weekend activities to know that if you require a 24 hour emergency dentist in Austin, you should not have much difficulty finding a qualified treatment facility.
Dental conditions of all types can occur at any time of the day. In that respect, having access to Austin emergency dental clinics for unforeseen dentistry ailments such as mouth sport injuries, fixing crowns and fillings, lacerations of the mouth or tongue, and general pain in the jaw, can be critical.
When searching for an Austin emergency dentist always remember to check their credentials at the Texas State Board of Dental Examiners.
Finding 24 hour dental care in Austin Texas doesn't have to be impossible. Please try one of our dentists listed on this site, or call our hotline in order to get connected with an emergency dentist in Austin as quickly as possible.
Emergency Dentists USA Austin TX page covers all neighborhoods and suburbs of Austin TX. However some of the areas we specifically cover include, central Austin; Tarrytown, Clarksville, Enfield, Bryker Woods, and Rosedale, Hyde Park, Brentwood, Crestview, Allandale, west Austin; Westlake Hills, Steiner Ranch, Cat Mountain, , southwest Austin; Oak Hill, Circle C Ranch, south Austin; Travis Heights, Barton Hills, Bouldin Creek, southeast Austin, East Austin and North Austin, as well as Round Rock, Pflugerville, Cedar Park.
Certainly if you cannot find a dentist in Austin, you can look at other pages for example the emergency dentist San Antonio page. We know it's a long drive, but if you're in pain, you have to do what's best for you!