Helping Cincinnati Residents Find IMMEDIATE Dental Services Everyday.
Get relief from chipped, cracked or lost tooth
Abscess, toothache, mouth pain
Emergency dental surgery
24 hour services - Includes weekends, nights and holidays
Find a Dentist 24/7
Near You IMMEDIATELY
Click or Call Toll-Free
1 (513) 815-3436
---
We Specialize in Cincinnati Emergency Dentistry: Call 24/7: 1 (513) 815-3436
Monday – Friday, See A Cincinnati Dentist The Same or Next Day/Night You Call!.
Saturday And Sunday, "See A Cincinnati Emergency Dentist In Hours."
Sometimes when we least expect it, things can go wrong and we may require the immediate need of a dentist. It can happen at all hours of the day, morning or night and sometimes it can occur on a Saturday or Sunday. When we need help to lessen the pain, the fear may be that you will not be able to locate qualified medical assistance. That is not the case and if you have done some research you will see that a freak dental accident such as a broken tooth or a maddening toothache can get attended to over the weekend or late at night.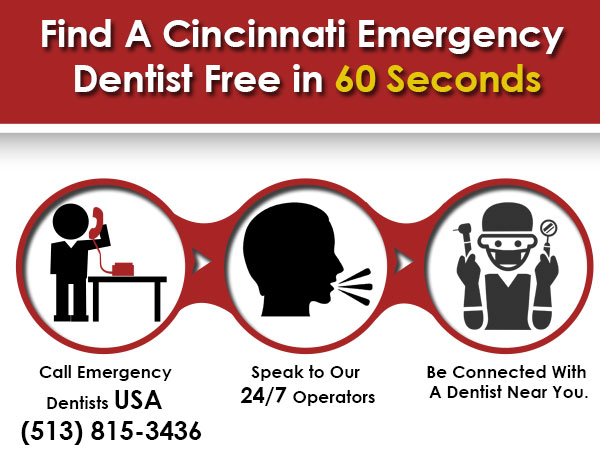 Call 24/7: 1 (513) 815-3436
Emergency Dentist USA is a directory of qualified late dentists in Cincinnati, OH. These dentists offer everything you would like when you need dental care in the middle of the night or on the weekends. You can have a tooth extracted, a cavity filled, or dental implant repair. This can be a major relief to you if you thought you had to wait until your regular dentist is available during normal business hours. A 24 hour dentist will be the best way for you to quell the pain you are now going through, and to make sure that you do it on the double.
The first listing we have as part of our list is for a directory. They provide a list of 24 hour dentist in Cincinnati, OH. You can then have them set you up with an appointment or just call the number they give you.
After this directory, you will find a list of Cincinnati, OH emergency dentists available. You can research them by going to their website. You can also call to see if they are available to take you immediately. An after hour dentist is so valuable to those who have families: accidents that can put you and your children in danger sometimes happen in just seconds.
Helped me find a dentist while traveling for business in Cincinnati, would definitely recommend this as the easiest way to get a quick dental appointment!
Urgent Dental Care Clinics in Cincinnati, Ohio
Being able to get help when you face a dental issue like this is critical, particularly if the weekend has arrived and your regular dentist is unavailable. An Emergency dentist in Cincinnati, Ohio is not terribly difficult to find if you know where to start your search. We aim to help with this challenge and have mapped out some clinics that will be of assistance to you if such an urgent situation should unfold in your life.. Cincinnati emergency dental clinics dot the landscape in and around the city. If you need dental care on a weekend or during late hours, then take a good look at what is available nearby.
---
Emergency Dentists Referral Service Cincinnati
Phone Number: 1 (877) 507-0879
Address: Various Dental Offices across Cincinnati
Doctors Multiple
Description Call to be connected with the perfect dentist for you. Cincinnati is a large city and we have the connections to find a dentist to fit your needs, and can get you an appointment immediately. Find Ohio 24 hour dentists today.
---
Advance Dentistry
Website: nofeardentist.com/
Address: 5823 Wooster Pike, Cincinnati, OH 45227
Phone Number: 513-272-9009
Description:
The advance dentistry office in Cincinnati OH is a high quality, professional dentist office in which you're going to find excellent available hours of service. They offer Saturday dentist services from 8am til 3pm on every Saturday. You can also find them in the office until 7pm on Tuesdays and Thursdays, this makes them one of the top choices of emergency dentists in Cincinatti.
Monday & Wednesday 7 am to 5 pm
Tuesday & Thursday 7 am to 7 pm
Friday 7 am to 5 pm
Saturday 8 am to 3 pm
Sunday – Closed
---
Bennet Family Dental
Website: bennetfamilydental.com
Address: 5606 Bridgetown Road Cincinnati, OH 45248
Phone Number: 513-662-2000
Description:
Dr. Bennet has an excellent weekend dentist schedule that is going to help you to find a walkin dentist appointment as soon as you need one. They are open from 8am til 530pm on both Saturday and Sunday. This means you can easily find a Sunday dentist in Cincinatti. They're also open until 830pm every weeknight. This gives you an opportunity to get to the dentist after work, without having to take any time off, for most of you anyway.
Monday 7 am to 3:30 pm
Tuesday 8:50 am to 5:20 pm
Wednesday 7 am to 7:30 pm
Thursday 8:50 am to 5:20 pm
Friday 7 am to 3:30 pm
Weekends closed
---
ImmediaDent
Website: Immediadent.com
Address 1: 8340 Colerain Avenue Cincinnati, OH 45239
Phone Number 1: 513-385-5999
Address 2: 6405 Glenway Avenue Cincinnati, OH 45211
Address 3:4960 Houston Rd., Ste. G Florence, KY 41042
Phone Number 3: 859-371-1505
Description:
If you are looking for a qualified dental facility that is available to service your urgent dental medical needs from 9:am to 9 pm, 7 days a week, then certainly consider this practice. They offer superior dental care services each day of the week and accepts most insurance plans, while offering flexible payments plans. No appointment is needed, hence if you are suffering from an emergency dental crisis, they will happily be available to help you.
Monday to Sunday 9 am to 9 pm
Location 1
Location 2
Location 3
---
Aspen Dental
Website: aspendental.com
Address 1: 148 Pavilion Parkway Newport, KY 41071
Phone Number 1: (859) 813-2570
Address 2: Colerain Center 9850 Colerain Avenue Cincinnati, OH 45251 (Northgate Location)
Phone Number 2: (888) 847-6129
Description:
This nationwide dental clinic has multiple locations throughout the country offering Saturday or Sunday dentist care in Cincinnati to those patients facing a urgent dental complication. Their network of locations offer accessibility, affordability, and with over 300 dental clinics, it is likely you will find one nearby your residence. Emergency walk-ins and same day appointments are more than welcomed, so if your struggling with finding a dentist open on Saturday or late hours, you may very well have found an answer to your needs with this dental group.
Monday – Wednesday 7 am to 5 pm
Thursday 10 am to 8 pm
Friday 8 am to 1 pm
Saturday By appointment only
Sundays – Closed
Location 1
Location 2
---
Cosmetic Fountain Square Dental Group
Website: cincinnatismiledesign.com
Address: 105 E. Fourth Street, Suite 1175, Cincinnati, Ohio 45202
Phone Number: (513) 621-2483
Description: This great choice for an urgent care dentist in Cincinnati is thankfully open on Saturdays from 8am till 1PM, and can be helpful with anything from extractions, abscessed teeth, or even wisdom teeth coming in incorrectly. Known for having a courteous staff, excellent bedside manner, and the ability to always deal with dental anxiety, you won't be disappointed when you
go here for service. With years of experience helping patients of all ages, Cosmetic Fountain Square Dental Group is a first-rate operation in all ways.
Monday – Friday 8 am to 5 pm
Saturday 8 am to 1 pm (By appointment)
Sundays – Closed
---
Wallace Group Dentistry
Website: wallacegroupdentistry.com/
Address: 5258 Montgomery Road Cincinnati, OH 45212
Phone Number: (513) 531-2338
Description: Coming to the Wallace group is an excellent way to make sure that your family is fully covered as far as any dental emergencies that can sneak up on you. When the pain of an injury such as an abscess sneaks up on you, you're going to want a clinic that can provide x-ray consultation, medications for infection, and a game plan to keep you safe in the future. The staff at the Wallace Group is on standby to make sure that you always have a place to call home for dental work, even if its in an emergency or dire situation.
Monday – Wednesday 8 am to 8 pm
Thursday 9 am to 7 pm
Friday 9 am to 4 pm
Weekends – Closed
---
Once you receive care from a late dentist, you should schedule a regular dental appointment. If paying for it is a problem, consider searching the Ohio Dental Association website. They have a lot of dentists that will provide low cost dental services. This way you can get the dental care you need without feeling as though you are sacrificing something else that's important to you.
Please share this website with others, as it has walk-in dentist options for many cities. We love helping people get the emergency dental care they need in Cincinnati, OH.
Searching for a 24 hour emergency dentist in Cleveland Ohio?