Helping Thousands of People Each Year Find Dental Services
Emergency dental surgery, cavities, general dental care.
Find immediate help, no insurance required.
Get relief from chipped, cracked or lost teeth, abscesses or toothaches.
Colorado Springs Emergency Dental Clinics
We specialize in Colorado Springs Emergency Dentistry:
Click to go to list of Dentists
Table of Contents
Dental emergencies are serious and can cause you to experience tremendous pain. Over-the-counter medications can help short-term, but they are not going to last the entire time that you experience pain and your body will build up an immunity to the medication. It is important that you seek out Colorado Springs emergency dental care when your tooth presents a problem that needs immediate attention.
Don't wait until the pain is completely unbearable and find a quality emergency dentist in Colorado Springs, CO today. We make this easy with our free service! With just one call to Emergency Dentists USA, you can find a dentist near you that has hours that fit your schedule.
This service is so helpful, I had no idea what to do on a holiday weekend when my tooth started to ache. I was so glad to find this site and be able to call and get a dentist info that was open that weekend instead of having to wait until Monday.
Finding a 24-Hour Emergency Dentist in Colorado Springs, CO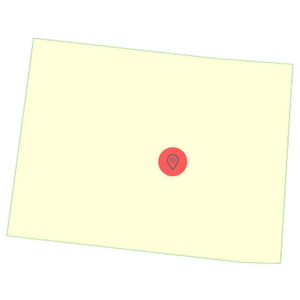 There are many different Colorado Springs emergency dentists who are able to see you around the clock, at your convenience. These dentists want to help patients in the area and will provide procedures needed to alleviate the pain you are experiencing.
24-hour dental offices in Colorado Springs, CO will see you around the clock. These offices are equipped to handle dental emergencies and many patients will turn to them when they need urgent care.
In addition to 24-hour dental offices, you will also see a number of after hours clinics that are open until 9:00 pm weekdays and on the weekend. These offices are ideal for someone who has a dental problem that cannot wait until normal business hours, but is not serious enough to head to the emergency dental office.
Emergency Dentist Listings in Colorado Springs, CO
If you are in pain, you may want to quickly locate an emergency dentist in Colorado Springs and head to their office. All you need to do is take a couple of minutes of your time and browse the lists below to locate a dentist that will meet your needs. Once you have identified one that is close by, simply give them a call and set up your emergency appointment.
---
Emergency Dentists USA Referral Service Colorado Springs
Phone Number: 1 (855) 401-2701
Address: Referral Service to many Dental Offices in each corner of Colorado
Description When you are experiencing a dental emergency, call our hotline right away to assure that you will soon be in the dentist's chair getting that much-needed attention. A great place to find emergency dental care with or without insurance. You can get emergency dental help in Colorado fast.
---
Emergency Dental Care USA – Colorado Springs
Number: (719) 302-3143
If Closed: Call 1 (855) 276-1128 and let our Operator help you find an emergency dentist.
Office: 6475 Wall St, Ste 201 Colorado Springs, CO 80918
Doctors: Dr. Gilbert Boyd, Dr. James Christiansen, Dr. Bart Christiansen, Dr. Angelo Camerino
Website: www.emergencydental.com/colorado-springs/
Description: This national business has a Colorado Springs location that is open 7 days a week, and they can provide urgent care for just about any kind of dental emergency. Located just off of North Academy Blvd and offering same-day treatment whenever possible, this clinic also provides payment options for nearly any scenario, and very affordable fees and costs.
Monday- Sunday: 9am – 9pm
---
Dental Arts Center of Colorado Springs Emergency Care
Number: (719) 528-6441
If Closed: Call 1 (855) 276-1128 and let our Operator help you find an emergency dentist.
Office: 5426 N. Academy Blvd. Suite 201 Colorado Springs, Colorado 80918
Doctors: Dr. Golomb
Website: www.dentalartscenterpc.com/emergency-dental-services.html
Description: At this clinic, emergency services are offered for broken teeth, gum problems, tooth extractions, infections, root canal, and problems with severe toothache. Testimonials from local patients claim that after going there for years they have never had a single problem, and the range and quality of care has always been superb. The dentist at this clinic is on call 24 hours for urgent care dentist services.
Dr. Golomb is on call 24 hours a day for patients
---
Centennial Dental Care PC
Number: (719) 632-7778
Office: 5731 Silverstone Terrace #200 Colorado Springs, CO 80919
Doctors: Dr. Carolyn T. Camerino, DDS
Website: www.centennialdentalcarepc.com/
Description: Find a walkin dentist appointment quickly with the centennial dental care pc office, they list on their website that the dentist is available on call 24/7!
Emergency Dental Colorado Springs available 24/7
---
The Springs Modern Dentistry
Number: (719) 634-8884
Office: 5198 N Nevada Ave Ste 100 Colorado Springs, CO 80918
Doctors: Dr. Nicole Hartmann
Website: www.thespringsmoderndentistry.com/?sc_cid=googlelocal
Description: The Springs Modern Dentistry has great office hours for after hour dentist work. They have evening hours on Wednesday and Thursday until 6pm and 7pm as well as Saturday dentist hours.
Monday: 7:00 AM – 5:00 PM
Tuesday: 7:00 AM – 4:00 PM
Wednesday: 7:00 AM – 6:00 PM
Thursday: 7:00 AM – 7:00 PM
Friday: 7:00 AM – 4:00 PM
Saturday: 8:00 AM – 1:00 PM
---
Steve A. Enea, D.D.S.
Number: (719) 388-8700
Office: 1975 Dominion Way, Suite 100 Colorado Springs, CO 80918
Doctors: Steve A. Enea, D.D.S.
Website: www.drsteveenea.com/
Description: Dr Steve Enea is a great dentist with reasonable hours. If you're looking for a weekend dentist in Colorado Springs he is a great choice because he has hours on Saturday!
Monday – Saturday: 8am – 4pm
---
How to Prepare for Your Colorado Springs, CO Emergency Dental Clinic Visit
A visit to a 24-hour emergency dental office is comparable to visiting your general dentist. There is not much that is different other than the time you can see the dentist. When you head into the local emergency dental clinic, you will need to fill out paperwork, which will include a breakdown of your dental and medical health. Many emergency dental offices will have you come in 15 minutes prior to your actual appointment, in order to fill out the paperwork.
Before you start to head to the emergency dental office, you should inquire about the cost of the services and payment options available. Most emergency dental offices will require payment upfront or payment once the services have been rendered. If you have dental insurance, you should let the office know and ask for an updated quote for the cost of service.
If you have any allergies, you should warn the dentist, this way he or she can prepare for your dental appointment. On the same note, you should let the dentist know if you have any type of dental anxiety about the procedure. Some emergency dental offices do provide sedation options to patients.
Common 24-Hour Dental Emergencies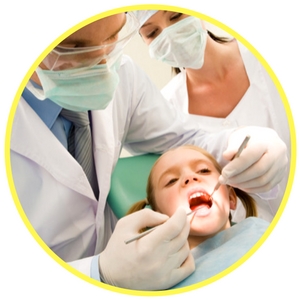 Mouth and tooth pain can mean that you have a dental emergency that needs to be handled immediately. There are a number of conditions that can develop and require urgent care right away but some dental issues may develop over time and then present the pain/symptoms all at once.
Dental emergencies need to be handled immediately to prevent any further problems or trauma to your mouth. If you allow a dental issue to persist, it may get to a point where serious dental intervention is needed.
Broken or Loose Braces & Wires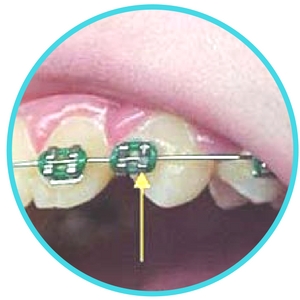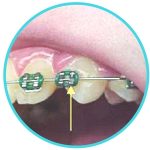 Broken or loose braces and wires can be troublesome within your mouth, it is important that you do not try to remove any loose braces and that you do not cut any wires, as you may inhale the metal piece. If you have a wire that is sticking out, you should attempt to push it back into place with an eraser on the end of a pencil. If this does not work, you should place a piece of dental wax over the wire to protect your gum or cheek from further injury.
Chipped or Broken Tooth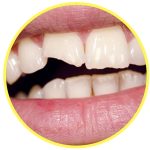 A chipped or broken tooth should not be touched as it may cause more pain or lead to a complete break on the tooth. You should save any pieces that have come off and then rinse your mouth out with warm water. If you are bleeding, you should place a piece of gauze in your mouth and bite down to apply some pressure. From there, you can apply a cold compress to your face where the injury occurred.
Abscess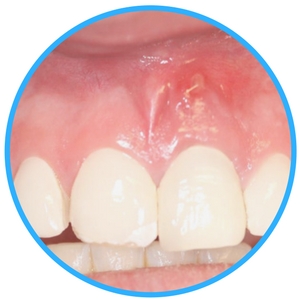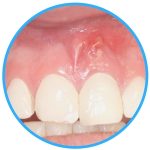 An abscess is considered to be an infection in the mouth and it will usually occur between the teeth and gums or it will occur around the root of the tooth. It is advised that you do not touch an abscess. The proper treatment for it includes draining the area and this is something only a trained dentist should do. It is important that you seek care for an abscess because if you do not, the infection can spread to other areas of the body.
The first sign of an abscess is a pimple-like bump on your gums. If you do notice one, you should rinse your mouth out with a mild salt and water solution several times per day.
Do You Need an Emergency Tooth Extraction?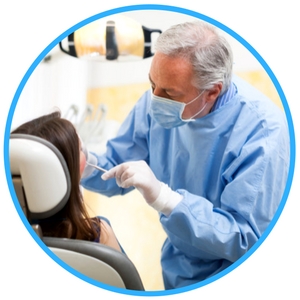 Emergency tooth extractions may be recommended in certain situations where the tooth cannot function on its own or has been damaged to the point where its integrity is in question. It is important to know that not all tooth problems will require an extraction and many dentists try to save the tooth first. However, if the tooth cannot be saved, it may be recommended for an extraction.
There are certain situations where there may be no alternative other than to extract the tooth and you should only trust an experienced emergency dentist in Colorado Springs to do so. Some of the conditions include:
· Trauma to the tooth
· Infections
· Impacted tooth or severely crowded teeth
· Broken or fractured tooth
· Periodontitis
· Severe tooth decay
If you do not have an extraction performed when it is needed, it may cause problems with the other teeth. It is important that you receive immediate dental care whenever you think there is a problem. Delayed care can and does often lead to serious complications.
Once the extraction is completed, you will need to heal for a day or two. Below, we will provide you with some tips to help alleviate any discomfort.
· Reduce bleeding by biting on a piece of gauze
· Keep your head propped up when sleeping for the first 24 hours
· Eat soft foods
· Do not suck on a straw for 24 hours
· Take any and all medications prescribed to you
· Limit your activity in the first 24 hours
Emergency Room Versus Emergency Dentist

When you experience severe tooth pain, you may think that you need to go to the emergency room. While this would be true for any medical issue you experience, it may not be the best option for your dental problem. The reason is that the ER is not equipped to handle dental conditions and the physicians on staff are not dentists. They can look over your tooth and provide you with pain relief if needed until you can head into your dentist's office.
You would be better served heading to a local emergency dental office. These dentists are available around the clock to provide you with the care you need and they will perform the procedures needed to alleviate the pain you are experiencing.
There are times when you should head to the ER and those times would be when you are involved in an accident, have a sports-related injury, have fallen, have a head injury, or have sustained any type of trauma.
Colorado Springs Dental Association Information
If you think that you have a dental emergency, but you cannot find a dentist office open 24 hours a day, please call our hotline! With only one call to our 100% free referral service, you can find a dentist near you that can take care of any emergency you may face. Let Emergency Dentists USA help you today!
Tooth pain can vary from mild to severe in nature and it may cause you to miss social events and other activities you scheduled. It is important that you seek out the dental care you need when you need it, otherwise, you may find that the condition gets worse or affects other teeth in your mouth.
We recommend that before you visit any new dentist, that you check the local dental society in Colorado Springs, CO to verify any certifications and credentials. You should always check the Colorado Dental Board and the Colorado Department of Regulatory Agencies to obtain this information.