Helping Corpus Christi Residents Find IMMEDIATE Dental Services Everyday.
Get relief from chipped, cracked or lost tooth
Abscess, toothache, mouth pain
Emergency dental surgery
24 hour services - Includes weekends, nights and holidays

Emergency Dentist in Corpus Christi – Find A 24-Hour Dentist Now
Emergency Dentist Corpus Christi Table of Contents
Table of Contents
Emergency Dentists USA has worked hard to be able to provide you with a list of 24-hour emergency dentists in Corpus Christi. We know that tooth pain can be very aggravating and it can even cause you to miss out on work and other activities that you enjoy.
While you can take an over-the-counter medication to alleviate the pain, you will find that it does not work after a while and you are still in the painful boat you were once in. Dental pain is no fun and it can diminish your quality of life until the problem is corrected.
Before you start to learn how to live with the pain, take a moment and scroll through the emergency dentists in Corpus Christi below. You will be able to identify which ones offer 24-hour appointments and you can call them to schedule immediate care for yourself.
In addition to 24-hour clinics in Corpus Christi, you will also find clinics that offer after hours' appointments and walk-ins.
Finding A 24 Hour Emergency Dentist in Corpus Christi, TX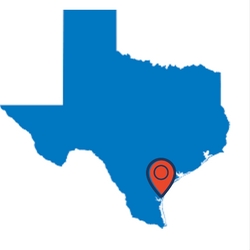 As you start your search for an emergency dentist in Corpus Christi, you will quickly find that most dental offices only offer traditional care during business hours and these business hours are from 9:00 am until about 5:00 pm, Monday through Friday.
This does not work for most people and will mean that you are left to deal with your dental problem all weekend long or until you can get enough time off work to receive care. Now that is inconvenient.
There are many options for emergency dentists in Corpus Christi and that means you can receive the dental care you need, when you need it. Emergency dentists work around the clock to ensure their patients' mouths are taken care of and pain free.
Corpus Christi offers 24-hour emergency dental care to patients and you can call these offices to find out when they can see you. Typically, you can be seen any time of the night, even after midnight! If you are suffering from severe dental pain or you have a serious dental emergency, this is the best option for you.
In addition to emergency dentists, you will also find after hours' dentists in Corpus Christi. These dentists are open later than the traditional business hours to provide you time to come in and receive care. Most after hour offices in Corpus Christi are open until 8:00 pm.
Emergency Dentist Listings in Corpus Christi, TX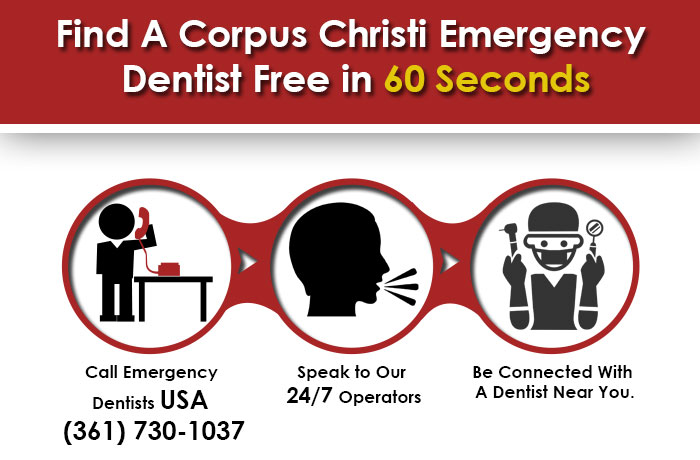 Tooth pain can knock you back and it may even cause you to shed a tear or two. Once tooth pain has started, it can be extremely hard to get rid of and you may be looking for an emergency dentist in Corpus Christi.
Fortunately, we have made the entire process of head hunting for a dentist easy. All you need to do is look at the list of emergency dentists in Corpus Christi below and choose one to call. You will be able to make an appointment for immediate dental care.
---
Emergency Dentists USA Referral Service Corpus Christi
Phone Number: 1 (855) 401-2701
Address: Referral Service To Various Dental Offices across Corpus Christi
Doctors Multiple
Description Call to be connected with the perfect dentist for you. Corpus Christi is a large city and we have the connections to find a dentist to fit your needs, and can get you an appointment immediately.
---
Tide Dental
Address: 5858 S. Padre Island Drive, Suite 54 A Corpus Christi, Texas 78412
Phone Number: (361) 994-4867
Website: mytidedental.com
Description:
This excellent facility offers a weekend dentist in Corpus Christi, TX, to those who may find themselves in need of urgent dental care. Offering general dentistry services to it patients and welcoming walk in dental emergencies, this facility is one of the few dentist open on Saturday in Corpus Christi with appointment availability from 9:00 am to 3:00 pm. So if you seek after hour and weekend dentistry services due to an unexpected and distressful tooth ailment, you may want to visit this practice.
Monday 9 am to 6 pm
Tuesday 9 am to 6 pm
Wednesday 9 am to 6 pm
Thursday 9 am to 6 pm
Friday 9 am to 6 pm
Saturday 9 am to 3 pm
Sunday Closed
---
Aspen Dental
Address: 5425 South Padre Island Drive Corpus Christi, TX 78411
Phone Number: (361) 360-5829
Website: www.aspendental.com/dentist/corpus-christi
Description:Aspen dental is a clinic that has weekday hours for your convenience, and is open until 5:30 PM on Monday through Thursday. You can still get some quick dental attention here on Fridays until 1PM, no matter what the circumstances are. Anything from cracked teeth and broken crowns on up to the potential for an abscess or other dental issues can be taken care of here in this Corpus Christi dental clinic.
Monday 7:30 am to 5:30 pm
Tuesday 7:30 am to 5:30 pm
Wednesday 7:30 am to 5:30 pm
Thursday 10 am to 8 pm
Friday 8 am to 1 pm
Saturday By appoinment only
Sunday Closed
---
Apple Dental Center
Address: 1220 Airline Rd., Suite 210 Corpus Christi, TX 78412
Website: www.appledentalcenterinc.com
Phone Number: (361) 993-9551
Description: Apple Dental Center is a great choice for those in Corpus Christi who are in need of a dentist on Saturdays. They are open from 8 in the morning until 1Pm on Saturdays, and until 5 during the week. Here you can find professionals to give you attention for issues ranging from a sudden toothache, cracked or broken teeth, or other issues such as injury to the jaw. Don't rely on self-diagnosing your problems to keep you healthy, and see a professional to get help.
Monday 8 am to 5 pm
Tuesday 8 am to 5 pm
Wednesday 8 am to 5 pm
Thursday 8 am to 5 pm
Friday 8 am to 4 pm
Saturday 8 am to 1 pm
Sunday – Closed
---
Dawood Dental Center Emergency Services
Address 4514 S Staples St, Corpus Christi, TX 78411
Phone Number: (361) 992-8531
Website: www.dawoddentalcenter.com
Description:
This practice is completely committed to restoring and enhancing the natural beauty of your smile, but is also a very competent location that can get rid of your dental emergency! This practice will make every effort to see someone with a dental emergency as soon as possible, and treating every patient as a special individual will make the visit as pleasant as possible. Both of these dentists are Texas natives, and love providing service to individuals in their home state that are coping with massive tooth pain.
Monday 8 am to 6 pm
Tuesday 8 am to 6 pm
Wednesday 8 am to 6 pm
Thursday 8 am to 6 pm
Friday 8 am to 12 pm
Saturday Closed
Sunday Closed
---
Boss Dental Care Emergency Services
Address 801 Everhart Rd. Corpus Christi, TX 78411
Phone Number: (361) 992-7551
Website: emergencydentalcorpuschristi.com
Description:
Predicting what is going to happen to your dental health is nearly impossible. You can always contact Dr. Boss to schedule an appointment for you within the next 24 hours, and your severe need will be seen with confidence and professionalism. A broken or lost tooth, need for a root canal, filling, broken crown, or abscessed tooth will soon be met by an excellent practitioner, and you won't be kept awake any longer by the pain that is plaguing you. Testimonials claim that this practice does far more than just seek to bill large revenues, and is a true blessing to everyone experiencing a dire emergency.
Monday 7:30 am to 5 pm
Tuesday 7:30 am to 5 pm
Wednesday 7:30 am to 5 pm
Thursday 7:30 am to 5 pm
Friday 8 am to 12 pm
Saturday Closed
Sunday Closed
---
How To Prepare For Your Corpus Christi, TX Emergency Dental Clinic Visit
When you schedule a Corpus Christi emergency dental appointment, you can expect it to be like a general dental appointment that you would go to any other time.
Before you head into the office for treatment, you should inquire about the cost of the procedure. You can ask for some general costs if you do not know what the procedure you need to have done is. You should inquire about what payment methods are accepted and let the receptionist know if you have dental insurance so they can provide you with an accurate quote for the procedure.
If you have never been to the dental office before, you will be asked to fill out some paperwork and should arrive a little early to allot yourself time to do so.
The paperwork will ask you general questions about your dental and medical history to ensure proper treatment is administered to you. If you have been to the office before, you may need to update your information on file.
If you do have any allergies, you should let the office know so that they can accommodate your needs. In addition, let them know if you suffer from dental anxiety, as sedation options may be available to you.
Quality of Urgent Care Dentists in Corpus Christi, TX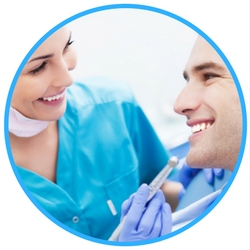 Corpus Christi is a city located within the South Texas area and is home to over 320,000 residents. This city has a port located in its heart known as the Port of Corpus Christi and is the fifth largest in the US. The city has a nickname of "Sparkling City by the Sea" and the name Corpus Christi is said to mean Body of Christ. 1839 marks the year the city was founded.
Over the years, the city has experienced some major Civil Rights wars and arguments. For example, in 1873, immigrants were lynched in the city by a mob. In 1929, the LULAC, or League of United Latin American Citizens, was created to combat racism and discrimination.
Corpus Christi is home to many different historical sites and attractions, with one of the most popular being the USS Lexington, which is a floating museum.
With so many people living in the city, there needs to be both quality medical and dental care. In Texas, about 80 percent of homes in the area receive fluoridated water. In addition, there are 50 dentists per every 100,000 residents in Texas, which is a bit below the national average of 60 dentists per 100,000 residents.
Christus Spohn Hospital Corpus Christi-Memorial is a large hospital that has a focus in general medical and surgical care. The hospital is home to 576 beds, 922 nurses, and 662 doctors on site. This facility is accredited by the Commission on Accreditation of Rehabilitation Facilities.
Data taken from a survey revealed that this hospital receives over 35,000 admissions and more than 118,000 emergency room visits per year. In addition, more than 19,000 inpatient and outpatient surgeries are performed yearly as well. This hospital has been rated as high-performing in two adult condition and procedures.
The Corpus Christi Medical Center is another large general medical and surgical hospital that is home to 416 beds, 623 nurses, and 253 doctors. This facility sees more than 75,000 patients in the emergency room and more than 19,000 admissions yearly.
Surgeons on staff perform more than 10,000 inpatient and outpatient surgeries per year. This hospital is rated high-performing in two adult conditions and procedures.
If you believe you are experiencing a dental emergency and you cannot get ahold of a 24-hour emergency dentist in Corpus Christi, you should call 911 immediately or head to your local emergency room to receive care.
Common 24-Hour Dental Emergencies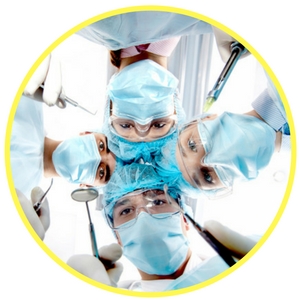 Do you have dental pain? Are you tired of it? If so, it is time that you receive quality emergency dental care in Corpus Christi. There are many common dental emergencies that you can experience in your mouth and some of them occur rapidly while others take some time to form. It is not a time to simply accept the pain and move on because a delay in care can make the problem much worse.
All dental emergencies need to be evaluated by a trained dental professional and handled in a timely manner to prevent the spread of an infection or tooth decay. Emergency dentists in Corpus Christi are ready to look at your teeth to determine the root of the problem and treat it.
Reading any of the advice provided to you on emergencydentistsusa.com is not a substitute for professional medical advice and should only be used for information purposes. If you are experiencing any of the conditions below, call your local Corpus Christi emergency dentist.
Lost Filling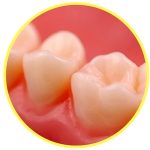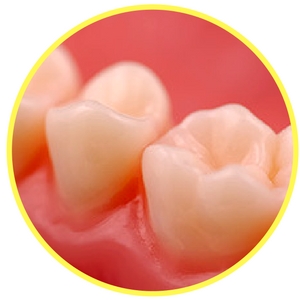 Fillings can come out of your mouth when you chew on a sticky substance or when your tooth's structure is tested and loses some of its integrity.
You can take a piece of sugar-free gum and place it into the hole in your tooth where the filling once was. It is vital that you choose sugar-free or you may experience some pain caused by the sugar in the gum. Also, you could use an over-the-counter dental cement in place of the gum.
If you have lost your filling, you should see your local Corpus Christi emergency dentist as soon as possible.
Loose or Lost Crown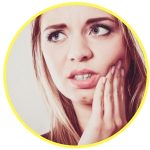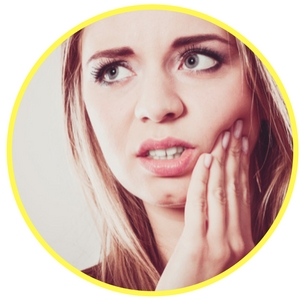 ou should place a small amount of clove oil on the tooth to stop any pain and then try to place the crown back over your tooth. If you can place it on the tooth, clean out the inside of it, place a dental cement inside of the crown, and then attach it to the tooth. It is imperative that you do not use super glue on your tooth or crown.
If you have lost a crown or it has fallen off, you should call a local Corpus Christi urgent care dentist to provide you with the dental care you need.
Chipped or Broken Tooth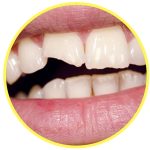 If you have chipped your tooth, it may have happened because you hit it on a hard object or you bit into a hard piece of candy. It happens. The first thing you should do is save the pieces that you can and then rinse your mouth out with warm water. If you find that you are bleeding, you should apply a piece of moist gauze to the area and apply pressure for 10 minutes. You can also apply a cold compress to the exterior of your cheek where the chip happened to reduce discomfort and swelling.
If your tooth is chipped, you should call an emergency dentist right away so they can provide you with the care you need and restore the look and function of your tooth.
Knocked Out Teeth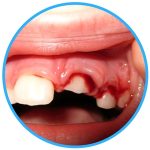 If your tooth has been knocked out, the first thing you want to do is recover the tooth and hold it by the crown only. Do not touch the roots and do not remove the tissue present on the roots. You can rinse dirt off, but do not scrub it off. You should attempt to place the tooth back into its socket, but do not force it. If you cannot get it into the socket, you should place it in a small container filled with milk.
Call an emergency dentist immediately when you have lost your tooth. Patients who are seen within the first hour of their tooth being knocked out have the best chance of saving it.
Do You Need an Emergency Tooth Extraction?
Emergency tooth extractions may be one of the options presented to you when you seek out emergency dental care, especially when the integrity of the tooth is lost. While not all situations will require your tooth to be extracted, there are instances when it does need to be removed. Extractions are not usually the first option on the list for dentists because it can cause a host of other problems such as bone loss and facial changes. However, you may need to have an extraction if you have:
Severe tooth decay
Periodontitis
Fractured or broken tooth
Trauma to the jaw or tooth
Impacted teeth
Infections
Most patients will recover from the extraction in just a day or two and there are no further complications with the site. Your emergency dentist will provide you with aftercare instructions that should be followed when you arrive at home. In addition to those aftercare instructions, here are some tips to alleviate any discomfort.
Apply cold compresses to the exterior of the cheek where the extraction was performed.
Keep your head propped up when you lie down.
Place a piece of moist gauze in your mouth and bite down to stop any bleeding that occurs.
Eat soft foods until the site is completely healed.
Emergency Room Versus Emergency Dentist


The number of patients that head to an emergency room when they experience a severe dental condition has increased, but this may not be the correct and best option. Yes, the emergency room does treat emergencies, but only medical emergencies.
If you happen to go to the ER with tooth pain, they will not turn you away, but keep in mind that they cannot provide you with the dental procedure you need either. They will look over your mouth and may prescribe you with medication until you can see your local Corpus Christi dentist.
There are times when you should go to the ER and that includes when you have fallen and hit your head, sustained trauma to your mouth, have a head injury, or have broken your jaw. In these cases, the ER can help you.
Emergency dentists work with patients around the clock to provide them with the urgent dental care they need. These dentists have the tools and equipment to ensure you receive the dental procedure you need.
FAQ
I have severe mouth pain; do I need to see an emergency dentist or should I wait?
If you are experiencing severe mouth pain, you should see an emergency dentist. You never know what the problem may be, and if it is serious, it could cause problems with your other teeth or the infection, when present, may spread. You should not delay care and call a local Corpus Christi emergency dentist.
What causes bad breath?
Bad breath is caused by several different things. The most common is poor oral hygiene. It is important that you brush and floss your teeth twice daily. When food particles become stuck in your teeth, they remain there until removed and they can start to smell bad. Other causes include smoking, tooth decay, gum disease, and consuming foods pungent in smell.
What is in amalgam (silver) fillings, and are they safe?
Amalgam fillings are made up of different metal to include mercury, tin, silver, and copper. While many people worried about the mercury content in these fillings, they have not been proven to be deadly and are still used and considered to be safe.
How much radiation do I get from a dental x-ray and how does it compare to other medical procedures?
Radiation from a dental x-ray is measured in millirems and can be compared to other medical procedures as well. A routine dental x-ray will expose you to about .5 to 3 millirems.
To put this into perspective, cooking with natural radon gas exposes you to 10 millirems per year and a hip x-ray exposes you to 65 millirems.
Why don't my dentures seem to fit anymore?
Your dentures may not fit for a couple of different reasons. First, your mouth may have changed shape, which can cause the dentures to not fit the way they used to. Secondly, your dentures may have become damaged, which would cause them to change shape.
24 Hour Dentist Corpus Christi Options
The office of Boss Dental Care Emergency Services is available to see you on a 24-hour basis to treat your dental emergencies. The office is proud to be able to offer patients with prompt procedures to correct a broken tooth, lost tooth, or even perform a root canal, when needed.
The dentist here does not focus on how much money can be made, but the care of the patients in his care. This office is prepared to see you and alleviate your pain.
Have you recently grabbed at your mouth in pain? If so, you may be experiencing a dental emergency, whether you know it or not. Some emergencies will stay dormant until they quickly appear and have you scrambling for the door.
Tooth pain can be quite debilitating and it may cause you to miss work, school events, or your child's local soccer tournament. In these situations, you need to be able to turn to an emergency dentist in Corpus Christi to help alleviate your pain.
If you cannot find a local emergency dentist, you should head to your local emergency room to receive care. While they will not perform the dental procedure you need, they can prescribe you medication to alleviate the pain you are feeling.
Tooth pain is not something to play around with and delayed care will lead to serious problems in the future. You should see a local Corpus Christi emergency dentist today!
Emergency Dentists USA is a portal that is intended to be used for informational purposes only and not to be used to replace the advice of a medical professional. If you are experiencing a dental emergency, you should call 911 immediately or head to your local emergency room.
We do recommend that you check the local Texas dental society to verify the credentials and licenses of any new dentist you plan to visit. You can also visit the Texas Dental License and Registration Search and the Texas State Board of Dental Examiners.
Which is the top 24 hour emergency dentist office in Plano, TX?