Helping Corpus Christi Residents Find IMMEDIATE Dental Services Everyday.
Get relief from chipped, cracked or lost tooth
Abscess, toothache, mouth pain
Emergency dental surgery
24 hour services - Includes weekends, nights and holidays
Find a Dentist 24/7
Near You IMMEDIATELY
Click or Call Toll-Free
1 (361) 730-1037
Call 24/7: 1 (361) 730-1037
The weekend, when it arrives, can be so much fun and the last thing you are probably thinking about is where you can find an after hours dentist in Corpus Christi, Texas. But if your family is as active as mine, whether it be soccer, skateboarding, or any number of sports, all sorts of medical and dentistry issues can arise. Whether these accidents involve a bit tongue, a laceration in the mouth, a painful abscess tooth, or some other severe dental pain, accidents happen and when they do you will want to know where Corpus Christi emergency dental clinics are located and whether they are open over the weekend or offer 24/7 services.
Such is the life of a parent as we find that tending to our family's dental healthcare needs becomes a necessary part of our forward planning efforts.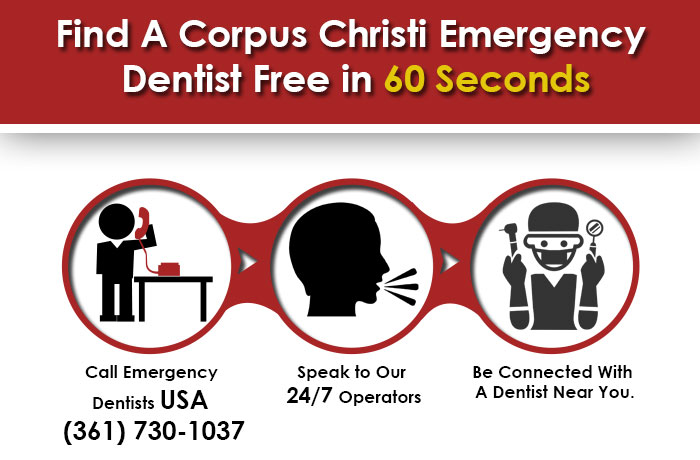 Call 24/7: 1 (361) 730-1037
Urgent Dental Care in Corpus Christi, TX
There are no guarantees when it comes to planning for the future. But if you want a head start on finding a 24 hour dentist in Corpus Christi then you ought to take a quick moment to bookmark this website. Finding a walk in dental clinic is not as difficult as you may think and to that end, we have done some research to help you with that endeavor if the need should ever arise.
Texas is a huge state, we know that, but if you're absolutely unable to find a dentist near you, why don't you try looking at our emergency dentist San Antonio page.
---
Emergency Dentists USA Referral Service Corpus Christi
Phone Number: 1 (877) 507-0879
Address: Referral Service To Various Dental Offices across Corpus Christi
Doctors Multiple
Description Call to be connected with the perfect dentist for you. Corpus Christi is a large city and we have the connections to find a dentist to fit your needs, and can get you an appointment immediately.
---
Tide Dental
Address: 5858 S. Padre Island Drive, Suite 54 A Corpus Christi, Texas 78412
Phone Number: (361) 994-4867
Website: mytidedental.com
Description:
This excellent facility offers a weekend dentist in Corpus Christi, TX, to those who may find themselves in need of urgent dental care. Offering general dentistry services to it patients and welcoming walk in dental emergencies, this facility is one of the few dentist open on Saturday in Corpus Christi with appointment availability from 9:00 am to 3:00 pm. So if you seek after hour and weekend dentistry services due to an unexpected and distressful tooth ailment, you may want to visit this practice.
Monday 9 am to 6 pm
Tuesday 9 am to 6 pm
Wednesday 9 am to 6 pm
Thursday 9 am to 6 pm
Friday 9 am to 6 pm
Saturday 9 am to 3 pm
Sunday Closed
---
Aspen Dental
Address: 5425 South Padre Island Drive Corpus Christi, TX 78411
Phone Number: (361) 360-5829
Website: www.aspendental.com/dentist/corpus-christi
Description:Aspen dental is a clinic that has weekday hours for your convenience, and is open until 5:30 PM on Monday through Thursday. You can still get some quick dental attention here on Fridays until 1PM, no matter what the circumstances are. Anything from cracked teeth and broken crowns on up to the potential for an abscess or other dental issues can be taken care of here in this Corpus Christi dental clinic.
Monday 7:30 am to 5:30 pm
Tuesday 7:30 am to 5:30 pm
Wednesday 7:30 am to 5:30 pm
Thursday 10 am to 8 pm
Friday 8 am to 1 pm
Saturday By appoinment only
Sunday Closed
---
Apple Dental Center
Address: 1220 Airline Rd., Suite 210 Corpus Christi, TX 78412
Website: www.appledentalcenterinc.com
Phone Number: (361) 993-9551
Description: Apple Dental Center is a great choice for those in Corpus Christi who are in need of a dentist on Saturdays. They are open from 8 in the morning until 1Pm on Saturdays, and until 5 during the week. Here you can find professionals to give you attention for issues ranging from a sudden toothache, cracked or broken teeth, or other issues such as injury to the jaw. Don't rely on self-diagnosing your problems to keep you healthy, and see a professional to get help.
Monday 8 am to 5 pm
Tuesday 8 am to 5 pm
Wednesday 8 am to 5 pm
Thursday 8 am to 5 pm
Friday 8 am to 4 pm
Saturday 8 am to 1 pm
Sunday – Closed
---
Dawood Dental Center Emergency Services
Address 4514 S Staples St, Corpus Christi, TX 78411
Phone Number: (361) 992-8531
Website: www.dawoddentalcenter.com
Description:
This practice is completely committed to restoring and enhancing the natural beauty of your smile, but is also a very competent location that can get rid of your dental emergency! This practice will make every effort to see someone with a dental emergency as soon as possible, and treating every patient as a special individual will make the visit as pleasant as possible. Both of these dentists are Texas natives, and love providing service to individuals in their home state that are coping with massive tooth pain.
Monday 8 am to 6 pm
Tuesday 8 am to 6 pm
Wednesday 8 am to 6 pm
Thursday 8 am to 6 pm
Friday 8 am to 12 pm
Saturday Closed
Sunday Closed
---
Boss Dental Care Emergency Services
Address 801 Everhart Rd. Corpus Christi, TX 78411
Phone Number: (361) 992-7551
Website: emergencydentalcorpuschristi.com
Description:
Predicting what is going to happen to your dental health is nearly impossible. You can always contact Dr. Boss to schedule an appointment for you within the next 24 hours, and your severe need will be seen with confidence and professionalism. A broken or lost tooth, need for a root canal, filling, broken crown, or abscessed tooth will soon be met by an excellent practitioner, and you won't be kept awake any longer by the pain that is plaguing you. Testimonials claim that this practice does far more than just seek to bill large revenues, and is a true blessing to everyone experiencing a dire emergency.
Monday 7:30 am to 5 pm
Tuesday 7:30 am to 5 pm
Wednesday 7:30 am to 5 pm
Thursday 7:30 am to 5 pm
Friday 8 am to 12 pm
Saturday Closed
Sunday Closed
---
Which is the top 24 hour emergency dentist office in Plano, TX?