Helping Thousands of People Each Year Find Dental Services
Emergency dental surgery, cavities, general dental care.
Find immediate help, no insurance required.
Get relief from chipped, cracked or lost teeth, abscesses or toothaches.
Emergency Dentist Dothan AL
Call 24/7: 1 (855) 909-8885
From extreme toothaches to instances where a lip or gums are bleeding, there are many things that come up in life that make you immediately need an emergency dentist in Dothan AL. When the weekend comes with all of its activities and times spent away from work, the potential for many of these situations becomes greater, while the potential for anyone to be open after hours becomes less. Our portal is an excellent way to find an after hours dentist during one of these painful emergencies, or better yet, locate one to have in your phone before the dire emergency takes place.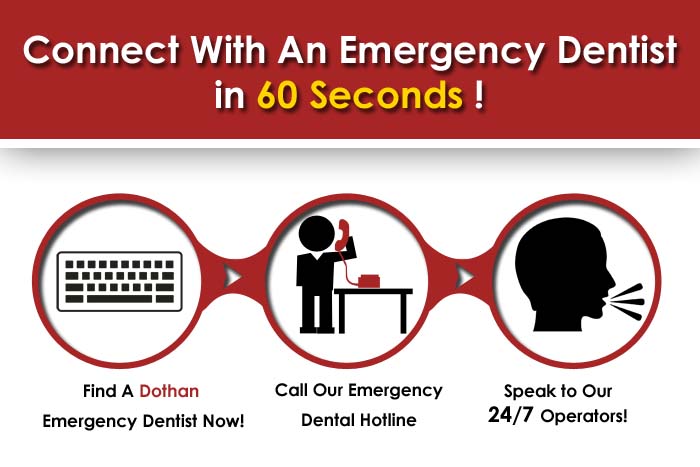 Call 24/7: 1 (877) 507-0879
Dothan is located in the southeastern corner of Alabama, and is a major hub in the area for transportation. One fourth of the US peanut crop is produced near here, and therefore Dothan is sometimes referred to as the "Peanut Capitol of the World". The National Peanut Festival at the fairgrounds brings many visitors here, and so does the family and fun oriented Foster Fest. Cotton and Tomato production are prominent in the market here, and the Southeast Alabama Medical Center is the number one employer here. Visitors that pass through on their way to see the beaches in Florida fill up many restaurants and hotels here, a very positive aspect of the town's economy. The Toadlick Music Festival has had large acts such as Luke Bryan, Lynrd Skynrd, and Merle Haggard perform, and the Tri-State Barbecue festival is a huge draw for folks on the hunt for a rocking culinary party.
In the event that you are struggling to reach one of the many dental practices within our emergency dentist index, we provide a hotline that acts as a suggestion system to get nighttime dental practitioners near you, in this situation, Dothan AL. The urgent care dental phone service is open 24 hours a day, so quit your struggling right now and talk to an emergency dental clinic in Dothan AL!
Suggestions For Emergency Dental Care
The dentists that give their time to work in these after-hours clinics take their time to let us know what some of the most frequently seen emergencies are, and how they treat them. There are several things that you can do while waiting for an after hours clinic to keep your teeth healthy, and not do any further damage. If you have an object stuck in your teeth, you can try to remove it with dental floss, but don't pick at it too hard! if it simply won't come out, you could need to see an emergency dentist right away. Even if it's just food, it could pose a threat as bacteria builds up within.
Dothan Emergency Dentist Listings
These dental practitioners have been vetted by Emergency Dentists USA and may supply you with emergency dental care; sometimes they are available for twenty-four hour dentist attention too. This unique listing is made for you to help find an emergency dentistry office near you, however if you wish to skip the additional labor of phoning each dental office, make use of the 24 hour emergency dental phone line we provide you with and be connected with an after hours dentist in minutes.
Let us solve your urgent dental predicament using the 24 / 7 dental hotline we've provided to hook you up to a local dentistry office. We've taken the time to carry out the researching for you by reviewing the emergency dentists in Dothan plus pulling out those that we understand to make available weekend, night time or urgent treatment. A niche market has evolved offering oral health care solutions to people in need of help.
---
Referral Service of Emergency Dentists USA in Dothan AL
Number 1 (855) 401-2701
Address: Referral Service to A variety of Dental Offices across Dothan AL
Dentist Different Doctors
Description Call now, Round the clock and seven days a week to speak with our own emergency dentist Dothan AL phone services. We can support you in finding a dentist with regard to whichever your dental crisis could possibly be. If you wish to look for a week end dental office, or a night dental office, we're the Dothan service available for you. Each of our connections as well as partnerships places us in immediate contact with the best dentists with regard to crisis situations throughout the U.S.A.
---
DANDRIDGE DENTAL FAMILY DENTISTRY
Number:(334) 699-2220
Office:1435 Ross Clark Circle, Suite A-1, Dothan, AL 36301
Doctors:Dr. Michelle N. Dandridge
Website:http://www.dandridgedental.com/
Description: DANDRIDGE DENTAL FAMILY DENTISTRY has a skillfully educated personnel that is courteous and capable to serve you as part of your emergency dental needs. Their employees offer professional services for root canals, dental crowns, and tooth extractions.
---
DOTHAN PEDIATRIC DENTISTRY
Number:(334) 793-9635
Office:2431 W. Main St., Suite 201 Dothan, AL 36301
Doctors:Dr. Kristen Flowers Crowder
Website:http://www.dothanpediatricdentistry.com/
Description: DOTHAN PEDIATRIC DENTISTRY looks forward to your trip to their particular office and they have night dental hours, and can accept new patients simply just call in advance. The technologically qualified dental practitioners here provide services such as general examinations, fillings, root canals and dental implants.
---
ASPEN DENTAL
Number:(877) 761-7355
Office:3400 Montgomery Highway, Ste 1, Dothan, AL 36303
Doctors:Dr. E. Jackson
Website:https://www.aspendental.com/
Description: ASPEN DENTAL welcomes brand new patients, especially those looking for immediate care dental treatment, please phone before your personal appointment.
---
Prepare For Your Emergency Dental Visit
One of the best things about our Emergency Dentists portal is the idea of providing information on a nationwide basis. You may be anywhere from Dallas to Davenport, and we've still got you covered. An emergency dentist in Dothan AL will be able to provide you with x-ray diagnosis, antibiotics if needed, or even an extraction if that's the case. A weekend dentist in Dothan AL will see to it that you are not as frustrated when the pain starts throbbing and it's 3 in the morning instead of the afternoon. Once you are in the chair and being looked at, you will feel immediate relief and peace, as opposed to the turmoil of tossing and turning while looking at that alarm clock. Don't wait any longer to find that coveted relief from pain, and call our hotline today! We recommend you generally perform a background check about the education and services promises of any dentist office if you're going to them the first time, make sure you utilize Dothan Chamber of Commerce.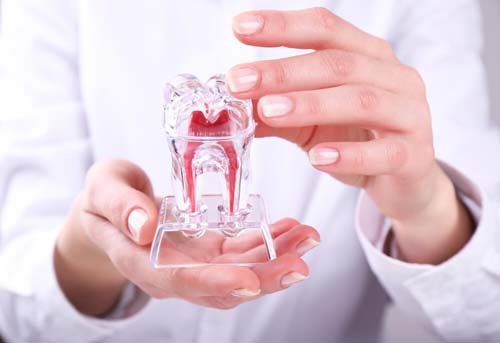 Here are some links to other cities in Alabama, emergency dentist posts:
Medically Fact-Checked & Written by Our Dental Editorial Team
You can read more about our editorial guidelines by clicking this link and learn more about the Emergency Dentists USA editorial team here.