Helping Thousands of People Each Year Find Dental Services
Emergency dental surgery, cavities, general dental care.
Find immediate help, no insurance required.
Get relief from chipped, cracked or lost teeth, abscesses or toothaches.
Emergency Dentist Apopka, FL – Find a 24 Hour Dentist
If you're lucky enough to have moved to, or even visit, the vacation destination of Apopka, Florida, you know that there is no time on the agenda for a toothache. From multiple theme parks to beautiful beaches, there is so much to see and do in and around this growing city. With businesses everywhere, there is also no shortage of dentists to choose from.
When you're in pain, you don't want to search a new place for a dentist that is available to treat you. Emergencydentistsusa.com has made finding an available dentist easy for you. We have created a list that will show you all of the dentists available in your area. You can view the payment methods that they accept, some of the conditions that they treat, and the hours that they are available all by visiting our site.
If you don't have time to visit our website, simply give our free dentist finder hotline a quick call. One of our agents will be glad to help you find the dentist that is perfect for your needs. After you choose the office you'd like to go to, they can get you directions and even schedule your first appointment. When you go to your first appointment, make sure you bring a copy of your ID, any copay that is due, a copy of your insurance card, and a list of all your current medications.
Emergency Dental Office Apopka, FL
With a variety of dental offices to choose from, you'll be able to see the type of dentist that works best for your situation. Whether you need a pediatric or a general dentist, we will find one that can help you quickly. When there is an emergency, it is likely that a patient will see a general dentist first and then be referred to a more specialized dentist from there if it is needed.
Walk-in dental clinics – walk-in dental clinics offer dental visits without the hassle of making an appointment or waiting days or weeks to see the dentist.

Emergency 24-Hour Dental Clinics – this type of dental clinic has a dentist available 24-hours per day and seven days per week.

After Hour Dentists – an after hour dental clinic offers services outside of the standard 9 a.m. to 5 p.m. office hours. After hour dental clinics often include weekend or evening appointments.
Coast Dental
Phone Number: (407) 889-2555
Address: 767 S Orange Blossom Trail, Apopka, FL 32703
Website: www.coastdental.com/dentist-office/apopka-fl-32703
Doctors: Dr. Charles Arias, Dr. Clement Contestable
Description: Coast dental offers a pleasant and relaxing atmosphere to keep their patients comfort in mind. The office provides many different general procedures and also has orthodontics. They teach preventative maintenance to ensure you have a dazzling smile that lasts a lifetime.
Mon 8:30 AM – 5:00 PM
Tue 8:30 AM – 5:00 PM
Wed 8:30 AM – 5:00 PM
Thu 8:30 AM – 5:00 PM
Fri 8:30 AM – 5:00 PM
Doyle L. Summerlin, DMD-Dentist
Phone Number: (407) 889-3553
Address: 1414 E Semoran Blvd, Apopka, FL 32703
Website: www.drsummerlin.com
Doctors: Dr. Summerlin
Description: Dr. Summerlin and his team treat each of their patients like they are family. They offer dental treatments that will fit your budget and also offer a payment plan that has no interest. They enjoy teaching each patient about preventative care so they can properly take care of their teeth.
Mon 7:45 AM – 5:00 PM
Tue 7:45 AM – 5:00 PM
Wed 7:45 AM – 5:00 PM
Thu 7:45 AM – 5:00 PM
Fri 9:00 AM – 6:00 PM
A Soft Touch in Family Dental Care
Phone Number: (407) 889-4868
Address: 450 Errol Pkwy, Apopka, FL 32712
Website: www.asofttouchdental.com
Doctors: John Gammichia DMD, FAGD
Description:  A Soft Touch in Family Dental Care is there to provide the entire family excellent dental care. From basic cleanings to extractions, the team will make sure that each patient is comfortable during their treatment. With early morning hours during the week, they try to accommodate even the busiest of schedules.
Mon Closed
Tue 7:00 AM – 4:00 PM
Wed 7:00 AM – 4:00 PM
Thu 7:00 AM – 4:00 PM
Fri 7:00 AM – 3:00 PM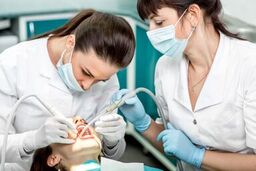 24 Hour Emergency Dentist Apopka
If you encounter a toothache that has lasted longer than an hour or two, you need to go to the dentist. If you haven't had any trauma to the area around your mouth, then it is likely that you have an infection and it has finally reached the more sensitive area of your tooth or gums. If you leave this without treatment, it can affect the teeth surrounding the infected area as well as the gum and ultimately cause more damage to your mouth.
If this is your first visiting a new dentist, make sure to check their credentials to ensure that they are up-to-date. You can do this prior to your appointment by entering the dentist's last name on the South Florida Dental Association page. If you forget to check before your appointment, you can always ask the receptionist in the office where you can view them.