Helping Thousands of People Each Year Find Dental Services
Emergency dental surgery, cavities, general dental care.
Find immediate help, no insurance required.
Get relief from chipped, cracked or lost teeth, abscesses or toothaches.
Emergency Dentist Kendale Lakes, FL – Find a 24 Hour Dentist
Offering beautiful homes as well as plenty of commercial property, Kendale Lakes is a moderately populated suburb of Miami Dade county. With over 50,000 residents, it offers plenty of dental offices to the people that call it home as well as the visitors that come to enjoy its beauty. Whether you're working or playing, you don't want to let a toothache slow you down.
Emergencydentistsusa has compiled a list of dentists in the Kendale Lakes area so you don't have to go through the trouble of searching multiple places. You can simply go to the site and view dentists in the area, see their available time, and take a look at some of the services that they offer. You can also give our toll free dentist finder hotline a call and we'll do the search for you.
If you'd like, when you call our toll free hotline, we can even set up your first appointment for you. We'll give you the directions to the dentist office and the time of your first appointment. Make sure to arrive about 15 minutes early to the appointment so you can fill out any additional paperwork that the office may require. Bring with you a valid ID, your insurance card if you have one, a copay if needed, a list of current medications, and a list of anything you may be allergic to.
Emergency Dental Office Kendale Lakes, FL
There are a variety of dentist offices to choose from in and around Kendale Lakes, Florida. From orthodontists to dental surgeons, pediatricians and general dentists, there will be a dentist that can handle whatever you need when it comes to your dental care. We've taken care of the tough work and compiled a list for you so you don't have to search.
Jonathan T. Bloch, DMD
Phone Number: (305) 385-5555
Address: 13720 SW 84th St, Miami, FL 33183
Website: www.blochdentistry.com
Doctors: Dr. Bloch, DMD
Description: Offering caring and honest dentistry like no other, Dr. Bloch and his team truly care about their patients. They provide general dentistry as well as perform restorative and cosmetic procedures. They offer Saturday hours to meet the schedules of even their busiest patients.
Mon 9:00 AM – 5:00 PM
Tue 9:00 AM – 5:00 PM
Wed 9:00 AM – 5:00 PM
Thu 9:00 AM – 5:00 PM
Fri 9:00 AM – 5:00 PM
Sat 9:00 AM – 2:00 PM
Dental Associates of Kendall
Phone Number: (305) 459-3204
Address: 11400 N Kendall Dr #207, Miami, FL 33176
Website: http://www.towncaredental.com/locations/kendall/
Doctors: Multiple
Description: Dental Associates of Kendall offer all types of dental work for the entire family. They accept most insurances and also offer specials and discounts for patients that don't have dental insurance. With appointments available on Saturday, they strive to meet the schedules of each of their patients.
Mon 8:00 AM – 5:00 PM
Tue 8:00 AM – 5:00 PM
Wed 8:00 AM – 5:00 PM
Thu 8:00 AM – 5:00 PM
Fri 8:00 AM – 5:00 PM
Sat 9:00 AM – 1:00 PM
Dr. Jorge E. Landa
Phone Number: (305) 271-1151
Address: 11790 SW 89th St, Miami, FL 33186
Website: http://www.pdkdentist.com/
Doctors: Dr. Jorge E. Landa
Description: Offering pediatric and orthodontic dentistry to children and adolescents, Dr. Landa's team strives to provide a friendly and welcoming environment for their patients. Speaking English and Spanish, they are able to provide positive services to children and give them a healthy smile. Children enjoy the colorful atmosphere of this office.
Mon 8:30 AM – 5:00 PM
Tue 8:30 AM – 5:00 PM
Wed 8:30 AM – 5:00 PM
Thu 8:30 AM – 5:00 PM
Fri 8:00 AM – 1:30 PM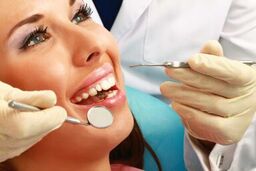 24 Hour Emergency Dentist Kendall
When you start to feel even the smallest sensation of pain in your mouth that lasts more than a couple of hours, it may be time to head to your local Kendall dentist. No matter what type of dentist you need, whether it is an emergency dentist, an orthodontist, or a Kendall walk-in dentist, emergencydentistusa.com has you covered. We make finding a dental office in your area simple.
Always check credentials of new dentists that you're going to. You can do this online before you go by checking the South Florida Dental Association. You can also check when you go in the office. Most doctor's and dentist's offices have their credentials on display in the receptionist office.