Helping Thousands of People Each Year Find Dental Services
Emergency dental surgery, cavities, general dental care.
Find immediate help, no insurance required.
Get relief from chipped, cracked or lost teeth, abscesses or toothaches.
Emergency Dentist Libertyville, IL – Find a 24 Hour Dentist
Whether you're just vacationing or you've moved to the beautiful scenic town on the edge of the Des Plaines river, Libertyville, IL has a lot to offer. Only five miles outside of the Windy City of Chicago, this beauty of a town has breathtaking views and you won't want a toothache to slow you down. With it being located so close to a large city, you'll have a large selection of places that you can be seen in case of a dental emergency and you'll also have varying hours that they are available to offer you service.
To make your search easier, emergencydentistsusa.com has compiled a list of dentists in the area. You can easily search on the site or you can simply call our toll free number and one of our agents will gladly guide you through the process. We will even set up your first appointment and give you directions to the office.
Once you've chosen the office you would like to visit, you'll need to gather the appropriate items for them to put on file. Like all appointments, make sure that you're set to arrive about 15 to 20 minutes early so you can fill out your new patient paperwork. Bring with you a valid ID, a list of any medications you may be currently taking, a list of anything you may be allergic to, your insurance card if you have one, and any copay that may be required. If you have anxiety about going to the dentist, be sure to let them know that ahead of time.
Emergency Dental Office Libertyville
As mentioned, Libertyville is very close to Chicago. This means that you'll have a huge selection of dentist offices. Whether you need a walk-in visit or a scheduled appointment for a routine check-up, they will have you covered. The city offers everything from cosmetic dentistry to oral surgeons. A general dentistry is typically what a person will go to first to be referred to a specialist if one is needed.
Libertyville Dental Associates
Phone Number: (847) 367-6360
Address:1641 N Milwaukee Ave # 3, Libertyville, IL 60048
Website: http://libertyvilledental.com/
Doctors: Description: The team at Libertyville Dental Associates takes pride in being able to offer their patients any of the dental services that they may need. With each doctor having a varying degree within the dental field, they can confidently take care of any issues that may arise with your teeth. This team likes to keep you informed before they perform any procedures.
Mon 8:30 AM – 5:00 PM
Tue 9:00 AM – 6:00 PM
Wed 7:30 AM – 7:00 PM
Thu 8:30 AM – 7:00 PM
Fri 8:30 AM – 4:00 PM
Sat 8:30 AM – 1:00 PM
Park Avenue Dental Professionals
Phone Number: (847) 918-1255
Address:1001 W Park Ave, Libertyville, IL 60048
Website: www.parkavedentalpro.com
Doctors: Kathleen Christie-Jaroch, DDS, Meggan L. Rutledge, DDS
Description: With state of the art equipment and a wide range of services, Park Avenue Dental Pro provides a relaxing atmosphere. Patients can expect to receive top quality care. This team strives to provide all patients with clean teeth and a confident smile.
Mon 8:00 AM – 6:00 PM
Tue 8:00 AM – 5:00 PM
Wed 8:00 AM – 6:00 PM
Thu 8:00 AM – 6:00 PM
Fri Closed
Lake County Dental Care: Dr. David Potts
Phone Number: (847) 362-6540
Address: 908 S Milwaukee Ave, Libertyville, IL 60048
Website: https://libertyvilledentist.com/
Doctors: Dr. Potts, Dr. Bajtner
Description: Libertyville Dentist Office understands that many patients have an extreme fear of visiting the dentist. For that reason, they offer their patients sedation dentistry to help them relax. From services such as minor cleaning to more extensive procedures such as implants, you can rest assured that you'll receive the best service possible.
Mon 7:30 AM – 7:00 PM
Tue 6:30 AM – 7:00 PM
Wed 6:30 AM – 7:00 PM
Thu 6:30 AM – 2:00 PM
Fri 8:00 AM – 4:00 PM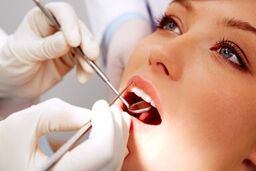 24 Hour Emergency Dentist Libertyville
When a dental emergency strikes, you can count on emergencydentistsusa.com to help you quickly find a local dentist that fits your schedule. If you are uninsured, we can even assist you in finding a dentist office that will set up a payment plan with you so that you can be seen right away. You can check out or site or you can call our toll free number to receive immediate free help.
If you've been involved in any type of accident such as a sports injury or a fall that has resulted in you hurting your mouth, it is best that you go to urgent care or the emergency room before heading to an emergency dentist. Accidents like these can cause concussions or broken bones, which will need to be tended to first before your teeth can be fixed. Once a doctor has a chance to assess and treat those injuries, then it is safe for you to get your teeth checked by a dentist.
Always make sure that the dentist you see is up to date on their credentials. While most offices do have these on display in their reception office, some may not. You can do a quick search at the Illinois Dental Society prior to your appointment just to be sure.