Helping Thousands of People Each Year Find Dental Services
Emergency dental surgery, cavities, general dental care.
Find immediate help, no insurance required.
Get relief from chipped, cracked or lost teeth, abscesses or toothaches.
Emergency Dentist Plainfield, IL – Find a 24 Hour Dentist
Plainfield is packed with nature and beautiful preserves that you can visit and enjoy with your family. Unfortunately, tooth pain can occur and it can cripple you to your bed while you wait it out. You do not have time for this and that is why you will be happy to hear that Plainfield is packed with dentists and specialists for you to choose from.
The team at emergencydentistsusa.com has created a list of available dentists and specialists nearby. You can view this list on our website, but if you are short on time and cannot, simply give us a call on our toll-free dentist finder hotline.
Our team will help you locate a dentist that can meet your needs and see you quickly. We will schedule your first appointment for you too. We do recommend that on the day of your appointment, you arrive about 15 minutes before your appointment time and that you have your ID, insurance card, and copayment handy.
Emergency Dental Office Plainfield, IL
If you are in need of a dentist in Plainfield, whether you are new to the city or a long-time resident, you may be in need of help locating one. Fortunately, there are many options available for dental providers and specialists in Plainfield, IL. You will find all types of providers from orthodontists to periodontists, cosmetic dentists, oral surgeons, and more. Typically, you will first see a general dentist to diagnose and treat your dental condition, but when the condition is too far advanced or the general dentist cannot perform the proper procedure, he or she will refer you to a specialist.
Walk-in dental clinics – walk-in dental clinics offer dental visits without the hassle of making an appointment or waiting days or weeks to see the dentist.

Emergency 24-Hour Dental Clinics – this type of dental clinic has a dentist available 24-hours per day and seven days per week.

After Hour Dentists – an after hour dental clinic offers services outside of the standard 9 a.m. to 5 p.m. office hours. After hour dental clinics often include weekend or evening appointments.
Ahoyt Family Dental
Phone Number: 815-436-3377
Address: 13717 South US 30, #129, Plainfield, IL 60544
Website: www.ahoyt.dental
Doctors: Dr. Justin Ahoyt, Dr. Dennis Morrin, Dr. Feller, Dr. John A. Gordon, Jr., DMD, Dr. Donald G. Flynn
Description: Ahoyt Family Dental is prepared to serve your entire family right here in our office. We offer a safe and comfortable environment where you will enjoy your time at the dentist. Our providers specialize in both general and cosmetic dentistry, for your convenience. We want you to be proud to show off your smile for years to come.
Mon 7:00 AM – 7:00 PM
Tue 7:00 AM – 7:00 PM
Wed 7:00 AM – 7:00 PM
Thu 7:00 AM – 7:00 PM
Fri 7:00 AM – 12:00 PM
Sat 7:00 AM – 11:00 PM
Plainfield Dental Care
Phone Number: 815-673-7842
Address: 13621 S Rte. 59, Unit 103, Plainfield, IL 60544
Website: www.plainfielddentalcare.com
Doctors: Dr. Nili, Dr. Vlad Ferdkoff, Dr. Ziliute
Description: Plainfield Dental Care specializes in general dentistry, cosmetic dentistry, dental implants, laser gum treatment, and more. We welcome all families to our practice and we treat each individual with the care and compassion they need. We are committed to making sure that your dental visit and the procedures you need are affordable.
Mon 8:00 AM – 7:00 PM
Tue 8:00 AM – 7:00 PM
Wed 8:00 AM – 7:00 PM
Thu 9:00 AM – 5:00 PM
Fri 10:00 AM – 4:00 PM
Sat 9:00 AM – 2:00 PM
Plainfield Dental
Phone Number: 815-436-3399
Address: 15210 S. Rt. 59, Plainfield, IL 60544
Website: www.plainfielddental.com
Doctors: Dr. Peter Muraglia, Dr. William T. Peck, Dr. William P. Madison
Description: Plainfield Dental has been serving patients in the area since 1968 and is proud to welcome you to our facility as well. We are prepared to care for your entire family right here under our roof. Whether you have a dental concern or you want to discuss extractions or dental implants, we are here for you. Don't wait another day and contact us to schedule your appointment today.
Mon 9:00 AM – 7:00 PM
Tue 7:00 AM – 5:00 PM
Wed 8:00 AM – 7:00 PM
Thu 7:00 AM – 7:00 PM
Fri 8:00 AM – 5:00 PM
Sat 8:00 AM – 12:00 PM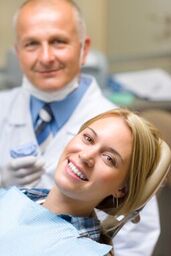 24 Hour Emergency Dentist Plainfield
Tooth pain is often times your first indication that there is a problem in your mouth. If the problem is serious enough, you may be in excruciating pain. But, do not let the severity of the pain cause you to brush off receiving care either because not all problems cause a lot of pain. If you have been in pain for more than an hour or two, you should visit your local emergency dentist. If you have tooth or jaw pain following an accident, you want to head to the ER first to make sure you do not have any serious injuries.
Visiting a new dentist can be scary and it is important that you do your research to make sure that you verify the credentials, licenses, and certifications of the dental provider. To do this, you should visit the Illinois Dental Association website and search the dentist's name. You can also inquire in the dentist's office about his or her certifications.