Helping Thousands of People Each Year Find Dental Services
Emergency dental surgery, cavities, general dental care.
Find immediate help, no insurance required.
Get relief from chipped, cracked or lost teeth, abscesses or toothaches.
Emergency Dentist Potomac, MD – Find a 24 Hour Dentist
Whether you came to Potomac to call it home or you came to visit Great Falls, you will enjoy your time here. There are many places to see, which means you do not have time for tooth pain. Fortunately, there are many dentists and specialists available for you to see should you experience a tooth problem.
Emergencydentistsusa.com is committed to providing you with the information you need. We have gathered and created a list of all dentists and specialists nearby. All you need to do is search the list for a dentist that meets your needs. If you cannot identify a dentist or you are in a rush, call our toll-free hotline for help now.
All of our hotline team members are ready to assist you in your search for a dentist or specialist. We will even schedule your first appointment for you. We do recommend that you arrive early to your appointment by about 15 minutes. You should also bring a list of your current medications and allergies with you, as well as your insurance card, copayment, and valid ID.
Emergency Dental Office Potomac, MD
If you experience any type of tooth problem while you are in Potomac, it is important that you visit a dentist who can help you. Whether you are new to the area or not, there are many dentists and specialists available for you to see. You can choose any specialist from a family dentist to an orthodontist or even an oral surgeon. When you first experience dental pain, you will often visit a general dentist first. If he or she cannot treat your condition, you will be referred to a specialist who can.
Walk-in dental clinics – walk-in dental clinics offer dental visits without the hassle of making an appointment or waiting days or weeks to see the dentist.

Emergency 24-Hour Dental Clinics – this type of dental clinic has a dentist available 24-hours per day and seven days per week.

After Hour Dentists – an after hour dental clinic offers services outside of the standard 9 a.m. to 5 p.m. office hours. After hour dental clinics often include weekend or evening appointments.
Potomac Dentistry
Phone Number: 301-200-5149
Address: 10006 Falls Road, Potomac, MD 20854
Website: www.dentistspotomac.com
Doctors: Dr. Farzam Tamami
Description: At Potomac Dentistry, we are ready to welcome you with open arms. Our state of the art office is designed to ensure that you are comfortable throughout your appointment and any procedure you need. We offer a wide range of comprehensive services to include emergency treatment, TMJ care, veneers, and more.
Mon 8:00 AM – 5:00 PM
Tue 8:00 AM – 5:00 PM
Wed 8:00 AM – 5:00 PM
Thu 8:00 AM – 5:00 PM
Fri 8:00 AM – 5:00 PM
Sat By appointment only
SuperKids Pediatric Dentistry
Phone Number: 301-299-4400
Address: 9800 Falls Road, Ste. 7, Potomac, MD 20854
Website: www.superkidsdentistry.com
Doctors: Dr. Ben Liu, Dr. Erica Caffrey, Dr. Ronald Gravitz, Dr. Eva Swenson, Dr. Hisham Merdad, Dr. Jade Tran
Description: At SuperKids Pediatric Dentistry, we work hard to meet the needs of all of our young patients. We teach prevention in our office and your child will learn how to properly brush and floss all of his or her teeth. If your child does need to have any type of dental work performed, our dentists are board certified and trained to handle your child with care and perform the necessary procedure in a safe, comfortable, and painless manner.
Mon 11:00 AM – 7:00 PM
Tue 9:00 AM – 5:00 PM
Wed 9:00 AM – 5:00 PM
Thu 9:00 AM – 5:00 PM
Fri 9:00 AM – 5:00 PM
Sat 9:00 AM – 2:00 PM
Dr. Heald, DDS
Phone Number: 301-299-5450
Address: 9901 River Road, Potomac, MD 20854
Website: www.drheald.com
Doctors: Dr. Heald
Description: At Dr. Heald, DDS, we want you to know that you are in a safe place. Our state of the art dental facility is equipped with the latest technology to ensure a happy and painless visit. We specialize in all types of care including cosmetic dentistry. With Dr. Heald on your side, you will have a happy and healthy smile.
Mon 8:00 AM – 5:00 PM
Tue 8:00 AM – 5:00 PM
Wed 8:00 AM – 5:00 PM
Thu 8:00 AM – 5:00 PM
Fri Closed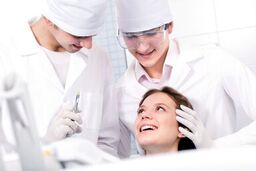 24 Hour Emergency Dentist Potomac
If you have tooth pain, you may be worried and sometimes it is cause for concern. Tooth pain may be your only indication that there is a problem and the pain you experience can be mild to quite severe in nature. You do not want to ignore the pain and if you have had a toothache for more than a couple of hours, you should see an emergency dentist in Potomac immediately. If you have been injured in a car accident and you are experiencing jaw or tooth pain, have yourself checked at the local ER or urgent care center to rule out any serious injuries or broken bones.
When you visit a new dentist in Potomac, you should take some time to verify their credentials and make sure that the dentist's licenses and certifications are active. To do this, you should visit the Maryland Dental Association and perform a search of the dentist's name.