How to Get Dental Leads – 9 Ways to Think About Lead Gen for Dentists

Operating a dental practice is a rewarding job, but one of the most difficult aspects of it is continually generating new dental leads. Simply having an open dental practice is not enough, and dental offices must continue to find new ways to successfully find new patients.
Dental lead generation takes a lot of hard work and isn't always easy. You may struggle to generate new dental leads by only having regular patients refer a couple of family members or friends.

Luckily, there are many ways you can successfully generate new leads. As dental marketing experts with years of experience, we're here to share with you the best ways to do so.
We suggest a multi-tiered approach which means using many different techniques to find new leads for your dental practice. A few methods that will be highlighted in this article include:
Use a Low-Cost Patient Referal Program
Encourage Word of Mouth with Current Patients
Participating in your community
Keep reading to find out the 9 best ways to successfully generate new dental leads.
1. Save Time and Money with Low-Cost Patient-Referral Programs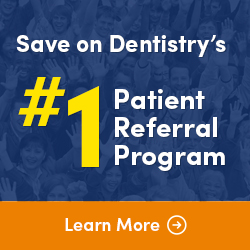 You don't have to be a marketing expert to get lots of new patients. A variety of low-cost patient referral programs are ready to help keep your schedule full by providing you with a continuous flow of well-qualified new patient referrals. Month-after-month you'll receive referrals that are carefully matched to your practice by dental need, location, appointment availability, and your preferred patient-payment method — including insurance.
Patient referral programs save you time, money and staffing. They reduce your advertising costs, streamline the front desk team's workload and – at least one – offers you a 100% production guarantee that protects your investment. There's really no smarter, easier or safer way to grow your practice.
2. Word of Mouth Still Works as Lead Gen For Dentists
As mentioned, having your regular patients refer their family members or friends to your dental office is one way to get new dental leads. This strategy works because people trust someone they know more than they trust an advertisement on the radio or in a newspaper.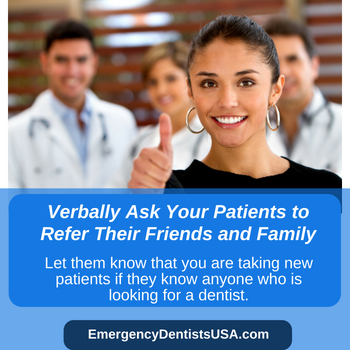 However, they most likely will not do this on their own volition. You need to verbally ask them to refer their loved ones and ask in the right way. We have also found that dentists have had the most success with this method when they ask their long-term patients as opposed to someone who has only been once or twice.
When your patient is about to leave, tell them you are taking new patients if they know anyone who is looking for a dentist. You can also give them a business card or two with your information and ask them to give it to anyone they know who is looking for dental services.
Be sure to stay organized when asking for referrals. Check your schedule beforehand to make sure you won't get overbooked. This is to avoid having to turn down any potential new patients.
Even if you're schedule is tight, it's important to never turn down a new dental lead. Find a way to fit them in, even if you are busy. Turning someone away will give the impression that you aren't taking new patients.
3. Reward Patients for Making Referrals
Continuing off of the first method, offer your patients a reward for making referrals and bringing in new patients. This not only will help bring in new dental leads but will also make your current patients feel special and part of your community.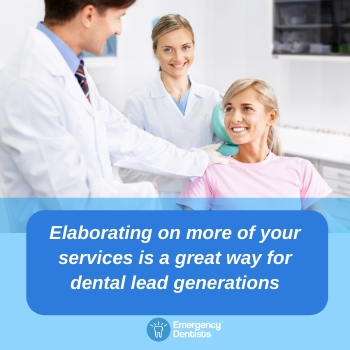 When a patient refers someone, send them a thank you note with 10% off their next appointment. It's a great way to show your gratitude towards them and let them know they are important to your business.
4. Generate Dental Leads By Elaborating More on the Services You Offer
Elaborating on more of your services is a great way for dental lead generations, but be careful not to overwhelm your patients with too much information.
Here is what we have found works well for other dentists. For example, if one of your patients requires a porcelain cap, it doesn't hurt to mention all of the other cosmetic dentistry services you offer to see whether or not they'd be interested in another service.
Other services you may want to consider talking to your patients about are:
Teeth Whitening
Gum reshaping
Dental Implants
If this is something that you plan on doing, however, make sure your staff knows about it, too. They'll more than likely be asked for more information if word gets around, so you will need to make sure that they are ready and able to answer any questions patients, especially potential patients, may have.
5. Hire a Part-Time Marketing Specialist
Marketing your practice can be a difficult thing to do, especially if you have no experience. This is why hiring a part-time marketer is a great idea to help you bring in more business in a professional way.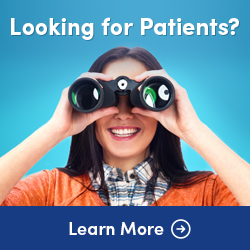 They will be able to make your business more visible online through various techniques such as:
Search Engine Optimization
Online Advertising
Content Marketing
Social Media
Email Marketing
Having an online presence is major to a business's success and many dental practices aren't currently employing any marketing tactics. Even hiring one person for a minimum of 10 hours per week is more than enough to get your business bustling with new patients.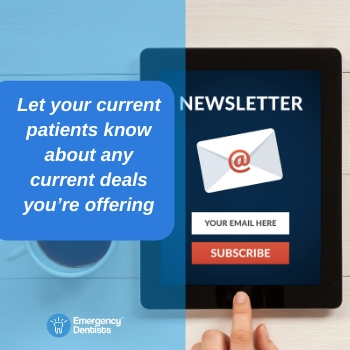 They will have the experience to help you write a newsletter, create and manage any of your social media pages, and give you new marketing ideas.
6. Send Out a Weekly or Monthly Newsletter
Email marketing is one of the most effective marketing channels and is definitely a method to consider when it comes to dental patient acquisition.
In our dental marketing experience, we always remind dental offices to provide a call-to-action at the end that encourages your patients to make referrals. If you hire a part-time marketing specialist, they will be able to write effective email newsletters.
It's a great way to let your current patients know about any current deals you're offering, such as 15% off teeth whitening, for example. Then, they can pass the information on to a friend or a family member who is looking into that service.
7. Become an Active Participant in Your Local Business Community
Becoming an active participant within your local business community is another great way to build up a referral network that drives results. It gets your name out there to other businesses and members of your community.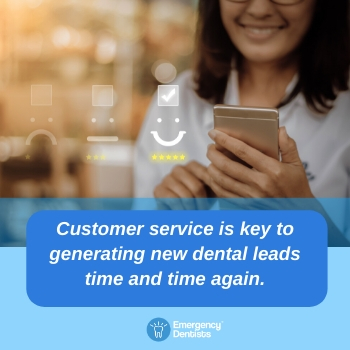 Some ways you can get more involved in your community are by:
Hosting and attending community events
Donating to important causes in your community
Reaching out to other businesses
Another example is offering discounted or completely free dental services for veterans. This is doing something incredibly noble for those who fought for your freedom as well as advertising your practice at the same time.
8. Offer Unbeatable Customer Service
Customer service is key to generating new dental leads time and time again. It's what patients will remember the most about you good or bad and you'd be surprised how often patients speak to their friends and family about the customer service they receive at your dental office.
One way to have great customer service is to make it as easy as possible for patients to book appointments. Offer a variety of different ways to schedule appointments that include booking both online and in person.
Billing is also especially important. Make sure you accept many forms of payment and possibly consider implementing an online portal on your website that allows your patients to pay their dental bill online.
The best way to show you care about your patients is by making sure your entire dental team is always greeting your patients with a smile, making sure they're well taken care of, that they feel comfortable throughout their entire appointment, etc.
Go that extra mile to cater to each individual's needs and referrals are guaranteed to be sent back to your dental office.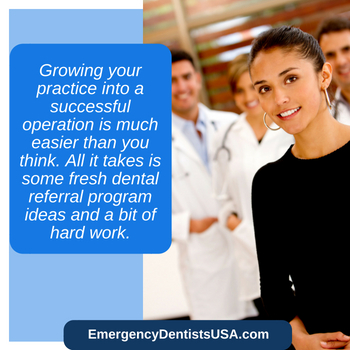 9. Offer New Patients and Existing Something They Can't Refuse
One of the best ways to get some new patients through your door is to offer something they can't refuse, especially when it's paired with something your long-term patients can take advantage of, as well. Giving new and returning customers a chance to save money is a great way to get them to come back each time.
Here's an example that other dental offices have seen success with. You can offer long-term patients 10% off when they refer a new patient, who will receive 20% off the cost of their first appointment. Both people will receive a discount and save money.
Generating Dental Leads for Dental Practice Success
While the thought of new dental leads and growing your practice may seem overwhelming, becoming a successful operation is much easier than you think.
The 9 ideas we discussed today are the best ways to bring in new business. Through referral programs, online marketing techniques, and getting involved with your community, you will be able to find dental leads and grow your business immensely.
THIS ARTICLE WAS WRITTEN AND EDITED BY OUR DENTAL MARKETING EXPERTS
You can read more about our editorial guidelines by clicking this link and learn more about the Emergency Dentists USA editorial team here.