Helping Thousands of People Each Year Find Dental Services
Emergency dental surgery, cavities, general dental care.
Find immediate help, no insurance required.
Get relief from chipped, cracked or lost teeth, abscesses or toothaches.
Huntington, NY Emergency Dental Offices
We specialize in Huntington Emergency Dentistry:
Click to go to list of Dentists
Table of Contents
Trying to find emergency treatment for a dental condition when one strikes can be quite difficult if you do not know where to look. Emergency Dentists USA can help! Our referral service can save you time and money when trying to find emergency treatment. It's much faster and more convenient than calling each dentist office individually to find out if they offer emergency dental services.
I was so happy to find Emergency Dentists USA online. I was having such bad tooth pain and I didn't really know where to turn, their staff are lifesavers and helped me find a dentist near me within minutes!
Finding A 24 Hour Emergency Dentist in Huntington, NY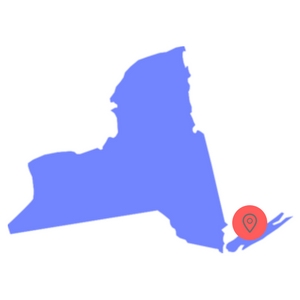 Walk-in dental clinics are dentists offices that allow you to come into their office without an appointment. They offer a variety of options when it comes to treating a dental emergency. Being able to walk into the dentist office without an appointment eases the concern of calling around to find out which dentist may be available to see you for treatment.
After hours dentists are just like your typical dentist office with one big difference, they extend their business hours well beyond the hours of operation. This allows for a more flexible schedule in getting an appointment for those who work during the week and gives those in need of emergency treatments the ability to get virtually immediate treatment without having to wait for an appointment with your dentist.
Emergency Dentist Listings in Huntington
It's never a good feeling waking up on the weekend with severe dental pain. Most people assume they have to wait until Monday and suffer without relief. However, that's not true! There are many different Huntington emergency dentists who offer after hours and emergency treatment services, check them out in our listings below.
---
Emergency Dentists USA Referral Service Huntington
Phone Number: 1 (855) 401-2701
Address: Referral Service to a number of Dental Offices in Huntington
Description: If you have a suddenly dislodged tooth, excessively bleeding gums, or another issue, let us do the hard work of finding an after-hours dentist that can fix you up quickly.
---
Peter H. Pruden, DDS PC & Associates
Phone: (631) 421-2471
If Closed: Call 1 (855) 276-1128 and let our Operator help you find an emergency dentist.
Website: drpeterpruden.com
Address: 75 Prospect Street Suite 401 Huntington, NY 11743
Description: Dr. Peter Pruden is all too happy to take care of your unique oral ER care problem. You only need to reach out to his office staff to get your appointment set up. He comes with impressive credentials which include a degree from the American Dental Society of Anesthesiology and the American College of Dentistry.
Office Hours:
Monday 7:30 am to 7:30 pm
Tuesday 7:30 am to 7:30 pm
Wednesday 7:30 am to 7:30 pm
Thursday 7:30 am to 7:30 pm
Friday 7:30 am to 7:30 pm
Saturday 7:30 am to 3 pm
Sunday – Closed
---
Huntington Bay Dental
Phone: (631) 425-0300
If Closed: Call 1 (855) 276-1128 and let our Operator help you find an emergency dentist.
Website: huntingtonbaydental.com
Address: 222 E Main St, Huntington, NY 11743
Description: Huntington Bay Dental is your first stop for a dental clinic right off of East Main. It is open until 8PM during the week and even open on Saturdays from 8AM until 2PM for those that have the busiest schedules. You may be looking into the potential for x-ray therapy, the need to have an abscessed tooth looked at, or any other problems: this is one of the best places to come in Huntington for dental help.
Office Hours:
Monday 8 am to 8 pm
Tuesday 8 am to 8 pm
Wednesday 9 am to 8 pm
Thursday 8 am to 8 pm
Friday 9 am to 5 pm
Saturday 8 am to 2 pm
Sunday – Closed
---
Kalmar Family Dentistry
Phone: (631) 673-0670
Website: kalmarfamilydentistry.com
Address: 62 Green St, Huntington, NY 11743
Description: Kalmar Family Dentistry has a reputation for being one of the best in the dental business locally, and they have a penchant for seeing every patient quickly and efficiently. You can schedule an appointment here on Saturdays for your convenience, they are open from 8AM until 12 PM. When things happen such as kids' sporting events, family gatherings, and the weekend at hand, you never know when a dental emergency may arise.
Office Hours:
Monday 8 am to 8 pm
Tuesday 8 am to 8 pm
Wednesday 8 am to 6 pm
Thursday 9 am to 8 pm
Friday 9 am to 5 pm
Saturday 8 am to 12 pm
Sunday – Closed
---
Salvatore J. Tangredi DDS – Cosmetic Dentist Huntington
Phone: (631) 427-2277
Website: cosmeticdentisthuntington.com
Address: 84 Green St, Huntington, NY 11743
Description: Here at Cosmetic Dentist in Huntington's office, you can get help for dental issues ranging from a full-blown abscess, need for x-ray diagnostics, or just a standard check-up. Don't let your pain go for too long without checking up on it, and see providers in a first-rate clinic today.
Office Hours:
Monday 10 am to 7 pm
Tuesday 10 am to 8 pm
Wednesday 10 am to 7 pm
Thursday 8:30 am to 5 pm
Friday 9 am to 1 pm
Saturday 9 am to 2 pm
Sunday – Closed
---
Kay Family Dentistry
Phone: (631) 421-5410
Website: kayfamilydentistry.com
Address: 202 E Main St #106, Huntington, NY 11743
Description: Kay Family Dentistry is a Huntington practice that can see to a wide variety of your family's dental needs: X-ray diagnostics, help with problems like an abscess, and any other routine check-up can all be tended to here. Make sure that you trust the best in Huntington for your dental needs, and come to Huntington Family Dentistry soon for expert help and care.
Office Hours:
Monday 8 am to 5 pm
Tuesday 12:30 pm to 8 pm
Wednesday 2 pm to 7 pm
Thursday 11 am to 7 pm
Friday 8 am to 12 pm
Saturday 8 am to 1 pm
Sunday – Closed
---
How To Prepare For Your Huntington, NY Emergency Dental Clinic Visit
An emergency dental visit is pretty much the same as a typical dentist visit. The main difference is that they are equipped to see you in a quicker manner and have the ability to perform emergency procedures at a moment's notice when the situation warrants. So preparing for your emergency dental appointment in Huntington, New York is very much like getting ready for a new patient appointment at another medical office.
If you've scheduled an emergency dental appointment try to arrive at least 15 minutes beforehand in order to fill out the necessary paperwork.
You will want to make sure you alert the front staff and the dentist to any allergies you may have to medications. You don't want to end up surprised with an adverse reaction to something you are given. If the thought of going to the dentist strikes up fear in you, then you should let them know this as well. They can help to ensure you are more comfortable during your visit and have a pleasant experience.
Common Dental Emergencies
There are a few common dental emergencies that Huntington emergency dentists are qualified to handle. When you find yourself experiencing a dental crisis in the middle of the night, you can breathe a breath of fresh air knowing that there is someone experienced in handling and treating conditions similar to yours. Remember that each situation is unique and you should contact an emergency dentist to find someone to get the proper medical advice from.
Chipped or Broken Tooth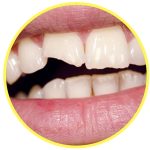 A chipped or broken tooth may not initially cause you any pain. It isn't until the tooth is too severely damaged that the decay hits the nerves that pain may be felt. However, the sharp edges from a chipped or broken tooth can be felt on your tongue and other soft tissues in your mouth. This can cause some pain or at the very least a feeling of discomfort.
This type of dental emergency requires immediate treatment to try to save the affected tooth. The first thing to do is to rinse your mouth out with a salt water solution to remove any bacteria from your mouth. Then you should immediately schedule an appointment with a Huntington emergency dentist.
"As a general rule, the smaller a chip or break is in a tooth, the less urgent the issue is. If you are experiencing moderate to significant pain, that is a situation that probably requires emergency attention. If you have broken a tooth so severely that it is oozing blood, that is an emergency that requires immediate dental attention."
Tooth Trauma Caused by an Accident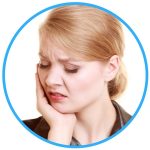 Accidents happen and when they do it's important to learn how to handle these common emergency situations. When you experience tooth trauma from an accident, contact a Huntington emergency dentist to find out what necessary steps you should take to help preserve your tooth and prevent any additional injury and damage from occurring.
Knocked Out Teeth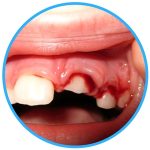 Your teeth are the first thing that many people see when you first meet them. It is possible to save a knocked out tooth, but you must act quickly. One of the biggest concerns with teeth is that they need to stay moist in order to prevent any damage from occurring. The first prevention of this is to try placing the tooth back in place, but you should be sure not to try jamming it in. If the tooth will not fit securely back into place, you can place it into a cup of milk. You will then want to contact a local Huntington emergency dentist to seek treatment immediately.
Is An Emergency Tooth Extraction Necessary?
Dentists always try their hardest to preserve your teeth, but there are sometimes when they are unable to a tooth extraction is inevitable. When this happens, you should understand that tooth extractions are one of the most common procedures that dentists complete.
One of the most common reasons why a dentist will recommend an emergency tooth extraction is due to an impacted tooth. This commonly occurs when a tooth stops growing in the normal growth pattern. Typically dentists perform an emergency extraction for impacted wisdom teeth.
When teeth begin to decay they can become damaged past the point of saving and repairing them. This is another reason that your dentist may recommend an extraction as well. When you prepare for an emergency extraction you should speak to you Huntington emergency dentist about your options. Some dentists use anesthesia that will ensure you are not awake during the procedure, while others use a numbing cream on your gums to ensure you don't have any pain during the process.
Afterward, you can expect to be in a bit of pain and experience swelling for a few days to a week. Your emergency dentist will be able to prescribe you some pain medication to help with these issues. Additionally, you can apply an ice pack or warm compress on the affected region to help reduce any facial swelling. Pain and swelling are common for the first few weeks but will start to subside as the tissues begin to heal.
Emergency Room Versus Emergency Dentist

There may come a dental emergency when you wonder where you should go for treatment. Most people assume that they should immediately go to the emergency room for treatment. That usually happens because an emergency room is the one place that multiple conditions can be treated.
An emergency dentist is much more qualified to handle the conditions that involved a broken or chipped tooth, a dental abscess and even a knocked out tooth. Injury to your soft tissues may sometimes need to be treated in an emergency room. They are better equipped to handle blunt traumas.
If you suffer from a chronic illness or immune condition your dental emergency may also be better treated within your local emergency room. You can contact one of your local Huntington emergency dentists to find out how best to proceed. Sometimes if the trip to the emergency room is considered to be an emergency that is better handled at your local dentist's office, you may be turned away. Determining what the best method of treatment is can help to save you time and money.
24 Hour Dentist Huntington, NY Options
Emergency Dentists USA is a website to be used only for informational purposes and should not replace the advice of a qualified medical professional. Each situation is unique and you should seek the proper medical advice from a qualified professional.
While emergencies tend to happen at the spur of a moment and you are not able to effectively prepare when to expect them, it is still beneficial to try your best to know what types of treatment facilities are available to you when a crisis strikes. Our referral service can help you save time and find out exactly where you can go to seek treatment when you find yourself in a dental emergency.
Medically Fact-Checked & Written by Our Dental Editorial Team
You can read more about our editorial guidelines by clicking this link and learn more about the Emergency Dentists USA editorial team here.