Helping Thousands of People Each Year Find Dental Services
Emergency dental surgery, cavities, general dental care.
Find immediate help, no insurance required.
Get relief from chipped, cracked or lost teeth, abscesses or toothaches.
Emergency Dentist Jonesboro AR
Call 24/7: 1 (855) 909-8885
Tooth pain can always drastically alter your schedule, and when it happens on a weekend or late night, it's safe to say that you are pretty much in big trouble! Your family, roommates, or college friends may be getting into what they don't want on their hands: an inconvenience, and extended period of lost sleep! Finding an emergency dentist in Jonesboro AR doesn't have to be impossible, and with our portal you have a very quick link to the best. Don't let sleepless nights get the best of you, and find out just how quickly you can get in the chair of someone that can take care of your abscess, need for root canal, or wisdom teeth coming in.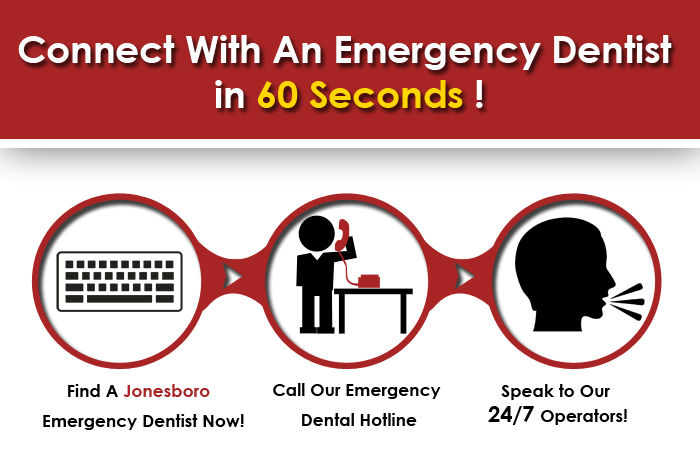 Call 24/7: 1 (877) 507-0879
Situated in northeastern Arkansas and the fifth largest city in the state, Jonesboro is a college town where Arkansas State University has it's main campus, and is a regional hive of activity for manufacturing industries, agricultural output, medicine development, and educational clout. One of the things that really brought Jonesboro much business development was the Cotton Belt Railroad development, as this was the route for many different types of supplies to be brought into town for use. One of its other claims to fame is that this is the place where Rooster Cogburn meets his fate in the novel "True Grit", one of the great western classics of modern times. Elvis Presley himself played in this city many times, and the first woman elect to the US Senate named Hattie Caraway grew up here. Some of the top employers here in Jonesboro are Saint Bernards Healthcare, Arkansas State University, NEA Baptist Health System, and Focus, Inc.
After browsing our index, if you're unable to reach a dentist, make sure you use the Jonesboro emergency situation hotline we offer to seek appointments with weekend and evening dentists in Jonesboro. This particular hotline is actually available 24 hours a day, meaning there is always an agent available to help hook you up with a Jonesboro after hours dental clinic.
Suggestions For Emergency Dental Care
The dentists that work hard every day in the clinics and the folks that answer the phone lines are able to get a pretty good idea of which type of emergencies are the most common. One thing they see very frequently is painful swelling, which may mean that you are going to have an abscess. These are pockets of infected pus that can become very serious, and even lead to a blood infection. You need to see an after hours dentist right away, but until then, you can use a saltwater rinse to relieve the pain. If if looks like you have just had your wisdom teeth out due to swelling but you actually have not, you definitely want to come in right away!
How To Prepare For Your Emergency Dental Visit
Visiting an emergency dentist shouldn't be too different from a regular trip to the dental clinic. There is always paperwork that goes with any medical appointment, and you will want to speak to the administrative staff ahead of your appointment and work to fill out all documents before your arrival to make sure you have prompt service. Emergency dental technicians are professional service providers and will work to relieve your dental pain as quickly as possible.
Jonesboro List of Emergency Dentists
All of our dental practitioner postings are already checked out and offer emergency dentistry services at diverse hours all through the evenings and weekends, every dental practitioner may well be available during various hours in nights as well as week-ends. This directory is perfect for you to help obtain an emergency dental office near you, but if you want to bypass the excess work of calling each dental office, make use of the 24 / 7 emergency dental phone line we offer and be connected with an emergency dentist in minutes.
Emergency Dentists USA supplies a solution for what once was a difficult, time-consuming matter. To discover Saturday and Sunday dentists we searched the entries of emergency dentists in Jonesboro and then outlined precisely the dental practices that we know to provide Saturday and Sunday or night time hours. This sort of care and attention is turning out to be so crucial that this smaller industry has long been growing up around serving those who are unable to touch base and consult a dentist in the course of standard company hours.
---
Referral Service of Emergency Dentists USA in Jonesboro AR
Number 1 (855) 401-2701
Directions Different Dental Treatment centers in Jonesboro , We Refer you!
Dentist Various
Services You shouldn't hold out, call to talk to an emergency dentist Jonesboro AR specialist. We are able to be useful for finding a dental professional with regard to whichever your current dental care unexpected emergency could possibly be. If you want to discover a Saturday and Sunday dental practice, or a night time dental professional, we're the Jonesboro provider available for you. Our contacts and partners puts us in direct exposure to the best dental offices for crisis situations all around the States
---
Tyrer Dental Care
Number(870) 277-0415
Office2603 Browns Lane Jonesboro, AR 72401
Doctors:-Dr. Dean Tyrer
Website: http://www.tyrerdentalcare.com/
Services Dr. Dean Tyrer wants to serve you as well as handle the dental care crisis that you're having, benefit from their particular technologically advanced and comfortable work place! Their personnel provide expertise for root canals, dental crowns, and tooth extractions.
---
SOUTHARD FAMILY DENTISTRY
Number (870) 932-7000
Office2600 Browns Lane Jonesboro, AR 72401
Doctors:-Heather Bond Southard, DDS
Website: http://www.southardsmiles.com/
Summary Heather Bond Southard, DDS looks forward to your trip to their dentist office and has urgent care dental care hrs, and will agree to brand new clients just phone in advance.
---
Dr. Troy Bartels, DDS
Number870.802.1500
Office811 Windover Road, Suite B,Jonesboro, Arkansas, 72401
Doctors:-DR. TROY BARTELS
Website:http://www.troybartelsdds.com/
Summary DR. TROY BARTELS welcomes brand new patients, especially those in search of immediate care dentistry, please call in advance of your consultation.