Helping Thousands of People Each Year Find Dental Services
Emergency dental surgery, cavities, general dental care.
Find immediate help, no insurance required.
Get relief from chipped, cracked or lost teeth, abscesses or toothaches.
Lexington-Fayette, KY Emergency Dental Clinics
We specialize in Lexington Fayette Emergency Dentistry:
Click to go to list of Dentists
Monday – Friday, See A Lexington-Fayette Dentist The Same or Next Day/Night You Call!.
Saturday And Sunday, "See A Lexington Emergency Dentist In Hours."
Searching for an emergency dentist in Lexington-Fayette KY? This is the right website for you. We offer a 24 hour emergency dental referral service phone line that can connect you with a 24-hour dentist in Lexington-Fayette. In addition to this, we offer an emergency dentist directory that you can use to attempt to contact after hours dentists directly.
We have worked hard to provide you with an array of dental care clinics and can point you towards things like a weekend dentist, after hours dentistry care, and even practices willing to handle those of you who walk into their clinic needing help pronto.
If you need dental help this is the best place to look. They have a section with dentists for each city and they even list hours, phone number and address to make it easy to find what you are looking for! So glad I was able to find this website and find a dentist quickly when I needed one most!
Emergency Dentist Listings in Lexington-Fayette, Kentucky
Delaying treatment is never a good thing when dealing with this aspect of your health care.  This is because it can compromise your long-term well being and that isn't worth it.  So do yourself a favor and find a quality clinic that can get you feeling better right away. Below we have listed numerous clinics in the Lexington-Fayette area for your easy access.
---
Emergency Dentists USA Referral Service Lexington-Fayette
Phone Number: 1 (855) 401-2701
Address: Various Dental Offices across Lexington
Doctors Multiple
Description Call to be connected with the perfect dentist for you. Lexington is a large city and we have the connections to find a dentist to fit your needs, and can get you an appointment immediately. Find Kentucky 24 hour dentists today.
---
Beaumont Dental Associates
Number: (859) 223-0011
If Closed: Call 1 (855) 276-1128 and let our Operator help you find an emergency dentist.
Office: 3181 Beaumont Centre Cir #114, Lexington, KY 40513
Doctors: Dr. Christina Park
Website: http://www.lexdentist.com/
Description: This is one of the first-rate choices for a dentist in Lexington-Fayette as they have excellent extended hours. The staff are very friendly and make sure every patient leaves pain-free with a smile. This is a clinic that fully understands the need for their services and those patients who may suffer from dental anxiety.
Hours of Operation:
Monday – Friday: 9:00am – 6:00pm
Saturday: 10:00am – 9:00pm
---
O'Donnell Family Dentistry
Number: (859) 269-4613
If Closed: Call 1 (855) 276-1128 and let our Operator help you find an emergency dentist.
Office: 1081 Dove Run Rd #105, Lexington, KY 40502
Doctors: Dr. O'Donnell
Website: http://www.odonnellfamilydentistry.com/
Description: Locating an after-hours dentist is one of the hardest things to do when you find yourself facing a dental emergency. This Saturday dentist in Lexington has hours from 8am to 1pm and you can also find them in the office early several days a week. You will be well taken care of by their professional walkin dentist teammates who are ready to accept you as a new patient!
Hours of Operation:
Monday: 8:00am – 5:00pm
Tuesday – Thursday: 7:20am – 6:00pm
Wednesday: 8:00am – 6:00pm
Friday: 7:20am – 1:00pm
Saturday: 8:00am – 1:00pm
---
Schroeder Cosmetic and Family Dentistry
Number: (859) 276-5496
Office: 2401 Regency Rd #202, Lexington, KY 40503
Doctors: Dr. Fred
Website: https://schroederdentistry.com/
Description: The Schroeder Family Dentistry Office has Saturday dentist hours in Lexington from 9am until 2pm on Saturdays. Also they are open until 7pm on Mondays and Thursdays which allows you to visit their urgent care dentist office after work on these weekdays.
Hours of Operation:
Monday – Thursday: 9:00am – 7:00pm
Friday: 9:00am – 5:00pm
Saturday: 9:00am – 2:00pm
---
Charles I. Emrich PSC DMD
Number: (859) 554-1606
Office: 131 Prosperous Pl Ste 20-A Lexington, KY 40509
Doctors: Dr. Charles Emrich
Website: http://www.dremrich.com/
Description: Whether you're suffering from extreme pain or ultra sensitive teeth or some other malady of dentistry, they are willing to work with your emergency dental needs.
Hours of Operation:
Monday – Tuesday – Thursday: 8:30am – 7:00pm
Wednesday – Friday: 8:30am – 5:00pm
---
Beaumont Family Dentistry
Number: (859) 554-1772
Office: 3141 Beaumont Centre Cir #300, Lexington, KY 40513
Doctors: Dr. Patricia Takacs
Website: http://beaumontfamilydentistry.com/
Description: Beaumont family emergency dentistry in Lexington KY is a well-rounded office that has early morning and after hours available for those of you who work and need to get in around your work schedule. You're safe by choosing this emergency dental clinic, they are always accepting new patients! .
Hours of Operation:
Monday – Tuesday – Wednesday: 7:00am – 5:00pm
Thursday: 7:00am – 6:00pm
Friday: 7:00am – 1:00pm
---
Gardenside Family Dentistry
Number: (859) 277-1189
Office: 833 Lane Allen Rd, Lexington, KY 40504
Doctors: Dr. Davis
Website: http://gardenspringsdental.com/
Description: This is a great choice for anyone in Lexington who is needing extractions or minor surgeries, root canal therapy, general dentistry needs, or x-ray diagnosis for severe pain. Regardless of how basic or severe your dental needs are, the staff here will make you feel at home from the moment you walk in the door.
Hours of Operation:
Monday – Friday: 8:00am – 6:00pm
---
Preparing For Your Lexington-Fayette Emergency Dental Visit
If you have an appointment set with an emergency dentist in the Lexington-Fayette area, you will want to remember a few things prior to your appointment.
Check with the emergency dental clinic to make sure that you bring everything they need such as insurance card, prior x-rays if possible, dental and medical history, etc.
It is best to arrive 15 minutes early as well if possible, in order to fill out any paperwork that might be needed for your appointment.
If you suffer from dental anxiety, this is good to mention to the emergency dentist as they can take extra care to make sure you are comfortable with any procedure they have to do.
Common 24 Hour Dental Emergency Situations
There are many emergency situations you may face in your life when it comes to your teeth and gums. Below we have outlined some of the most common and some with a few at home remedies you can try until you are able to see a dentist in Lexington.
Abscess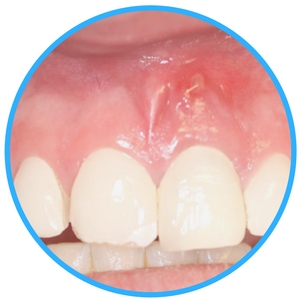 An abscess can be a dire emergency if not taken care of in a timely manner as the infection can spread from your mouth to other parts of your body. If you are suffering from an abscess, you will want to get into an emergency dentist as quickly as possible. The best thing to do while waiting to see your dentist is to rinse your mouth out several times with a warm salt water mixture.
Objects Caught in Teeth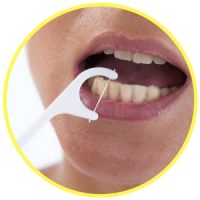 Objects can get caught in your teeth easily and sometimes they can be very painful. It's best to try to use floss to get the objects out of your teeth, you won't want to use anything sharp as this can cause damage to the teeth and gums. If the object is causing you problems and you aren't able to remove it, make sure to see an emergency dentist in Lexington for help.
"When flossing, it is important to follow the contour of a single tooth. This way the floss can go slightly under the gumline to dislodge debris. If that does not remove the debris, try tying a knot in the center of a long piece of floss. Then follow the tooth contour as before, this time pulling the knot through one time only. Frequently the knot will catch the debris and allow it to be removed. This technique works especially well for removing trapped popcorn hulls from under your gumline."
Knocked Out Teeth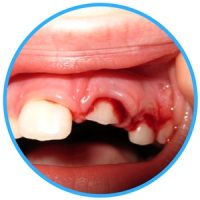 If your tooth was knocked out due to an accident, sports injury, or fall it's best to go to an ER to have everything checked out rather than waiting to get into an emergency dental clinic. If you do suffer from a tooth that was knocked out, try to save any pieces you can to bring in to your dentist. You can save these pieces in milk or in a container of Save-a-Tooth to keep moist until you have your appointment.
Emergency Dental Association Information for Lexington-Fayette
Thank you for stopping in and using our emergency dentist Lexington-Fayette, KY referral service. Please always investigate the background of any dentist you're going to be using in Lexington-Fayette for the first time by checking them out at this site: https://www.kyda.org/
Medically Fact-Checked & Written by Our Dental Editorial Team
You can read more about our editorial guidelines by clicking this link and learn more about the Emergency Dentists USA editorial team here.