Helping Thousands of People Each Year Find Dental Services
Emergency dental surgery, cavities, general dental care.
Find immediate help, no insurance required.
Get relief from chipped, cracked or lost teeth, abscesses or toothaches.
Louisville KY, Emergency Dental Clinics
We specialize in Louisville Emergency Dentistry:
Click to go to list of Dentists
Table of Contents
Trying to locate a dentist in Louisville, Kentucky after typical office hours can be difficult, especially when you are unfamiliar with where to find after hours dentist offices, or 24-hr emergency dentists.
The good news is, you don't have to spend countless hours calling around to find someone – we've done the work for you. We have made it more convenient and hassle-free by providing you with a list of the available emergency dentists in Louisville. You can easily locate a reputable 24-hour dentist that you can trust.
Whenever a dental emergency comes up, you need to be prepared. When the weekend comes up and you find yourself in pain and unable to get a hold of your normal dentist, we are here to help. You want to be able to quickly and easily find the relief you need through the proper treatment. You can do this by calling our referral service to provide you with a list of emergency dental clinics and 24-hr dentists in Louisville, Kentucky. We've also provided this list of emergency dentist clinics in Louisville (that we've narrowed down through research) that can serve you to the best of your needs.
I broke a wire on my braces a few weeks back. It was a weekend and I had no idea what to do, but the wire was bothering me so I googled it to find out what to do. I found Emergency Dentists USA and was able to find some helpful information on their site. Then I called the free service and they found a dentist who was able to get me in right away to a dentist!
Finding A 24 Hour Emergency Dentist in Louisville, KY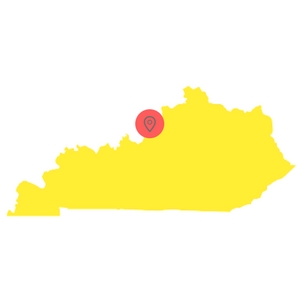 Here are some definitions that are worth knowing as you search for the help that you need.
24-hour Emergency Dentist: No matter when your emergency arises, you can find a reputable dentist in no time. A 24-hour dentist offers you the ability to get seen almost immediately any time of the day or night. Premier Dental Care is the only clinic on this list below that is considered to be a 24-hour emergency clinic!
After Hours Dentist: Sometimes your schedule isn't flexible to work with traditional office hours. After hours dentists allow you to schedule an appointment when it's most convenient to you. Not only do they allow for better flexibility in your schedule, but they also provide additional office hours for any dental emergencies that arise. ImmediaDent and Urgent Dental Care are great examples of after hours dentist clinics!
Walk-In Clinic: A walk-in clinic allows for exactly what the name entails – you can walk in without an appointment to see a dentist during office hours. Sometimes these clinics also offer later hours into the evening or on the weekends for added convenience. The benefit of a walk-in clinic is you don't have to wait to schedule an appointment to get in, so when you are experiencing a dental emergency you can head right there and get seen by a qualified dentist without an appointment. Clinics like Urgent Dental Care and Gerlach Family Dentistry are notable walk-in clinics.
Emergency Dentists USA Referral Service Louisville
Phone Number: 1 (855) 401-2701
Address: Connected To Various Dental Offices across Louisville
Doctors: Multiple
Description: If you need to find a Louisville, Kentucky emergency dentist, our referral service can help you find one in a short time frame, 24/7. Simply, we exist to find you a dentist that can help you through this emergency, pronto. After we send you some recommendations, you can contact this dentist and find out the best way to resolve your problem with the information we give you! Easily find Kentucky emergency dentists with our service.
---
Premier Dental Care
Number: 502-253-9675
If Closed: Call 1 (855) 276-1128 and let our Operator help you find an emergency dentist.
Office: 12563 Shelbyville Road Louisville, KY 40243
Doctors: Dr. Nader Pour-Ghasemi
Website: www.louisvillepremierdentalcare.com/
Description: An emergency dental clinic that is actually open 24/7, Premier Dental Care recommends that you call their number (posted above!) prior to actually coming down to the clinic if you have an emergency. This way, they can really help you set up an appointment quickly that works for your schedule and busy lifestyle. You can also schedule an appointment online, if you would like! Premier Dental Care accepts most major credit and debit cards, cash, check, or money order to pay for their services.
Open Office Hours: Open 24/7
---
Urgent Dental Care
Number: 502-491-0054
If Closed: Call 1 (855) 276-1128 and let our Operator help you find an emergency dentist.
Office: 2010 S. Hurstbourne Pkwy Louisville, KY 40220
Doctors: Dr. Brown, Dr. Crume, Dr. Tinsley, and Dr. Rusher
Website: http://urgent-dentist.com/
Description: This is an urgent dental care clinic that is open all week (including Sunday!) and prides themselves on being a real walk-in clinic. If you realize that you have an emergency and need to see a dentist pronto, checking out Urgent Dental Care and calling them to set up an appointment is the best bet. Because they're open so late during the week, this is also a great clinic to go to if you have an emergency, but want to wait until after work to get it resolved.
Open Office Hours:
Monday – Saturday 9:00 am – 10:00 pm
Tuesday: 9 am – 10 pm
Wednesday: 9 am – 10 pm
Thursday: 9 am – 10 pm
Friday: 9 am – 10 pm
Saturday: 9 am – 10 pm
Sunday: 11 am – 5 pm
---
ImmediaDent
Number:
Shively Center: 502-447-3323
Outer Loop: 502-473-6974
Hikes Point: 502-276-8950
Offices:
Shively Center: 4420 Dixie Hwy Ste 110, Louisville, KY 40216
Outer Loop: 4814 Outer Loop Rd. Ste A, Louisville, KY 40219
Hikes Point: 3946 Taylorsville Road Louisville, KY 40220
Website: www.immediadent.com/
Description: ImmediatDent has a ton of offices in Louisville, as well as the surrounding area, that you can visit – depending on what part of town you are at. Because they are open 7 days a week, this is a great clinic to go to when you have a real emergency. Their late hours and plentiful offices make ImmediaDent a great place to head on over to if you have an emergency. Just make sure you call them and set up an appointment!
Open Office Hours (for all offices):
Monday: 9 am – 9 pm
Tuesday: 9 am – 9 pm
Wednesday: 9 am – 9 pm
Thursday: 9 am – 9 pm
Friday: 9 am – 9 pm
Saturday: 9 am – 9 pm
Sunday: 9 am – 9 pm
---
Gerlach Family Dentistry
Phone Numbers:
South End/Airport/Woodlawn: (502) 368-5529
East End/Middletown: (502) 244-0333
Addresses: East End/Middletown: 11900 Shelbyville Rd. Louisville, KY 40243
South End/Airport/Woodlawn: 210 W. Woodlawn Ave., Louisville, KY 40214
Website: www.gerlachfamilydentistry.com
Doctors: Dr. H.V. "Chip" Gerlach, Jr. D.M.D.
Description: This emergency dental clinic has two locations to help you find the best clinic in your area. Walk-ins are welcome at both of these locations, and emergency dental care is specialized at all Gerlach Family Dentistry clinics. If you would like to make an appointment to make sure you are seen by a dentist, make sure to give one of the locations above a call to learn more information.
Open Office Hours:
South End/Airport/Woodlawn
Monday: 8 am – 5 pm
Tuesday: 8 am – 5 pm
Wednesday: 8 am – 5 pm
Thursday: Closed
Friday: 8 am – 3 pm
Saturday: 8 am – 1 pm
Sunday: Closed
East End/Middletown
Monday: 8 am – 5 pm
Tuesday: 9 am – 6 pm
Wednesday: 9 am – 6 pm
Thursday: 7 am – 3 pm
Friday: Closed
Saturday: 8 am – 1 pm
Sunday: Closed
---
How To Prepare For Your Louisville, KY Emergency Dental Clinic Visit
One of the most important things to remember when you are preparing for your first emergency dental visit in Louisville, Kentucky is that these visits are just like a trip to your traditional dentist. The biggest difference you will notice is that these dental offices have the ability to provide you with urgent dental care and treatments faster than other offices.
It's always best to be prepared with all the proper paperwork like your dental records, current insurance, as well as an updated form of identification. Having all this available with you at your visit will help to speed up your appointment.
Even though it's an emergency visit, try to arrive at least 15 minutes early so you can fill out any paperwork required. Even though you weren't necessarily prepared for this dental emergency to occur, you will still want to know how you will be paying for it, should they not accept your form of insurance.
Similar to all other medical appointments, you will want to inform the dentist and staff of any allergies you have. Emergency dental treatments often times require the use of antibiotics or pain medications. Because of this, you don't want to be surprised with an adverse reaction due to an allergy. If you've experienced anxiety in the past at the mere thought of going to the dentist, you will also want to inform the office staff of this. They can help to prepare ahead of time to make you more comfortable during your visit, while also helping to ease your nerves.
Common 24 Hour Dental Emergencies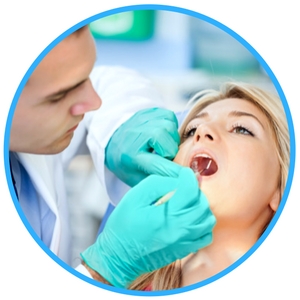 Back To Top
When you are reading through the advice on Emergency Dentists USA, it's important to realize it is not a substitution for actual medical advice. Everyone's situations are unique when it comes to seeing a dentist for an emergency. Therefore, please contact a medical professional for more specific advice. Here are a few common types of dental emergencies:
Abscess
An abscess is considered to be a serious infection. You may find them around the root of your tooth or on your gums. They are considered to be pretty painful and can quickly spread to surrounding tissue and teeth in your mouth. This is why it's important to get them treated as quickly as possible, so they do not affect other areas in the body. When they are left untreated, not only will they spread throughout your mouth, but they can also spread the infection through your bloodstream, affecting vital organs.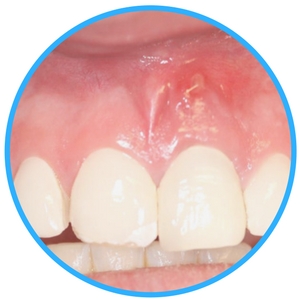 An abscess usually starts as a symptom of tooth decay or damage. Often times if you suffer from gingivitis you may notice an abscess arise. Gum disease and gingivitis make the perfect environment for bacteria to spread and take over and cause an infection.
Symptoms you may notice with a dental abscess include a low fever, pain when you are eating, a foul odor to your breath, redness and swelling on your gums, or an open sore in your mouth. Additionally, you may find that your glands around your jaw will swell.
When the infection from the abscess enters into the center of your tooth, the pup, you will begin to experience some pain. The absence of pain doesn't mean you don't have an infection, especially when you are experiencing some other symptoms associated with a dental abscess. This is why it's important to see a dental professional immediately should you believe you have an infected tooth.
To help alleviate swelling and pain until you are able to see a dentist, you can try mixing a salt water solution that consists of 8 oz of water and a teaspoon of salt water mixed together. Rinse your mouth with this solution as it will help to remove some bacteria that may be causing more harm than good.
But it's still important to schedule an appointment with an emergency dentist in Louisville as soon as you can to have the potential abscess examined and treated.
Soft Tissue Injuries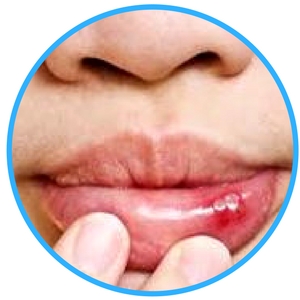 The soft tissue in your mouth is very delicate. Because of this they can oftentimes be accidentally injured with a bite to the tongue, gums, lips or cheek. A fall may produce an injury to the soft tissues in your mouth as well.
The soft tissue, when injured, usually doesn't bleed very much, that is why when they do, many people believe the injury might be worse than it really is. To establish the need for emergency care with a soft tissue injury you can rinse your mouth with a salt water solution and apply pressure to the site of injury to help stop the bleeding.
If you notice you are unable to get the bleeding to subside or pain continues with the injury, you will want to contact a dental professional in Louisville as soon as possible. Being able to utilize the service of an after-hours dentist can help you get the care and attention your injury needs to relieve pain and prevent further damage.
Chipped or Broken Tooth

The teeth in your mouth are very strong and durable. But sometimes even the toughest of materials will break. This can happen for many different reasons like a fall, or a decay in the tooth that weakens its enamel.
When your tooth chips or breaks, it might not produce any pain with it, but you should still be able to feel the crack with your tongue. Minor damage or chips to your teeth usually don't produce much pain. Much larger ones, however, often times are very painful.
A cracked or broken tooth means you have to make a trip to the dentist. There isn't any way to really treat a cracked tooth at home. Going to see an emergency dentist in Louisville is the only way to ensure your tooth gets the best possible care. There is a possibility that you will be able to save the tooth as long as you get treatment quickly.
Do You Need an Emergency Tooth Extraction?
When people hear the word tooth extraction, it usually causes panic or fear in their minds. A tooth extraction is a simple procedure that is done by a qualified dental professional. It requires that the tooth is removed from its permanent fixture in the bone of the jaw. One of the biggest reasons that many people have to get an emergency tooth extraction is due to an impacted tooth.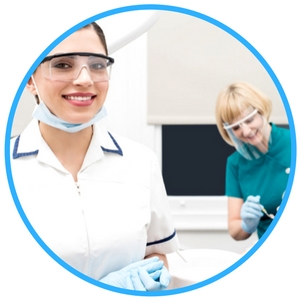 An impacted tooth is one that has shied from the normal growing pattern and has begun to cause pain. This is usually the type of extractions needed for wisdom teeth. Another reason for an emergency tooth extraction is to help provide your mouth with additional room for your teeth to align properly. When teeth become decayed or damaged they may also need to be extracted if they are beyond repair.
It is a good idea to have an extraction as soon as you possibly can when it is recommended to you. If you end up putting off the procedure, due to any reason, it can lead to long-term damage or even an infection. The only way to prevent any discomfort from wisdom teeth is by getting a tooth extraction.
Many patients can get an emergency tooth extraction with only the use of numbing cream over the affected region, while others have to go under sedatives such as nitrous oxide to guide them through the process.
Before having it done, you will want to ensure you do not consume any food or beverages hours before the surgery. You will also need to make arrangements to make sure you have someone to drive you home after the procedure is completed.
Once it is completed, some pain and swelling are entirely normal for a few days to a few weeks. Putting ice packs followed by warm compresses is the best way to help ease any discomfort, soreness, or swelling. The initial healing process takes up to two weeks, but in order for the restructuring of the bone to take place you can expect it to fully heal in three to six months.
Make sure you follow all instructions provided to you from the dentist to help avoid any further complications and ensure the healing process goes smooth.
Emergency Room Versus Emergency Dentist

Making the decision on where to seek treatment in regard to a dental emergency can be a tricky one. Sometimes when you are in the midst of the emergency your mind doesn't always process information in an efficient and logical manner. Many people opt to go to the emergency room for a dental emergency treatment because it's the only place they know available during afterhours to handle any medical emergencies.
But because there are emergency dentist options available in Louisville, you must take extra care to figure out how to proceed and where to go. When you have an emergency that involves your mouth or face, it may need to be seen in an emergency room of a hospital. Dislocations, fractures and even some soft tissue injuries require emergency care.
If you have a chronic illness or a compromised immune system, seeking treatment in a hospital might be the best option for you. While emergency rooms are fully equipped to handle bleeding injuries and trauma, sometimes your dental emergency does not qualify.
Dentists are specialists in the anatomy of the mouth and can provide you with a better treatment option, as well as follow up care if your emergency requires their services.