Helping Thousands of People Each Year Find Dental Services
Emergency dental surgery, cavities, general dental care.
Find immediate help, no insurance required.
Get relief from chipped, cracked or lost teeth, abscesses or toothaches.
Emergency Dentist McKinney, TX
24-hour dentists McKinney, Texas
24-hour dentists are dentists who operate around the clock, 24/7. They are available at all times to tend to your dental problems, even if it is in the middle of the night. Chipped a tooth by tripping in the dark? No problem! Just contact the nearest emergency dentist a look at it. They also work on Saturdays and Sundays, the days when a normal dental clinic would take a break. That's right! Emergency clinics are actually quite amazing, if you think about it, how they're always there to look after your smile.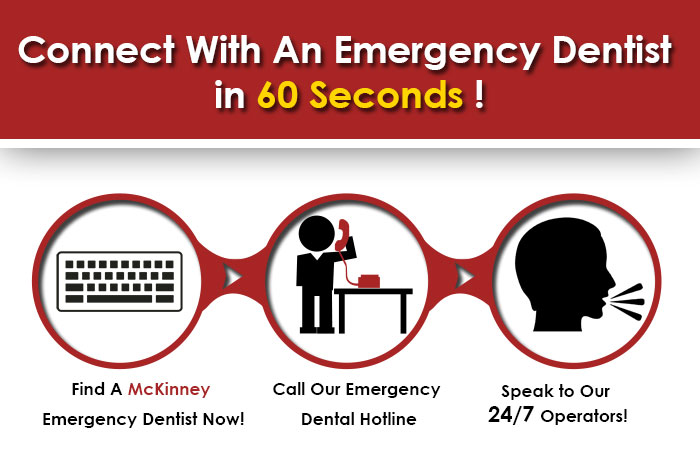 McKinney, Texas, is the 19th most populated city in the whole of Texas. That might not sound like much, but if you think about the population, which is more than 155,000 people, living in a city as small as 63 square miles, it would be easy to note why such a place would require more than just one emergency dentist. It might be a small city with a small population, but that's still not enough for one regular dentistry to look after. And what would happen if people suddenly woke up in the middle of the night with toothaches? Who will look after their dental issues then? This is why McKinney consists of some very capable 24-hour dentists to look after the dental issues of people at the middle of the night or during the weekends.
"As a last resort, an ER visit will work for a dental problem. But try one of our resources first to get the help you really need."
Emergency Dental McKinney
Do you know the numbers of the emergency dentists operating near you? If you don't, then you should take note of them as soon as possible. It is extremely important to know the names and numbers of the 24-hour dentists near you, as you never know when you might need them. Worst case scenario, if you have a dental accident on a weekend or at the middle of the night and don't know who to contact, you can always call 911 and rely on them to take care of the emergency. However, it is still wise to note down a few numbers. Which is why, we have provided you with a list of names and numbers of emergency dentists that you can rely on.
McKinney Emergency Dental
The following is a list of emergency dentists that you can call upon:
---
Emergency Dentists USA Referral Service McKinney
Phone Number: 1 (855) 401-2701
Address: Referral Service to multiple Dental Offices in McKinney
Description When traveling through the McKinney, there are many ways in which a dental emergency could quickly present itself. If you're having a dental emergency it's important to get help fast. Call our hotline and we'll help you find a dentist near you fast!
---
Fairview Dental Allen
Address: 1546 E Stacy Rd #130, Allen, TX 75002
Telephone: (972) 649-6221
Website: allenfairviewdentistry.com
Description:
They understand the importance of something as minor as a toothache and know that it could lead to something much bigger. There are many different common dental emergencies that this dentistry is capable to handle.
Monday 7am – 7pm
Tuesday 7am – 7pm
Wednesday 7am – 7pm
Thursday 7am – 7pm
Friday 7am – 7pm
Saturday 9am – 3pm
Sunday Closed
---
Dossett Dental McKinney
Address: 4550 Eldorado Pkwy #107, McKinney, TX 75070
Telephone: (469) 277-2853
Website: dossettdentalmckinney.com
Description:
At Dossett Dental in McKinney, Dr. Phillip Johnson starts by gaining a thorough understanding of your unique, individual needs in order to provide the most effective treatments possible. From a McKinney family dentist to the practice-wide services of a leading oral surgeon, all the professionals at our McKinney TX dental office make highly individualized care a top priority. Dossett Dental provides top quality dentistry at reasonable prices and excellent service. You will experience relief, ease, & well being when you join our family of patients.
Monday 8:30am – 5pm
Tuesday 10:30am – 7pm
Wednesday 8:30am – 5pm
Thursday 8:30am – 5pm
Friday 8:30am – 4pm
Saturday 8:30am – 2pm
Sunday Closed
---
Stone Lodge Dental
Address: 5323 W University Dr #200, McKinney, TX 75071
Telephone: (214) 613-1500
Website: stonelodgedental.com
Description:
Monday Closed
Tuesday 9am – 6pm
Wednesday 9am – 6pm
Thursday 9am – 6pm
Friday 9am – 6pm
Saturday 8am – 2pm
Sunday Closed
---
Red Oak Family Dentistry
Address: 5345 W University Dr #200, McKinney, TX 75071
Telephone: (469) 209-4279
Website: yourmckinneydentist.com
Description:
Monday Closed
Tuesday 7am – 7pm
Wednesday Closed
Thursday 7am – 7pm
Friday 7am – 7pm
Saturday 8am – 1pm
Sunday Closed
---
Medically Fact-Checked & Written by Our Dental Editorial Team
You can read more about our editorial guidelines by clicking this link and learn more about the Emergency Dentists USA editorial team here.