Helping Miramar Residents Find IMMEDIATE Dental Services Everyday.
Get relief from chipped, cracked or lost tooth
Abscess, toothache, mouth pain
Emergency dental surgery
24 hour services - Includes weekends, nights and holidays
Emergency Dentists Miramar FL
24 Hour Dentists Miramar, FL
Can you imagine how you would look without your teeth? Scary, huh? Our teeth are an essential part of our body. We couldn't eat nor talk without our teeth. Considering just how important our teeth are, we would regularly visit the dentist. Sadly, that's far from the truth! Most of us hardly ever go to the dentist unless there's an emergency. You know- root canals, tooth being chipped or coming off because we encountered an unfortunate accident, were hit by a pole or even took a punch during a fight. Whatever the case, most of us only go to the dentist when the 'e' word comes in- emergency. Hence, a 24-hour Dental Care is crucial in our time and age. We need not worry, because they are available at our service no matter where we live in the US. Miramar, Florida, has a few of these emergency dental cares.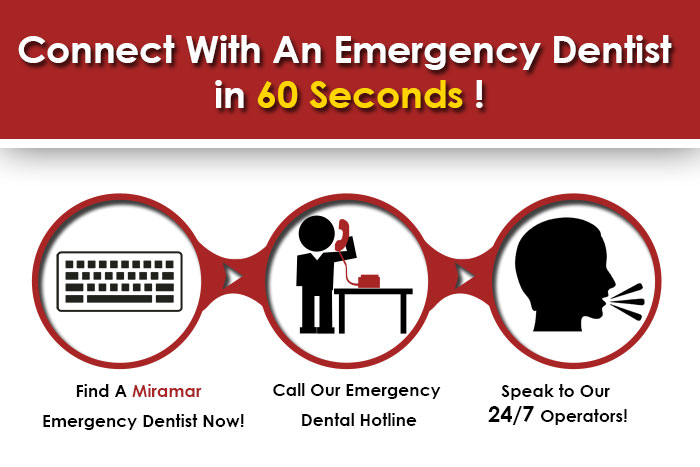 Emergency Dental Miramar
The Sunshine State- Florida, is known for its amazing beaches! Miramar is a city located in Broward County, Southern Florida. The city was named after the Miramar district of Havana, Cuba. The name "Miramar," roughly translates from Spanish as "sea view" or "sea sight." Even though it is not located directly on the Atlantic Ocean, there are many beaches in Miramar. The sea is no stranger for Miramar's population.
Miramar Emergency Dentists
There are numerous emergency care dentists available in or near Miramar, Florida. A few you can turn to, are:
---
Emergency Dentists USA Referral Service Miramar
Phone Number: 1 (855) 401-2701
Address: Referral Service to multiple Dental Offices in Miramar
Description When traveling through the Miramar, there are many ways in which a dental emergency could quickly present itself. If you're having a dental emergency it's important to get help fast. Call our hotline and we'll help you find a dentist near you fast!
---
Sunset Lakes Dental
Address: 18431 Miramar Parkway, Miramar, FL 33029, Hollywood, FL 33029
Telephone: (954) 433-4300
Website: dentalvip.com
Description:
Monday 9am – 6pm
Tuesday 9am – 6pm
Wednesday 9am – 6pm
Thursday 9am – 6pm
Friday 9am – 6pm
Saturday Closed
Sunday Closed
---
Miramar Dental Center
Address: 11904 Miramar Pkwy, Miramar, FL 33025
Telephone: (954) 639-7560
Website: miramardentalcenter.com
Description:
Monday 9am – 6pm
Tuesday 9am – 6pm
Wednesday 9am – 6pm
Thursday 9am – 6pm
Friday 9am – 6pm
Saturday Closed
Sunday Closed
---
R & F Dental Office
Address: 6917 Miramar Pkwy, Miramar, FL 33023
Telephone: (954) 986-9351
Website: rfdentalclinic.net
Description:
Monday 9am – 6pm
Tuesday 9am – 7pm
Wednesday 9am – 6pm
Thursday 8am – 6pm
Friday 9am – 12pm
Saturday 8am – 12pm
Sunday Closed
---
Healthy Smiles: Family & Cosmetic Dentistry
Address: 10978 Pembroke Rd, Miramar, FL 33025
Telephone: (954) 438-3803
Website: healthysmilesdoctor.com
Description:
Monday 8:30am – 5:30pm
Tuesday 8:30am – 7:30pm
Wednesday 8:30am – 7:30pm
Thursday 8:30am – 5:30pm
Friday 8:30am – 5:30pm
Saturday Closed
Sunday Closed
---
Here are some links to other cities in Florida, emergency dentist posts: