Helping North Hempstead Residents Find IMMEDIATE Dental Services Everyday.
Get relief from chipped, cracked or lost tooth
Abscess, toothache, mouth pain
Emergency dental surgery
24 hour services - Includes weekends, nights and holidays

Emergency Dentist in North Hempstead, NY – Find A 24-Hour Dentist Now
Table of Contents
Emergency Dentists USA shares a convenient listing of North Hempstead emergency dentists who are ready to handle your dental emergency right now. Choose from a large selection of dental providers who offer after hours dental care with evening and weekend appointments for your consideration.
From a full mouth restoration to a quick x-ray and repair of a broken tooth, our comprehensive listing of North Hempstead emergency dentists offers all of the dental care that you require. Spending your vacation suffering from a terrible toothache means never getting the chance to relax and appreciate the beauty of the North Hempstead Beach Park. Lovely summer sunshine and fun winter activities make this part of New York a great place to spend time with family or settle into a new home.
Use our 24-hour dental hotline when you need assistance in choosing the right North Hempstead dental clinic for your dental emergency. Our kind and caring operators can even help you to make an appointment.
Finding A 24 Hour Emergency Dentist in North Hempstead, New York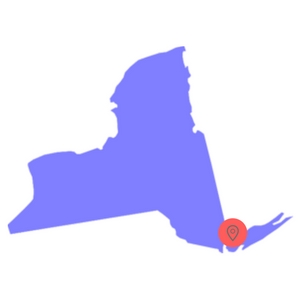 Suffering with an agonizing abscess or forcing yourself to chew only on one side of your mouth because of a painful loose crown makes enjoying your time in North Hempstead pretty tough. Emergency Dentists USA has a wide variety of North Hempstead emergency dental clinics standing by to deal with your dental emergency right now.
Walk-in dental clinics – Dental clinics that allow patients to come in without an appointment are difficult to find. North Hempstead has a variety of hospital emergency rooms that treat dental emergencies and never require an appointment.
Emergency 24-Hour Dental Clinics – When dental clinics are open 24-hours a day, they are often attached to a university. Unfortunately, North Hempstead does not have a 24-hour emergency dental clinic but does have several dental offices with evening and weekend appointments.
After Hours Dentists – Regular dental clinics with appointments outside of those normal business hours make North Hempstead a great place when you are stuck with a dental emergency. Confident Smile Dental NY is open on Saturday and Sunday for your convenience.
Emergency Dentist Listings in North Hempstead, New York
North Hempstead emergency dentists are standing by to ensure that your vacation goes as planned and you are not sidelined by a terrible toothache. Simply scroll through our convenient listings of North Hempstead emergency dentists and choose a dental location that is near your hotel or home. Our after hours dentists offer dental care with office hours that suit your needs, even on the weekends.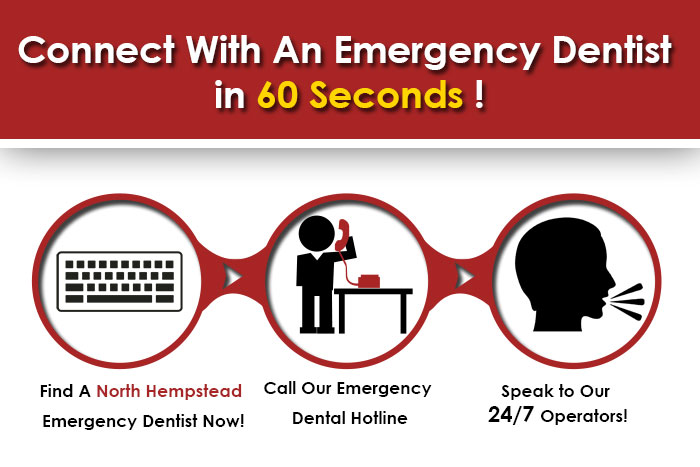 ---
Emergency Dentists USA Referral Service North Hempstead
Phone Number: 1 (855) 401-2701
Address: Referral Service to lot of Dental Offices serving in North Hempstead
DescriptionWhile you are visiting a new city, the last thing you want is to be struck down with severe pain in your teeth. The first time it happens to you, you do realize just how crippling it can be! Call our hotline now to assure that you are comfortable again soon, and that the nagging pain in your teeth subsides.
---
Oasis Dental
Website: oasisdentalny.com
Address: 400 Fulton Avenue, Hempstead, NY 11550
Phone Number: (516) 505-5010
Description:
It should not be ignored when an ER facility is open both evenings and Saturdays, but such is the case with this weekend dentist North Hempstead location.
Offering free orthodontics consultations and embracing patients from all around the region, Dr. Pavanjit Chhabra, DDS, is an exceptionally well trained dentist. After attending the California State University where he studied Cell Biology and Molecular Biology, he want on to study dentistry at the New York Dental School, NYI College of Dentistry. That was back in 1999. He is joined by Dr. Simmy Arora, DDS, Dr. Eshansh Arora who is an Oral Surgeon and Dr. Katherine Kim who specializes as an Orthodontist. Together with this fine team of oral physicians, the lead dentist provides what should beconsidered as first rate emergency dentist care in North Hempstead locale.
Office hours:
Monday 9 am to 5 pm
Tuesday 10 am to 7 pm
Wednesday 10 am to 7 pm
Thursday 10 am to 7 pm
Friday 9 am to 5 pm
Saturday 9 am to 3 pm
Sunday – Closed
---
Confident Smile Dental NY
Website: csdentalny.com
Address: 543 Hempstead Turnpike, Unit A West Hempstead, NY 11552
Phone: (516) 564-9444
Description:
At last you can breathe with some relief because getting first rate dental care when you are on the edge of agony is what this clinic can deliver. Serving the Garden City South and Franklin Square residents, do not miss out on one of the few walk in Hempstead dental facilities that is available to patients on evenings and Saturdays. This dentistry team talks a lot about preventative dental care so that you can avoid those urgent care situations and through the use of innovative and modern oral health care practices, you should not be disappointed. As a result of this proactive dental care attitude, they hope to prevent prospective problems and save you money. They also go on to explain that if you do not have insurance, affordable payment plans can be arranged. Your first consultation with the dentist is free and so to is your request for a 2nd opinion. With their location in West Hempstead, they also can service patients from Elmont, Franklin Square, Garden City, Malverne, Valley Stream, and even pockets around Long Island and Queens.
Office hours:
Monday 10 am to 7 pm
Tuesday 10 am to 7 pm
Wednesday 10 am to 7 pm
Thursday 10 am to 7 pm
Friday 10 am to 7 pm
Saturday 9 am to 3 pm
Sunday 10 am to 3 pm
---
Kane Dental of Hempstead-Family and Emergency Dental Care
Website: kanedentalcenters.com
Address: 72 Fulton Ave, Hempstead, NY 11550
Phone: (516) 483-2220
Description:
Office hours:
Monday 9 am to 6 pm
Tuesday 9 am to 7 pm
Wednesday 9 am to 7 pm
Thursday 9 am to 6 pm
Friday 9 am to 3 pm
Saturday 9 am to 2 pm
Sunday – Closed
---
American Dental
Website: americandental.com
Address: 250 Fulton Ave, Hempstead, NY 11550
Phone: (516) 481-9700
Description: American dental is a Hempstead NY clinic that can provide you with care for needs such as wisdom teeth removal, standard check-ups, x-ray diagnostics, and more. They are also open on Saturdays from 9AM until 3PM, and you can find them here on that day if your weekly schedule is simply overloaded. A clinic that cares with a very experienced staff, they are available to help you with anything that may come up for you regarding dentistry.
Office hours:
Monday 9 am to 6 pm
Tuesday 9 am to 6 pm
Wednesday 9 am to 6 pm
Thursday 9 am to 6 pm
Friday 9 am to 6 pm
Saturday 9 am to 3 pm
Sunday – Closed
---
Family Dentistry Michael C. DeFilippis DDS
Website: michaeldefilippis.com
Address: 1740 Front Street, East Meadow, NY 11554
Phone: (516) 794-8081
Description:
Dr. Michael Defilippis is one of those few talented dentists open on Saturday in North Hempstead area, with a determination to treat those in need from places such as East Meadow, Plainview, Merrick, Garden City, and Bellmore. Practicing since 1987, his outstanding staff is ready to dispense of their services during off hours, late hours, Saturdays, and maybe even a Sunday if the occasion calls for it.
Office hours:
Monday 9 am to 3 pm
Tuesday 9 am to 7:30 pm
Wednesday 12 pm to 5 pm
Thursday 9 am to 6:30 pm
Friday – Closed
Saturday 9 am to 2 pm
Sunday – Closed
---
How To Prepare For Your North Hempstead, New York Emergency Dental Clinic Visit
– Most emergency dental clinic visits are similar to regular office visits. Your North Hempstead emergency dentist performs routine dental services like x-rays and cleanings along with more complicated restorative procedures.
– Have your paperwork, health records, and insurance information ready. This ensures that your new dentist chooses a dental plan that suits your needs.
– Arrive 15 minutes early to facilitate filling out paperwork. Your North Hempstead emergency dentist will require some paperwork prior to your visit. You can also use this time to ask questions about your upcoming procedure.
– Let your dentist know how you plan to pay for your dental services. Most North Hempstead emergency dentists accept cash, credit cards, personal checks and some even offer low-interest payment plans.
– Make sure you know if your insurance is accepted at this dentist. Choosing an in-network dentist saves you money when the time comes to pay the dental bill.
– Just like any medical visit, make sure you know if you have any allergies to medicines. Bring a current list of your medications with you to the dental visit.
– Do you have intense dental anxiety or fear? Let the dental office staff know that your dental anxiety affects your experience. They can help you to relax by explaining the procedure in detail.
Quality of Urgent Care Dentists In North Hempstead, New York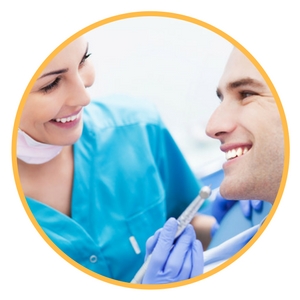 A visit to the gorgeous North Hempstead, New York area would not be complete without a walk on the soft sands of Bar Beach. Overlooking the sparkling Atlantic ocean, Bar Beach's unspoiled views make it a wonderful location for sunbathing and swimming. The town of North Hempstead began in 1784 and became a part of the county of Nassau in 1899.
Visitors to the city enjoy the Nassau County Museum of Art with its modern and classic artwork displays, the Old Westbury Gardens with its historic mansion and beautiful blooms and the Fort Totten tours with their accent on the history of the Atlantic coast. The beauty of North Hempstead does not have to be interrupted by a nagging toothache or a broken crown, because this gorgeous city also has plenty of excellent dental clinics and wonderful hospital emergency departments to service your medical and dental needs.
The Winthrop University Hospital New York is one of the top 100 hospitals in the entire United States according to US News and World Reports. This hospital provides a 24-hour emergency department with doctors standing by to deal with that painful dental emergency. The hospital employs over 85 residents with 600 beds and is a top teaching hospital with special programs in cardiology and in gastroenterology. Winthrop University Hospital New York is open 24-hours a day for anyone with a medical or dental emergency. This means that any dental emergency that stems from an accident like a fall or a sports injury is treated quickly and with great care. If you experience a dental emergency that could include a dangerous injury like a concussion or even broken bones, a hospital emergency room is definitely your best choice for immediate care.
Other great hospitals in the North Hempstead area include St. Francis Hospital that is ranked number four in the entire state of New York. This hospital is ranked high performing in several specialties and offers a 24-hour emergency department that is designed to suit your needs when it comes to a dental emergency. Located on Long Island, St. Francis Hospital has also been ranked high performing by patients who appreciate the caring service. Visit South Nassau Community Hospital's emergency room to take care of that 24-hour dental emergency as quickly and as painlessly as possible.
Common 24 Hour Dental Emergencies
Emergency Dentists USA is ready to help you to choose a great North Hempstead dentist for your common 24-hour dental emergency. Our convenient listing of local dental clinics makes it simple for you to select a dentist who is both kind and caring. Some of the most common of the 24-hour dental emergencies that are addressed by our dentists include painful toothaches or lost fillings. You might also find yourself with a chipped or broken tooth, a tooth that is knocked out or even a crown that is loose or has fallen out. Other common dental emergencies include something caught between the teeth or soft tissue injuries of the mouth, the lips, the gums and the tongue.
You might also encounter a dental emergencies like a painful abscess or infection of the gum. This type of emergency can become dangerous to your health if it is not addressed by a great North Hempstead emergency dentist. Broken brackets, broken wires and loose braces are also common 24-hour dental emergencies that require the services of an emergency dentist.
Reading advice on the EmergencyDentistsUSA.com website is not a substitute for seeing a medical professional. Every dental situation is unique, and you should see a dentist for any of the common dental problems listed below.
Abscess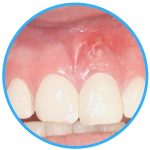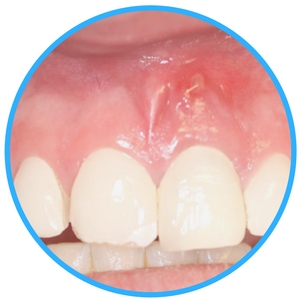 An abscess is a common dental emergency that is actually an infection of the gum below or between the teeth. This type of infection can be extremely painful and might spread to other parts of the body including the bone of the jaw or soft tissues of the mouth. Rinse your mouth several times with salt water in order to draw the pus from the infection toward the surface of the gum. Visit your North Hempstead emergency dentist as soon as possible to have the abscess treated before it becomes a major problem.
Knocked Out Teeth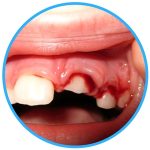 Knocked out teeth are a common dental problem that can become quite embarrassing. If you are able to find the tooth that has been knocked out, grasp it only by the crown and rinse it with plain water. Place the tooth into a small container of milk or Save-a-Tooth to bring with you to visit your North Hempstead emergency dentist as soon as possible. If you are able to place the tooth back into the gum, apply gentle pressure to the tooth until you are able to visit your emergency dentist. This is extremely important so that the dentist can try to save the tooth.
Objects Caught in Teeth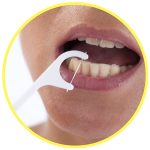 Objects caught in teeth can become quite painful and lead to toothaches. Rinse your mouth carefully with water and floss between your teeth to remove any debris that might be caught between the teeth. Never use a pin or other sharp object to probe between the teeth as this can cause damage to the gum and tooth. Do not place aspirin or other painkillers between the cheek and tooth as this can cause burns to the soft tissues of the mouth. Visit your North Hempstead emergency dentist as soon as possible to have the object removed.
Tooth Trauma Caused by an Accident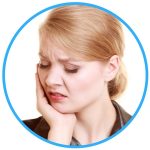 Tooth trauma that is caused by an accident can be potentially dangerous. If your tooth trauma includes a head injury or an accident like a fall or sports injury, visit the hospital emergency room as soon as possible to be evaluated by a physician. Tooth trauma that is caused by an accident might include a concussion or even broken bones that might be dangerous to your health. Your local hospital emergency room is the best place for treatment when your tooth trauma includes this type of injury.
Do You Need an Emergency Tooth Extraction?
You might require an emergency tooth extraction if your tooth has decayed to the point where a dental is no longer able to repair the tooth. It is important to have the extraction accomplished as soon as possible in order to limit your pain and the types of complications that could occur if the tooth decay is left unaddressed.
Your dentist usually begins the tooth extraction by taking an x-ray of the tooth and then performing an examination of the tooth. He or she chooses a local or general anesthetic to keep you comfortable throughout the procedure, and uses a special tool to pull the tooth out of the gum. The gum is then stitched closed using a type of suture that dissolves over time. A small piece of gauze is placed over the gum to control any bleeding. Full healing usually occurs within one to two weeks of the emergency tooth extraction.
Follow any directions given to you by your North Hempstead emergency dentist following the tooth extraction. Take any medications as directed and avoid eating hard foods or drinking through a straw for at least the first few days following the procedure. Avoid smoking or drinking alcohol until the gum is fully healed.
Emergency Room Versus Emergency Dentist

If you have a tooth trauma that stems from an accident like a car accident, a fall or a sports injury, it is important to visit a hospital emergency room immediately. This ensures that you do not have a more complicated injury like a broken bone or a concussion.
Common dental emergencies require treatment by a North Hempstead emergency dentist rather than the hospital emergency room. Keep in mind that most hospital emergency rooms do not have the equipment to treat a dental emergency like a broken tooth or a lost filling. Your emergency dentist can treat your dental emergency more quickly and at a lower cost to you than most hospital emergency rooms.
Often, your hospital emergency department requires you to wait for long periods of time to be seen by a physician, and the bill from the hospital ER is often much higher than that same bill from a dental office. Choosing a dentist for a common dental emergency is the right choice unless the emergency began with an accident or sports injury.
FAQ
I have severe mouth pain, do I need to see an emergency dentist or should I wait?
If you have severe mouth pain, it is important for you to see a North Hempstead emergency dentist as soon as possible. Waiting to seek treatment could make your condition worse, complicate the procedure and might even make treatment more expensive.
The wire on my braces broke, should I cut it the rest of the way off?
If the wire on your braces breaks, it is important to leave the wire intact. Never cut the wire. Use the eraser end of a pencil to push the wire into a more comfortable position in your mouth. If the broken end of the wire is sharp, use a small amount of orthodontic wax or a cotton ball to cover the sharp end of the wire.
What is plaque and why is it bad?
Plaque is a sticky substance that builds up on your teeth if you are not brushing and flossing them properly. Plaque eventually hardens into tartar that is very difficult to remove from the teeth. A large amount of bacteria grows within the plaque and causes tooth decay, bad breath and damage to the surface of the teeth.
Are electric toothbrushes better than manual brushes?
Electric toothbrushes are better than manual toothbrushes if you have dexterity issues that affect the way that you are able to use a toothbrush. Manual toothbrushes do an excellent job at removing plaque and fighting tooth decay if they are used properly along with a good flossing program.
What causes bad breath?
Bad breath is most often caused by tooth decay. The plaque on teeth that are not brushed correctly contains a large number of bacteria. These bacteria produce acids that cause the teeth to decay. Bad breath can also be caused by smoking, drinking alcohol, eating a specific type of food or even certain medications.
24 Hour Dentist North Hempstead Options

While you enjoy your visit to the gorgeous shores of North Hempstead, it is great to know that there are plenty of excellent emergency dentists standing by to care for your painful dental emergency. Choose Oasis Dental when you have a dental emergency that requires treatment right now. Office hours include after hours services from until 7 p.m. on Tuesday through Thursday, and Oasis Dental is even open on Saturday until 3 p.m.
Select Confident Smile Dental NY to visit a great North Hempstead emergency dentist even on a Sunday. This after hours dental clinic provides convenient appointment times for your dental emergency with office hours until 7 p.m. on Monday through Friday and Saturday and Sunday hours until 3 p.m. Kind and caring dentists make Confident Smile Dental NY a wonderful choice for any dental emergency.
Kane Dental and American Dental offer Saturday hours until 2 p.m. and 3 p.m., respectively. These wonderful dental clinics create convenient after hours schedules to suite your dental emergency needs. Both offices have evening hours during the week and even stay open as late as 7 p.m. in some cases. Family Dentistry also has office hours on Saturdays and evening hours for common dental emergencies or even those routine appointments.
Keep in mind that you can also choose an excellent North Hempstead hospital emergency room to treat your dental emergency when you are unable to contact a dentist. Hospital emergency rooms are a good choice for dental emergencies that include accidents like falls or sports injuries.
Ensure that your new dentist is properly licensed by taking a look at the American Dental Association's website. This website offers great information about licensing and credentialing along with tips for finding a good dentist. Use the New York State Dental Association's website to learn more about dentistry in New York state.
This Emergency Dentists USA portal is a website for information only, and should be not used to replace the actual advice of a medical professional. If a patient is having an emergency and cannot reach a dentist, call 911 to assure immediate response and safety.