Helping South Bend Residents Find IMMEDIATE Dental Services Everyday.
Get relief from chipped, cracked or lost tooth
Abscess, toothache, mouth pain
Emergency dental surgery
24 hour services - Includes weekends, nights and holidays

South Bend, IN Emergency Dental Offices
Table of Contents
Tooth pain is one of the worst pains that you can experience and if you do not have the proper procedure done, the pain will continue. You can take over-the-counter pain medication, but it only works for so long and it will only stop the pain until you have to take more medication. You will find that eventually, your body gets used to the medicine and it no longer takes the pain away. Continued pain will reduce your quality of life and you may be desperate to find the relief you need.
Before you try to take measures into your own hands, you should seek out South Bend emergency dentists to help you. Below, you will be able to find 24-hour emergency dental facilities in South Bend. These offices are available to help alleviate the pain you feel and perform the procedure you need to get rid of the pain.
Don't let the pain you feel rule your life and take a moment to find an emergency dentist in South Bend.
Finding a 24-Hour Emergency Dentist in South Bend, IN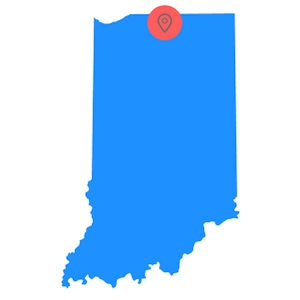 Many dental offices that you find will only be open from 9:00 am until about 5:00 pm throughout the week and then closed on the weekends. This is inconvenient for most people who have to work during those same hours. Basically, it will boil down to missing work to have your tooth fixed or waiting it out and hoping the pain goes away. We all know that tooth pain does not just subside on its own and it will take away from your daily life and cause you to miss out on some of the things you like to do.
Fortunately, there are options available to you in South Bend that will allow you to receive the dental care you need when you need it.
Emergency dental offices are designed to handle your dental emergency when it happens. You are able to call these offices, let them know you have an emergency, and they will often schedule you in the same day for treatment. These emergency dental offices in South Bend cater to the needs of their patients and will provide treatment around the clock, when needed.
Another option is a South Bend after hour dental clinic. These offices are open until 7:00 pm and allow you to come in when you need to receive care. Some require appointments, while others will allow you to walk in.
Emergency Dentist Listings in South Bend, IN
Tooth pain does not just go away on its own and if you are in a position where you are just fed up with it, you may want to visit a local South Bend emergency dentist. Before you spend hours looking online for one near you, take a moment to look at the list of emergency dentists in South Bend below. These dentists offer urgent and immediate care to patients who are suffering. Once you find a dentist near you, simply give them a call, and schedule an appointment to receive the urgent care you need.
---
Phone Number: 1 (855) 401-2701
Address: Referral Service to many Dental Offices formed inside South Bend
DescriptionIn this state where high school basketball prowess is at an all-time high, there are many different kind of dental emergencies that can happen. If you or anyone you know finds themselves suddenly elbowed in the face or with a dislodged tooth, make sure you give our easy to use hotline a call right away, and we will link you up with the best professional for the job.
---
Mahoney Family Dentistry
Website: mahoneydds.com
Address: 17901 Turners Drive South Bend, IN 46635
Phone: (574) 607-4480
If Closed: Call 1 (855) 276-1128 and let our Operator help you find an emergency dentist.
Description:
If you are having a South Bend dental emergency, this clinic expresses they understand and realize such things seldom happen at a good time so they leave time on their appointment schedule every day for those folks who may have to walk in with a dire need. You are encouraged to call them and get the appointment scheduling process underway if you are at your wits end and the pain level has shot through the roof. The doctors at this location, Dr. Mahoney and Dr. Klauer are quite experienced in all aspects of modern dentistry and they take a long view toward treating their patients. Dentistry ER services rendered at the South Bend office include same day urgent care, immediate infected tooth extractions, clean up of serious lacerations of the mouth and lip, and replacement of missing teeth.
Office hours:
Monday 8 am to 5 pm
Tuesday 8 am to 5 pm
Wednesday 8 am to 5 pm
Thursday 8 am to 5 pm
Friday 8 am to 4 pm
Saturday – Closed
Sunday – Closed
---
The Dental Center South Bend
Website: www.southbenddentalcare.com/emergency-information
Address: 1005 East LaSalle Avenue, South Bend, IN 46617
Phone: (574) 367-7000
If Closed: Call 1 (855) 276-1128 and let our Operator help you find an emergency dentist.
Description:
An excellent location for emergency dental and after hours dentist services, this practice has been in business for over 30 years. They strive to establish very long-lasting relationships with patients, and know that listening to the patient's needs every step of the way is what keeps them coming back and referring a great clinic to others. Board certified by the American Board of Pediatric Dentistry, this South Bend location for standout dental care reflects everything good about a community that is proud to be a gateway to the midwestern states and many channels of commerce.
Office hours:
Monday 8 am to 5 pm
Tuesday 8 am to 5 pm
Wednesday 8 am to 5 pm
Thursday 8 am to 5 pm
Friday 8 am to 2 pm
Saturday – Closed
Sunday – Closed
---
Aspen Dental
Website: www.aspendental.com/dentist/mishawaka-in-46545-2610
Address: 4170 Grape Rd, Mishawaka, IN 46545
Phone: (574) 318-9114
Description: The helpful and knowledgeable staff at Aspen Dental has always been known to be some of the most prompt and knowledgeable in the city. Every Thursday they stay open late until 7PM, and you can also get an appointment Saturday if you are caught by surprise in an emergency. Whether it is root canal therapy or more standard work such as a routine cleaning, the staff here at Aspen Dental has got you covered.
Office hours:
Monday 8 am to 5 pm
Tuesday 8 am to 5 pm
Wednesday 8 am to 3 pm
Thursday 10 am to 7 pm
Friday 7 am to 4 pm
Saturday – By appointment only
Sunday – Closed
---
How to Prepare for Your South Bend, IN Emergency Dental Clinic Visit
When you are ready to schedule an emergency dental appointment in South Bend, you can expect the process and the visit to be similar to that of your traditional general dentist appointments. You will call in to schedule the appointment and at this time, you should inquire about the price of services and the types of payments that are accepted.
Some 24-hour dental offices will require the payment upfront and others may require the payment the moment the procedure is done so it helps to know what to expect.
If you do not know what procedure you will need to have done, simply ask for a price estimate of the most popular services so you have a general idea of what to pay. In addition, if you have dental insurance, now would be the time to let the office know so they can provide you with appropriate prices.
Once you arrive in the office, you will need to fill out some paperwork pertaining to the visit. This paperwork will ask for your dental and medical health history in addition to insurance information, your address, and so on. This information should be filled out to the best of your ability and always be truthful, as this info helps the dentist treat you.
If you have any allergies, now would be a good time to mention them and also inquire about any sedation options available to you.
Common 24-Hour Dental Emergencies
If you have any type of tooth pain, you may be suffering from one of the many common dental emergencies that can occur in your mouth. There are different dental issues that may arise over time or some that can quickly develop overnight and present problems immediately. For example, if your tooth is knocked out, this is an immediate emergency and occurs on the spot, whereas dental decay takes time to form.
Dental emergencies need to be looked at and treated by professionals in the field to ensure there are no further underlying conditions and to ensure that the problem does not spread to any of the other teeth. If you allow a dental problem to remain, it will continue to get worse over time.
Emergency dentists in South Bend can provide you with the dental procedures you need to alleviate the pain you experience in your mouth.
Reading any of the information and advice provided to you on emergencydentistsusa.com is not a substitute for advice from a medical professional Every situation is unique and if you are suffering from one of the dental emergencies below, you should see an emergency South Bend dentist.
Lost Filling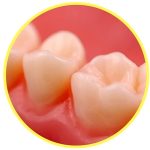 If you have lost a filling, try not to panic. It is possible the filling came out because the tooth's structure weakened over time or you may have consumed a sticky substance that pulled it loose from the tooth. You should try to recover the filling to make sure you do not choke on it. Then, you can stick a piece of sugar-free gum into the hole or you can use an over-the-counter dental cement. It is important that you do not use regular gum, as it will irritate the cavity even more.
Once you have placed the gum or dental cement into the tooth, you should get in touch with your local South Bend emergency dentist immediately.
Loose or Lost Crown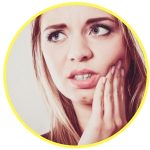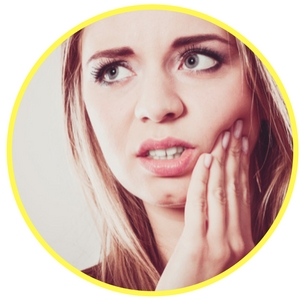 A lost crown is commonly caused by the loosening of the crown itself over time and you may have eaten something that pulled it off the tooth. It is possible and the first thing you should do is recover the crown from your mouth. If the tooth is sensitive or painful, you should place some clove oil on top of it to help lessen the discomfort you are experiencing. One thing you should try to do is place the crown back over the tooth. To do this, you should apply a dental cement into the interior of the crown and then place it over the tooth. Do not force the crown though.
Once you place the crown back over the tooth, call your local South Bend emergency dentist right away.
Chipped or Broken Tooth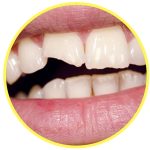 If you have a broken tooth, the first step you want to take is to recover the pieces of the tooth. Once you have done that, you should rinse your mouth out with warm water. Avoid touching the broken tooth, as it may be very painful. If the area is bleeding, you can apply a moist piece of gauze and apply pressure for about 10 minutes. If there is any swelling present, place a cold compress on the exterior of your cheek where the injury occurred.
You should call your local South Bend emergency dentist right away to receive care for your broken tooth.
Do You Need an Emergency Tooth Extraction?
Emergency tooth extractions may sound scary, but sometimes they are needed. In fact, most dentists rely on them when other procedures do not work such as a crown or a filling. While your emergency dentist in South Bend will do what he can to save your tooth, sometimes, it is not always possible, and in these situations, an emergency tooth extraction will be recommended.
Some of the situations that would warrant an emergency tooth extraction include:
– Periodontitis
– Severe tooth decay
– Broken or fractured teeth
– Impacted and diseased teeth
– Infection
– Crowded teeth
– Teeth with severe abscesses around the root
If you have been recommended for an emergency tooth extraction, but you are waiting to have it performed, you may make the situation worse. For example, a dental abscess or infection can spread to other teeth or even to other areas of the body. You need to receive treatment immediately to ensure good oral health.
Once you have had an emergency tooth extraction, you will need to follow the instructions provided to you by your emergency dentist. In addition to those instructions, here are some tips to help you alleviate discomfort:
– Sleep with your head propped up
– Limit your strenuous physical activities for 24 hours
– Use moist gauze to apply pressure when bleeding is present
– Apply a cold compress to the exterior of the cheek where the extraction occurred
– Take all medication prescribed to you
Emergency Room Versus Emergency Dentist

When you experience dental pain in South Bend, IN, you may think that you need to head to your local emergency room to receive care. While this does sound like a plan, it is not the best place for you to receive treatment. The ER is designed to treat medical emergencies and does not have the equipment to perform dental procedures on site. If you do happen to go to the ER for your dental problem, they will look over your tooth and possibly prescribe you pain medication until you can head to your dentist.
When you have tooth pain, you should head to a local South Bend emergency dentist to receive care. They are better equipped to handle your dental problem and can perform dental procedures right there in the office. Many emergency dentists are open around the clock to provide care to you.
There are some instances when you should visit a local ER and that is when you suffer from any type of head trauma, have fallen, been in an accident, or have broken your jaw.
24-Hour Dentist South Bend Options
The Emergency Dentists USA portal is an informational website that should only be used for information purposes and should not be used to replace the advice from a medical professional. If you are experiencing a dental emergency and you cannot get in touch with an emergency dentist in South Bend, you should call 911 or head to your local ER.
We do recommend that you do not visit a new dentist until you have verified their credentials and their licenses. To do this, you can visit Indiana Online Licensing or the Indiana Professional Licensing Agency.
If you do have a dental emergency or you are currently experiencing pain, you should look for your local South Bend emergency dentist and give them a call. If you are unable to find one or you cannot get in touch with one, you should immediately call 911 or head to your nearest emergency room for care. The Emergency Dentists USA website is designed to be used for informational purposes only and should not be used to replace advice from a medical professional.