Helping Thousands of People Each Year Find Dental Services
Emergency dental surgery, cavities, general dental care.
Find immediate help, no insurance required.
Get relief from chipped, cracked or lost teeth, abscesses or toothaches.
Emergency Dentist Springfield OH
Call 24/7: 1 (855) 909-8885
Nothing is quite as frustrating as traveling cross-country, and all of a sudden being threatened with very intense dental pain. If you add to the mix that you encounter the pain on a weekend day or late evening, you may also be dealing with the very intense fear that you will not be able to locate an emergency dentist in Springfield OH by the time you truly need one. Our portal is an excellent place to check out what's available in your city, and locate a clinic that you feel will best fit your needs when you are in a pinch.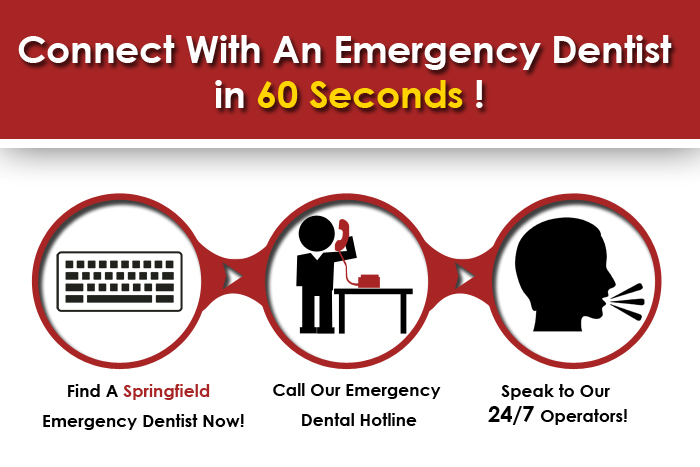 Call 24/7: 1 (877) 507-0879


After looking through our listing, should you be struggling to contact a dentist, make sure you make use of the Springfield emergency phone line we offer to find prearranged consultations with urgent care dentists in Springfield . At any hour, Seven days a week you can reach the staff at our urgent care dental telephone, just call now and get placed in contact with a Springfield dental urgent care clinic.
"Springfield is one of those cities that offers a solid set of resources for emergency dental treatment. The key is to seek care as soon as you know a problem is developing. Dental problems don't usually go away on their own."
Dr. Greg Grillo DDS
Dental Emergency Care Tips
One of the best things about talking to so many emergency dentists all of the time and working with them daily is the ways in which they can tell you the most common emergencies that they see. A common occurrence that is seen in these emergency clinics is injury to the jaw. Not always sustained by a slip on the ice or a fistfight, there are many different ways in which you can hurt the jaw. If you suspect this is the case, apply a cold compress to the painful area, and immediately see the emergency dentist. The jaw has more then 20 different ways it can be injured and broken, and you must leave it up to the emergency professional to decide an appropriate plan of action.
How To Prepare For Your Emergency Dental Visit
Don't expect a very different environment at the emergency dental clinic, compare to your regular dental office. There is always paperwork that goes with any medical appointment, and you will want to speak to the administrative staff ahead of your appointment and work to fill out all documents before your arrival to make sure you have prompt service. The staff at emergency dental clinics are used to seeing patients who are suffering and they will expedite your visit as quickly as possible.
Emergency Dentists Springfield List
The dentistry postings here are recommended by Emergency Dentists USA and all of these emergency dentists have some sort of after hours sessions or evening and Saturday and Sunday care, although not all of them happen to be 24 hours. This database is for an individual to help find an emergency dentist close to you, however if you wish to bypass the excess work associated with calling each and every dentist, make use of the 24 / 7 phone line we provide you with and get connected to an urgent care dentist within a few minutes.
You can expect a fast and simple answer for anyone struggling with any one of the situations listed above. To discover Saturday and Sunday dental professionals we searched the listings of emergency dentists in Springfield and then outlined only the dental practitioners that we understand to provide weekend or night time working hours. This kind of treatment is growing to be so crucial that a smaller marketplace continues to be maturing around serving people who find themselves not able to reach out and also consult a dental office during standard business working hours.
---
Emergency Dentists USA Springfield Referral Services
Telephone 1 (855) 401-2701
Directions Referral Program to Various Dental Offices across Springfield OH
Doctors Different Doctors
Services You shouldn't wait, call today to talk to an emergency dentist Springfield OH expert. We are able to be useful for finding a dentist for whatever your current dental emergency might be. Whether you're searching for a Saturday and Sunday dentist, or perhaps an urgent care evening dental professional in Springfield, we now have you covered. The relationships we now have produced permit us to become linked to hundreds of after hours dental practices in the United States.
---
Aspen Dental
Number(937) 471-3983
Office1681 N Bechtle Ave Springfield, OH 45504
Doctors:-P. Modi, DMD
Website:https://www.aspendental.com/dentist/springfield-oh-45504?utm_source=GooglePlaces&utm_medium=LOCiqGooglePlaces&utm_term=Spgfld_OH&utm_campaign=LOCiqGooglePlaces
Summary P. Modi, DMD has a expertly trained staff that's respectful and capable to assist you in your urgent dental needs.
---
Family Dental Care
Number(937) 323-3400
Office 1240 E. Main Street Springfield, OH 45503
Doctors:-Dr. Joseph Yong, DDS
Website:http://www.dentalcarespringfield.com/
Services Dr. Joseph Yong, DDS provides a advanced level of client satisfaction because of their after hours dental working hours, make sure you phone ahead of time and you will be approved as a fresh patient.
---
Atkins and Waldren, DDS
Number(937) 390-2440
Office 1355 E Home Rd, Springfield, Ohio 45503
Doctors:-Atkins and Waldren, DDS
Website:http://atkinsandwaldrendds.com/
Summary Atkins and Waldren, DDS wants to help you as a brand new patient, they're ready to have your personal consultation made during their week end hours, or urgent care night dental appointment scheduling times.
---
Preparations For Urgent Care Dentist
Even if your daily journey with your family, friends, or students ends with the need for an urgent extraction or even a root canal, don't be afraid! An emergency dentist in Springfield OH will be able to give you proper x-ray diagnosis, a plan for antibiotics if needed, and further options for treatment and ongoing care. We realized when we set out to create our portal that many dentists claimed to be weekend emergency specialists, but were in fact just taking messages to be answered later. Our portal will allow you to locate a Sunday dentist in Springfield OH that will be available for you during your worst moments of pain, and have the expertise to diagnose exactly why you are having crippling tooth pain. We recommend you always execute a history check about the training and services promises of any dental professional if you're visiting them the first time, make sure you use Springfield Chamber of Commerce Dentist Page.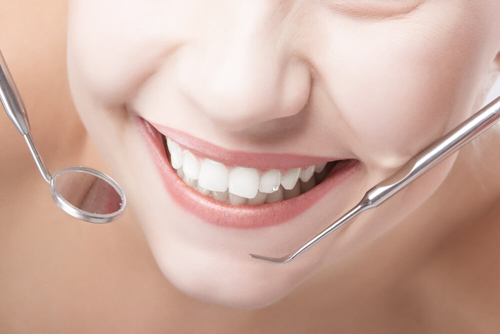 Here are some links to other cities in Ohio, emergency dentist posts:
Medically Fact-Checked & Written by Our Dental Editorial Team
You can read more about our editorial guidelines by clicking this link and learn more about the Emergency Dentists USA editorial team here.