Helping Tallahassee Residents Find IMMEDIATE Dental Services Everyday.
Get relief from chipped, cracked or lost tooth
Abscess, toothache, mouth pain
Emergency dental surgery
24 hour services - Includes weekends, nights and holidays

24 Hour Emergency Dentist Tallahassee FL
Emergency Dental Phone
To find the best emergency dentist in Tallahassee FL you simply call our emergency dental referral service and spend one or two minutes speaking with one of the referral representatives, they will be able to help you browse the listings of 24 hour dentist in Tallahassee and point you to the perfect dentist for you. The phone service is 24 hours a day, 7 days a week, the operators are standing by all the time to help connect you to the right dentist. 24 hour dentists can be hard to come by, but in Tallahassee we have you covered two different ways. The first is our phone service, and secondly we have a directory of emergency dentists listed on this page so you can attempt to contact each dentist directly. Dentist offices are not always open for phone calls nights and weekends, and that's why we provide the phone service. Sometimes you can call and call and never reach a dentist, even if they are taking appointments, they may not have a receptionist working late to take phone calls.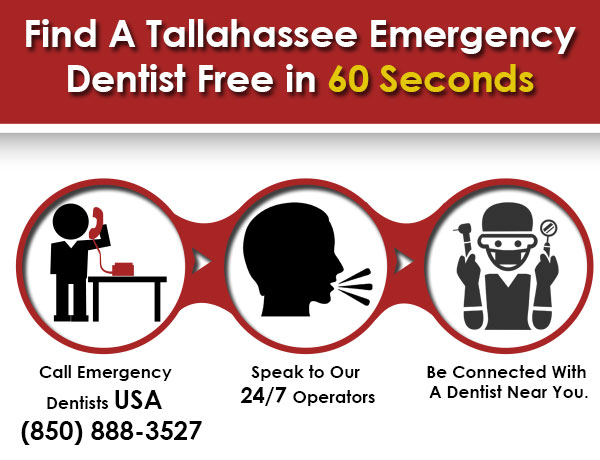 The Trip To The Emergency Dentist
Before you head out on your visit to the emergency dentist, we suggest you take care of a few things. Be sure to have with you your insurance information, the insurance card, or some copy of the policy information or contact information so that the dental office can assure themselves of your insurance coverage. Also be aware ahead of time that you may need to fill out some paperwork for the dentist, and be prepared with your medical history. Also arrive 15 minutes ahead of your appointment so that you can get the necessary paperwork out of the way and still get your procedure done on time. Tallahassee emergency dentists are easy to find via our emergency referral service, and you should have an appointment setup in no time.
Some emergency dental situations you may be experiencing, could include: An abscess, which is an infection underneath the tooth, you will recognize from swelling and tender gums at the base of the tooth. A chipped or loss tooth, which you can temporarily treat by utilizing an ice pack compress and holding it against a cloth against the outside of your cheek to alleviate some pain and swelling. Finally you could be experiencing a laceration or cut on the gums, mouth or cheek inside the mouth. Be sure to use medical gauze and hold it against the wound to slow the bleeding, if you feel in danger you should always visit the emergency room rather than an emergency dentist.
Emergency Dental Care Tallahassee, FL
This lovely Florida city has options you can count on if you find yourself in need of visiting a dentist very late in the day or during some other odd hour.  Knowing that you can find an ER oral physician is not enough.  You need to jot down a name or two or better yet just bookmark our website as we provide coverage as to where you might wish to go in cities across the country.
---
Emergency Dentists USA Referral Service Tallahasse
Phone Number: 1 (855) 401-2701
Address: Referral Service to several Dental Offices in Tallahasse
DescriptionThis city in Florida is full of breezy palms and abundant sunshine, and if you are spending time here and fall prey to massive dental emergency, a quick call to our hotline will get you back on your feet and with a professional in no time.
---
Aspen Dental
Address: 1415 Governors Square Blvd, Tallahassee, FL 32301
Telephone: (850) 391-7130
Website: aspendental.com
Description:
Office Hours
Monday 7:30am – 5:30pm
Tuesday 7:30am – 5:30pm
Wednesday 7:30am – 5:30pm
Thursday 10am – 8pm
Friday 8am – 1pm
Saturday Closed
Sunday Closed
---
Smile Line Dental
Address: 1805 Miccosukee Commons Dr, Tallahassee, FL 32308
Telephone:(850) 222-3858
Website: mysmilelinedental.com
Description:
Office Hours
Monday 8am – 5pm
Tuesday 8am – 7pm
Wednesday 8am – 5pm
Thursday 8am – 7pm
Friday 8am – 12pm
Saturday Closed
Sunday Closed
---
TCG Dental Specialists
Address: 2808 Remington Green N # 100, Tallahassee, FL 32308
Telephone: (850) 383-1052
Website: tcgdental.com
Description:
Office Hours
Monday 7:30am – 4:30pm
Tuesday 7:30am – 4:30pm
Wednesday 7:30am – 4:30pm
Thursday 7:30am – 4:30pm
Friday 7:30am – 12pm
Saturday Closed
Sunday Closed
---
Dr. Marci Beck, DMD
Address: 2929 Capital Medical Blvd # B, Tallahassee, FL 32308
Telephone:(850) 656-2636
Website: smilesbybeck.com
Description:
Office Hours
Monday 7:30am – 6pm
Tuesday 7:30am – 6pm
Wednesday 7:30am – 5pm
Thursday 7:30am – 5pm
Friday 7:30am – 3pm
Saturday Closed
Sunday Closed
---
An emergency dentist in Tallahassee should be quite easy to find using our 24 hour a day phone service, or by attempting to contact one of the listed dentist directly. We recommend using the dentist website here, in order to verify the credentials of any dentist you're visiting in Tallahassee for the first time.
Where's the best 24 hour emergency dental office in Hialeah Florida?