Helping Toledo Residents Find IMMEDIATE Dental Services Everyday.
Get relief from chipped, cracked or lost tooth
Abscess, toothache, mouth pain
Emergency dental surgery
24 hour services - Includes weekends, nights and holidays
Find a Dentist 24/7
Near You IMMEDIATELY
Click or Call Toll-Free
1 (419) 469-1892
---
We Specialize in Toledo Emergency Dentistry: Call 24/7: 1 (419) 469-1892
Monday – Friday, See A Toledo Dentist The Same or Next Day/Night You Call!.
Saturday And Sunday, "See A Toledo Emergency Dentist In Hours."
It's the middle of the night. You've fallen, hit your mouth on the vanity, and you've hit your mouth. You've got the bleeding under control, but you can't wait until morning to get seen by your dentist. To make matters worse, you couldn't go in the morning anyway because you HAVE to work. The only choice you have is to see a dentist now. Well, the good news is that you can see a dentist now – a Toledo emergency dentist.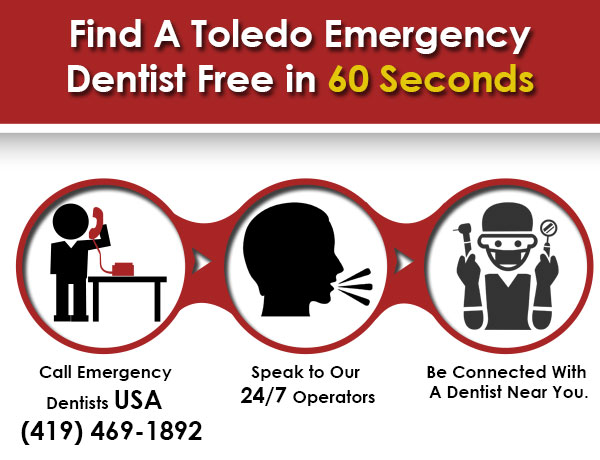 Call 24/7: 1 (419) 469-1892
Emergency dentists in Toledo are open after hours during the night time hours and weekend. They will take patients who cannot wait until their dentist is open. Since these types of dentists can be difficult to find sometimes, Emergency Dentist USA has found them for you. We have researched the dentists in your area and found the ones that offer emergency dental services. These walk-in dentist offices will take you, get you fixed up, and have you on your way as quickly as possible, so you can make work in the morning.
The first listing we have for you is a directory that offers Toledo late hours dentist offices. Just give them a call to ask them for some names and numbers or be connected to a dentist quickly. If you would like to research the dentist you choose, consider using one of the dentists we have below.
Thanks for helping me find an emergency dentist, I was lost trying to get ahold of someone in my normal dentists' office and I'm glad I found your website, you were immensely helpful!!
Toledo Emergency Dental Care Clinics
We are hopeful that we can help you with such an unfortunate and unforeseen dental crisis if it should occur in your life. After reviewing some of the resources available to you we are happy to report on some of the dental practices that afford you both accessibility, affordability, and immediate attention, irrespective of the time of the hour or the day of the week. Feel free to bookmark our website for future reference or share with a friend!
---
Emergency Dentists USA Referral Service Toledo
Phone Number: 1 (877) 507-0879
Address: Connected to Various Dental Offices across Toledo
Doctors Multiple
Description Call to be connected with the perfect dentist for you. Toledo is a large city and we have the connections to find a dentist to fit your needs, and can get you an appointment immediately.
---
Finley Dentistry
Number: 419-472-6645
Office: 3130 W. Sylvania Ave.Toledo, Ohio, 43613
Doctors: Dr. E. Roy Finley
Website: http://www.finleydentistry.com/
Description: At Finley Dentistry, we take pride in offering high-quality and personalized dental care designed to restore and enhance people's smiles, we are also committed to educating our patients about tooth, mouth, and gum care. Whatever dental services your family needs to maintain healthy smiles for life, we have the skills, experience, and advanced clinical techniques needed necessary to help you to achieve a healthy state-of-mouth. Some of the services we offer include: General Cleaning, Exam & Treatment Planning, Scaling and Root Planing (Deep, Cleaning) to treat gum disease, Crowns, Bridges, Wisdom Teeth Removal, Endodontic Treatment/Root Canals, Oral Conscious Sedation & Nitrous, Dentures & Partial Dentures, Implant Placement & Restoration, Intraoral Imaging, Whitening, Sealants, Fillings, Digital X-Rays.
Hours of Operation:
Monday-Thursday: 8:00am-6:00pm
Friday: 8:00am-5:00pm
---
Hires Dental Care Emergency Services
Number: 419-475-6673
Office: 3951 W. Sylvania Ave. Toledo, OH 43623
Doctors: Dr. J. Eric
Website: http://www.familydentisttoledo.com/
Description: This exceptional Toledo emergency dental clinic is open on weeknights until 8PM, and incorporates the latest in dental technology to offer quality urgent care. Testimonials from previous customers have said that this was a great permanent place to receive emergency care, and that they were treated just as well as they ever thought they could be. Team leader Anne, Office manager Sarah, and dental hygienist Ashley have all brought to the plate their amazing work ethic and are here on a daily basis to make many Toledo Resident's lives more pain-free, and to make them feel as if their emergency is top priority.
Hours of Operation:
Mon-Thurs: 8:00am-8:00pm
Fri: 9:00am–5:00pm
Sat: 8:00am–12:00pm
---
Jon Frankel Dentistry
Number: 419-474-9611
Office: 5012 Talmadge Rd #100, Toledo, OH 43623
Doctors: Dr. Jon Frankel
Website: http://jonfrankeldentistry.com/
Description: This great choice for a Saturday dentist in Toledo OH is open from 8AM until noon on Saturdays, so no matter how busy you are during the week, you can show up for service when most other clinics are closed. You can get attention for extraction needs, severely aching teeth, and broken crowns along with wisdom teeth making their way in. Whether you have young children, teens, college students, or just you that needs care, they've got you covered, with a staff that puts 110% into their jobs every single day.
Hours of Operation:
Monday-Tuesday: 7:30am-8:00pm
Wednesday-Thursday: 7:30am-5:00pm
Friday: 7:30am-2:30pm
Saturday: 8:00am-12:00pm
---
Corner Dental
Number: 419-724-2752
Office: 4321 Talmadge Rd, Toledo, OH 43623
Doctors: Dr. Wilson Morocho
Website: http://www.cornerdental.com/
Description: This weekend dentist in Toledo OH is open for those with very busy schedules on Saturdays, and has the skills and experience to make sure that you and your family are taken care of for all of your dental needs. You may need help with an abscess that is becoming more serious, pain that you need to get to the bottom of, or a tooth that has suddenly been knocked out. Even if you happen to have dental anxiety, this practice will be able to keep you calm and comfortable while they tend to your needs.
Hours of Operation:
Mon-Wed-Thurs-Friday: 8:00am-5:00pm
Tues: 9:00am-6:00pm
Sat: 8:00am-1:00pm
---
Turner & Turner
Number: 419-473-9450
Office: 4410 W Alexis Rd, Toledo, OH 43623
Doctors: Dr. Thomas K. Turner
Website: http://turnerfamilydentistry.com/
Description: Turner Family Dentistry on Alexis Road in Toledo is a family practice that can handle a wide range of dental issues. Varying from the need for an extraction, sudden tooth pain that won't go away, and teeth that have been knocked out or cracked, Dr. Turner and the staff here are on-site to help with any emergency that you come across. Also open until 7PM on Monday, they understand that the first day of the week is sometimes jam-packed with appointments, and that you may need to come in outside of the usual scope of hours.
Hours of Operation:
Mon: 9:00am-7:00pm
Wed-Thurs: 8:30pm-5:00pm
Fri: 8:30am-4:30pm
---
David R. Backus, DDS Inc.
Number: 419-476-1484
Office: 4720 Jackman Rd, Toledo, OH 43612
Doctors: Dr. David R. Backus
Website: http://www.davidbackusdds.com/
Description: David Backus's clinic is a location where you and your family can go for all types of emergency dental needs that may come up. It may be a toothache that went away temporarily but is now back, a tooth that has suddenly been knocked out, or an injury to the jaw that is giving you trouble. Make sure you pay them a visit or call them up to schedule an appointment when you come across the need, because they have an excellent demeanor, years of experience, and many skilled employees on their ranks.
Hours of Operation:
Monday: 10:00am-6:00pm
Tuesday-Thursday: 8:00am-5:00pm
Thursday-Friday: 8:00am-12:00pm
---
We are committed to providing the best list of Toledo urgent care dentists. Please share this website with your friends and family because we have lists for almost every city in the nation.
For more information on oral health in Toledo, browse the Toledo Dental Society website. You will find a lot of great information on how you can protect yourself from dental trauma as well as preventative care for your teeth.
Which is the top emergency dentist in Akron, Ohio?