Helping Thousands of People Each Year Find Dental Services
Emergency dental surgery, cavities, general dental care.
Find immediate help, no insurance required.
Get relief from chipped, cracked or lost teeth, abscesses or toothaches.
Tucson AZ – Emergency Dental Offices
We specialize in Tucson Emergency Dentistry:
Click to go to list of Dentists
Table of Contents
When it's the weekend or late night evenings during the week, finding an available emergency dentist may seem daunting. When you are not familiar with the available emergency dental clinics in Tucson, Arizona, you may give up and instead go to the nearest emergency room. We have made it easy to find an emergency dentist by giving you detailed listings of available dental professionals in the Tucson area. It takes just one phone call to our 100% free referral service and you'll in a dental clinic and out of pain in no time.
Instead of waiting around until Monday morning, if an emergency occurrs over the weekend, you can locate a qualified emergency dentist by simply browsing through our list or calling our toll free number 24 hours a day, 7 days a week.
I had pain in my gums starting a mid-week that just kept getting worse. I knew I should have got into the dentist before the weekend but when I called, of course, I couldn't get an appointment. This referral service is the best because my dentist wasn't open on the weekends and I had no idea where to turn. They found me an appointment that same day with a dentist close to my home. Thanks again Emergency Dentists USA!
Finding A 24 Hour Emergency Dentist in Tucson, AZ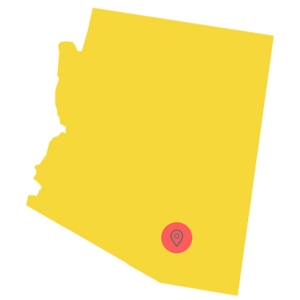 Due to the size of Tucson, Arizona, there are many available options when it comes to seeking out emergency dental treatment.
Walk-In Dental clinics make is much easier to receive the necessary emergency treatment even without a scheduled appointment. When you need to see a dentist immediately and don't have time to wait to schedule a visit, a walk-in dental clinic in Tucson can help.
After hours dental clinics provide you with the same type of treatment and care that your regular dentist office does. The one major difference with them is that they offer an extension of operating hours well past normal business hours. This allows you to get in later in the evening for an appointment or even to be seen on weekends should their schedule allow.
When you find you are experiencing a dental emergency and require prompt treatment, understanding who is available in the Tucson area to help treat your condition. There is a wide variety of dental professionals available during emergency hours when your regular dentist is not.
Emergency Dentist Listings in Tucson, AZ
We have reviewed numerous emergency dental clinics in the Tucson area and have provided you with a list below of the best clinics we could find. There are clinics that are open late, weekends and some that allow you to just walk in without an appointment. Take the time to review our list below before an emergency situation arises.
---
Emergency Dentists USA Referral Service Tucson
Phone Number: 1 (855) 401-2701
Address: Connected Various Dental Offices across Tucson
Doctors Multiple
Description For an emergency dental care office in Tucson, AZ call our free service! You will be connected with someone who has a directory of all the emergency dentists in Tucson. One of the urgent care dentists on our list will be able to help you, even if you need emergency dental care on a Saturday or Sunday. You can get emergency dental help in Arizona fast.
---
Western Dental Tucson
Number: 520-917-7516
Office: 2901 E. Broadway Blvd., Tucson, AZ 85716
Website: www.westerndental.com/en-US/dentists/arizona/tucson/2901-e-broadway-blvd/
Description: This dental office has great hours. They're open until 6pm every weeknight except for Thursday which gives you a chance to get to their office after work. They also have Saturday dentist hours from 8am til 430pm!
MON 9:00 am – 6:00 pm
TUE 9:00 am – 6:00 pm
WED 9:00 am – 6:00 pm
FRI 9:00 am – 6:00 pm
SAT 8:00 am – 4:30 pm
---
Open Care Dental for Emergencies
Number: 520-812-6736
If Closed: Call 1 (855) 276-1128 and let our Operator help you find an emergency dentist.
Office: 631 West Valencia Road Tucson, AZ 85706
Doctors: Dr. Hall
Website: www.opencaredental.com/
Description: The experienced staff here knows that preventative care can keep you out of the emergency room chair, but will gently and skillfully lead you through the appointment if you happen to have aching tooth or another severe dental need. An online testimonial that caught our eye claimed one high school student had come in for wisdom tooth removal and was literally amazed at how easy they made the process, and the time they took to explain every step.
MON 9:00 am – 5:00 pm
TUE 10:00 am – 7:00 pm
WED 9:00 am – 5:00 pm
THU 9:00 am – 5:00 pm
FRI 9:00 am – 5:00 pm
SAT 9:00 am – 1:00 pm
---
Oracle Modern Dentistry and Orthodontic
Number: 520-887-2000
If Closed: Call 1 (855) 276-1128 and let our Operator help you find an emergency dentist.
Office:4386 North Oracle Rd Ste 198 Tucson, AZ 85705
Website:www.oraclemoderndentistry.com/?sc_cid=googlelocal
Description: Another Saturday dentist in Tucson, Oracle Modern Dentistry gives you the option of being seen from 9am til 12pm every Saturday. Their professional staff will take care of your emergency dental situation quickly and comfortably!
Mon 8:00 AM – 7:00 PM
TUE 8:00 AM – 5:00 PM
WED 8:00 AM – 7:00 PM
Thurs 8:00 AM – 5:00 PM
Fri 8:00 AM – 5:00 PM
Sat 9:00 AM – 12:00 PM
---
Rita Ranch Dental Group and Orthodontics
Number: 520-663-4089
Office:8160 S Houghton Rd Ste 130 Tucson, AZ 85747
Website:http://www.ritaranchdentalgroup.com/?sc_cid=googlelocal
Description: The Rita Ranch Dental group has late evening hours until 7pm on Wednesdy and Thursday every week. This is great for those who work during the day and may need to get into a dentist in after hours. They also conveniently open on Saturdays to help better serve their patients.
Mon 8:00 AM – 5:00 PM
TUE 8:00 AM – 5:00 PM
WED 8:00 AM – 7:00 PM
Thurs 8:00 AM – 7:00 PM
Fri 8:00 AM – 5:00 PM
Sat 9:00 AM – 1:00 PM
---
How To Prepare For Your Tucson, AZ Emergency Dental Clinic Visit
As with every new patient appointment, you will want to try to arrive at least 15 minutes early so that you can fill out any necessary paperwork. Getting the paperwork done prior to your scheduled appointment time can help to speed the process along even faster.
Make sure you take with you any vital dental records you may have copies of and all forms of insurance. Don't forget to have a payment method ready on hand, in case they do not take insurance.
Alerting the office staff of any allergies to medicine is a must as you don't want to end up with an unexpected surprise during your procedure and treatment. If you are someone that gets a bit anxious when it comes to going to the dentist, make sure you tell the staff about this as well. They can help to ensure your appointment is as comfortable as possible.
Common 24 Hour Dental Emergencies
There are many different dental emergency situations that can arise when you least expect them. Some of these include a chipped tooth, broken braces or wires, abscess, or lost crown. Below we discuss some of these dental emergencies and also give some at home remedies to try while you are waiting to see a dentist in the Tucson area.
Abscess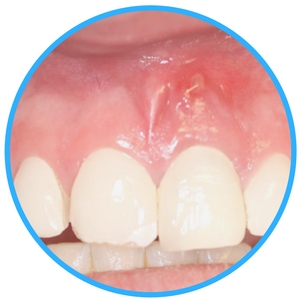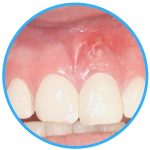 Out of all dental emergencies, an abscess is one of the most serious conditions to experience. This is because it is considered to be a severe dental infection within your mouth. Because of the nearby location to the brain, having an infection in the mouth could turn dangerous if not treated promptly.
Not only is an abscess very painful and tender, but it can also cause the infection to spread to nearby tissue in the mouth and even into the bloodstream if it is not treated immediately. Common symptoms that many people notice with a dental abscess is tender, red, painful gums, swollen glands, feeling ill or not well, low-grade fever, pain and difficulty while eating, foul breath, and severe pain.
You may even notice an open sore or what looks like a bubble under the gums when you locate the area where the pain is coming from. It's important to keep your hands washed at all times and avoid any contact with the abscess if at all possible. At home, while waiting to get into an emergency dentist, you can rinse your mouth out with a salt water solution.
Loose or Lost Crown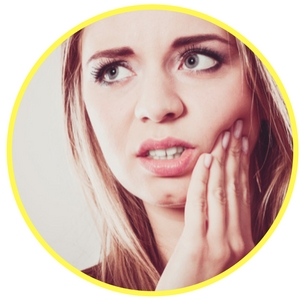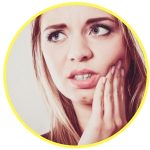 Dental crowns help to protect the tooth below them and that is why when a crown becomes lost or loose, it can be quite worrisome. When a crown falls off, you want to ensure that nothing gets into the exposed tooth below. Try your best to keep the crown moist and in a safe location.
You can also purchase some over the counter dental cement to place in the location where the crown once was. This can help to make sure no food or other types of particles get into the exposed tooth.
Chipped or Broken Tooth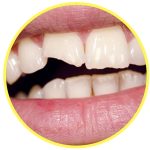 While teeth are incredibly strong, they are still prone to cracks and breaks. This type of trauma to your teeth can happen for a few different reasons. You may have bitten down on something too hard, took a fall outside, were hit in the face with an object such as a sports ball, developed cavities that have begun to weaken the structure of your tooth, or have fillings that are not supporting the remainder of the enamel on your tooth.
Whatever the reason, when teeth chip or break, you may not feel any pain at all. In fact, often times the first sign, other than the tooth completely breaking off due to an injury, is that you feel a sharp region on the tooth while eating or speaking.
Small cracks in the enamel of your tooth typically don't cause any pain, it is when a larger portion of your tooth completely breaks off that you will begin to feel severe pain. You are not able to treat a chipped or broken tooth at home, you must see a Tucson emergency dentist or go to the nearest walk-in clinic almost immediately.
If you are experiencing any pain from the tooth, you can apply a cold compress and take an OTC pain reliever to help relieve this pain until you are able to get to an emergency dental clinic.
Objects Caught in Teeth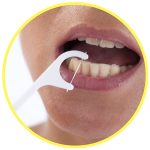 It's really common for food and other types of particles to become stuck between your teeth. Sometimes these objects can be rather painful. You should refrain from using a toothpick or other types of sharp items to remove them, as this can easily injure your gums or even do damage to the tooth's enamel. You will want to first try dental floss because the wax coating on the outside of it makes it much easier for it to slide between the gums and teeth without doing any damage. If you are unable to remove the object easily, you will want to contact an emergency dentist in Tucson immediately.
"When using dental floss to remove an object, tie a knot in the center of the floss. Pop the floss through the contact point and use your fingers to guide the floss to form a "C" that hugs the contour of one of the teeth. This will allow the floss to reach under the gum line. Gently pull the floss so that the knot runs under the gum line and out the other side. Frequently, this will dislodge debris that a toothbrush will miss."
Do You Need an Emergency Tooth Extraction?
Sometimes no matter how hard you or your dentist try to save a tooth, it still ends up needing to be extracted. When a dentist recommends that you get an extraction, it's not something that should be taken lightly. Postponing the treatment could only potentially harm you even more.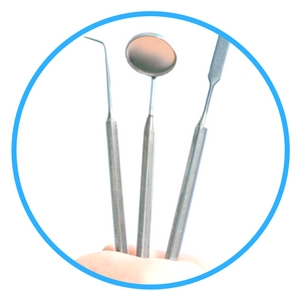 An emergency tooth extraction is nothing to be frightened of. In fact, your dentist will make it as comfortable as possible for you, so that you don't have to experience undue stress or worry as a result of the extraction.
Sometimes you can get an extraction with simply some numbing cream on the gums, while other times you may have to go under local anesthesia to have the tooth removed. Remember that you may feel a tingling or numbness after the extraction is complete and this is entirely normal.
The healing process once the extraction is done can take some time, so don't worry if it seems to be too long. Most people feel a difference in the amount of pain and swelling they experience within a week's time, but the full healing process can take upwards of 6 months.
Emergency Room Versus Emergency Dentist

Often times not many people realize that there are other options out there for treating emergency dental situations other than the emergency room of your local Tucson hospital. For those who suffer from chronic conditions and immune system diseases, you may want to go to the emergency room as they are better equipped to handle any complications associated with your medical conditions should they arise.
But for most dental emergencies, a trip to a local Tucson emergency dentist can have you back on your feet in no time at all and feeling just like your old self once again.
An emergency room is able to handle trauma and other emergencies as they come in. However, a dentist is the more qualified option as they are specially trained on the anatomy of the teeth and mouth. This helps to ensure you that they understand exactly what you are going through and will be able to adequately handle the situation.
Tucson, AZ Dental Association Info
If you are struggling with a dental emergency, let our free referral service help you! With one phone call, you can find a local dentist near you right away. Our representatives can also help you to set up an appointment, if necessary.
As with any new medical or dental appointment, you will want to check out and research the dentist ahead of time if you are able to. Checking with your local dental society can help to provide you with the information you need to find just the right emergency dentist in Tucson for your family's dental needs.
Medically Fact-Checked & Written by Our Dental Editorial Team
You can read more about our editorial guidelines by clicking this link and learn more about the Emergency Dentists USA editorial team here.