Helping Dayton Residents Find IMMEDIATE Dental Services Everyday.
Get relief from chipped, cracked or lost tooth
Abscess, toothache, mouth pain
Emergency dental surgery
24 hour services - Includes weekends, nights and holidays
Find a Dentist 24/7
Near You IMMEDIATELY
Click or Call Toll-Free
1 (703) 810-3500

Emergency Dentists Dayton, OH
24 hours Dentists Dayton, Ohio
Any dental emergency can be deadly if neglected or worse, self-medicated, to aggravate the situation. No one should wait until the weekend or the morning to go see a dentist during any dental mishaps. Teeth are a very vital part of our body and our metabolism starts in our mouth. Only when they start to decay do you realize their importance, so it is best not to wait until the worst happens. It is surprising how little attention we give to taking care of them when they are so important to us. Whether it is a small tingling toothache, a throbbing tooth, a little redness or bleeding gum, no dental problem should be too small or too big for you to delay going to the dentist. You can never really assess how bad the situation really is without the consultation of a dentist, as there may be an even larger underlying cause. For instance, a simple chipped tooth may be fixed with a simple filling or it might require more drastic measures, such as a root canal, depending on the severity. This is why the usefulness of a 24/7 dental care service is so imperative. Emergency services are highly sought after and they are quite prompt when dealing with situations that require immediate attention. If you have contact details of such a service nearby, then you can save yourself a lot of pain later on.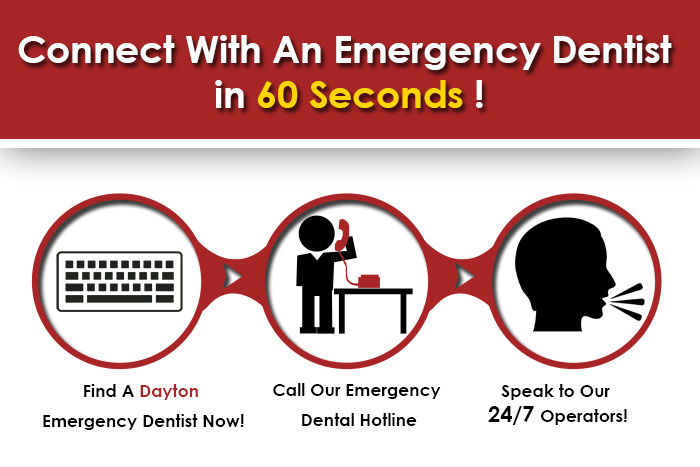 Emergency Dentist Dayton
If you are the inhabitants of this beautiful and historic city, then you probably understand the need for a 24/7 emergency dental service. It is the 6th largest city of Ohio and with a population of approximately 143,000 and the home of the famous Marion's and Cassano's Pizzas, which is enjoyed by thousands. For such a populous city, emergency dental care services have become a necessity.
Since such services are required at the most oddest and unanticipated times, it is always handy to keep a set of emergency numbers nearby. Thus, we have collected the locations and numbers of such services for you. During life-threatening situations, you can still call 911, however, keeping emergency numbers in your phonebook is just as useful.
Dayton Emergency Dentists List
---
Find a Dentist Today!
ImmediaDent     
7420 Miller Ln Dayton, OH, United States

If you require the full services of an urgent dental care at your expediency, then these professionals are at your service. They have a full range of services and accept most insurances and also have payment plans available. You can drop by anytime at 7420 Miller Lane or give them a call at 937-890-8901.
---
Preferred Family Dental
Samaritan North Health Center, 9000 N Main St #207, Dayton, OH 45415, United States
Driving Directions
At Preferred Dental, you are in the capable hands of Dr. J. Otis Hurst and Dr. Priyanka Watwe. The facilities at this hospital are at the cutting edge of dentistry technology. You can visit their office today at 9000 N. Main Street, Ste. 207 or give a call now at 937-836-7282.
---
Richard Bohme, DDS
545 West Siebenthaler Avenue Dayton, OH 45405
When it comes to patient satisfaction, Dr. Bohme is highly regarded by the people of Dayton. Pay him a visit at Siebenthaler Dental Center 545 W Siebenthaler Ave or call this number, 937-275-8521.
---
Dixie Dental and Denture Care
3609 N Dixie Dr, Dayton, OH 45414, United States
When the pain is overwhelming, a team of dental professionals at Dixie Dental will provide relief, as attested by hundreds that have been under their care.
They have provided you with quality and affordable services for over 30 years. You can visit them today at Dixie Dental and Denture Center 3609 N Dixie Dr, or give them a call at 937-278-7954, or at their toll free number, which is 800-473-0267.
---