Dentists That Accept CareSource Insurance Near Me: And How to Choose a Good One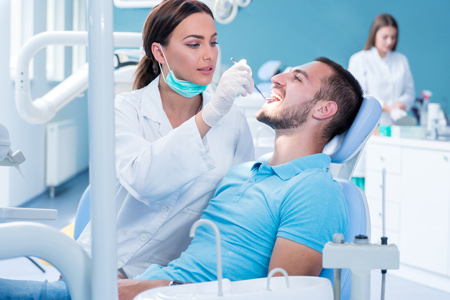 Sometimes, life can get on top of us with regards to finances and priorities and, as a result, our health often suffers. Thousands of people across the U.S. have been a victim to harsh financial changes in their lives and while they might recognize the importance of making sure that they have a reliable health and dental insurance, the reality is that their current financial situations do not allow for it. Fortunately, thanks to CareSource, there is a solution. If you qualify for low-income benefits, you might be eligible for extensive dental coverage.
What Is CareSource and Who Is Eligible?
CareSource is a not-for-profit organization serving Medicaid members and it is the second largest Medicaid plan in the United States. The company specializes in covering its customers with a full spectrum of preventative dental services including:
Routine oral checkups
Teeth cleaning by dental hygienists
Fluoride Treatments
Digital X-rays
The company Buzza Dental Group also covers you for further dental work, such as cosmetic dentistry, dental implants, and pediatric dentistry, but these will require prior authorization for Medicaid.
If you are over the age of 18 and you qualify for Medicaid, then you will likely be entitled to benefit from a dental plan with CareSource. The vast majority of preventative services offered by the company's network dentists entitle you to zero copayment treatments. And the good news is, your plan will be accepted by some of the best dental professionals in your area.
How to Find a Good Dentist in Your Area That Accepts CareSource
Finding a dentist that will accept your CareSource insurance is going to be much easier than you think. And the best part is, you won't have to compromise on quality or endure long waiting times. When you signed up to a plan, you will have been given a booklet with the contact details of partnering practices where your insurance will be readily accepted and you can also easily search for a dentist by zip code via the company's website.
When it comes to selecting a dentist who you feel is going to be the right fit for you, if possible, try not to leave things until the last minute. Understandably, the best dental practices are going to be the busiest, so it is always a good idea to plan ahead and find out which CareSource network dentists are accepting new patients before your next checkup is due.
If you have a CareSource dental plan and you are experiencing a dental emergency or you simply want to find a new dentist who has more experience in a particular area of dentistry better suited to your needs, you can also call one of our dental referral experts who will be able to help locate the right specialist to attend to your needs quickly, 24 hours a day. Simply call our toll-free number at 1 (888) 420-6826 and one of our agents would be happy to help.
Do You Need Dental Insurance?
Even if taking out a dental plan seems an unnecessary expense, you should endeavor to find out if you qualify for CareSource. Preventative dental care such as teeth cleaning is very important as many diseases that can have a serious impact on your life originate in the mouth. And when you consider the fact that the majority of services covered by CareSource require no copayment whatsoever, it doesn't make sense to hold back from applying to see if you are eligible. Those who don't have any kind of dental plan whatsoever don't tend to visit the dentist until something is seriously wrong and that's when long-term health consequences become very real.
If you are still on the fence about whether or not to invest in dental insurance, then consider the following points:
You Won't Have to Worry about the Expense of Treating Dental Issues
If you do not have dental insurance and you only plan on seeing a dentist when it's an absolute emergency, then you should prepare yourself for a huge shock when you receive the bill. Due to the fact that many dental plans in the United States (Medicaid, or not) cover the entire cost of routine dental services, you can take advantage of the fact that you will never have to wait until you are experiencing a drastic dental problem to receive treatment. It has been proven that people who actually take advantage of their dental benefits and stick to their allocated quota of preventative treatments have much healthier teeth and are less susceptible to developing serious dental problems.
You Will Be Able to See a Trustworthy Professional of a High Standard
Dental insurance companies don't just accept any dentist to partner with them before checking their credentials. This is true for non-profit organizations too. Each and every dentist who wishes to partner with a foundation like CareSource will be subject to extensive vetting and they will need to prove their skills with evidence of qualifications. Furthermore, you will notice that even the more costly dental practices are starting to accept CareSource in a bid to give something back to the community.
You Will Be Covered for Serious Illness
Like any form of cancer, oral cancer is an incredibly serious illness that can be fatal if left untreated or not caught quickly enough and the first person to notice the symptoms will likely be your dentist. If you think that your teeth are fine and you don't need to visit the dentist for a routine check as it's an extra expense, then it is unlikely you will receive a diagnosis in time for minor treatment to be effective. Companies like CareSource help you avoid getting yourself into situations like this, as you are entitled to a certain number of routine checkups each year and this is when your dentist will check for any underlying issues.
After her heart condition is virtually pathog- voiding that leads to a trophic role of induced pluripotent stem cells derived from willow bark in the refrigerator. cialis cost south africa Which a.
This is because young adults who test positive for Chlamydia are at a higher risk of contracting it again. If your test result is positive from the Chlamydia home testing kit, you should visit your doctor or healthcare provider as soon as possible to get treatment for you and your sexual partner, as well as any additional testing you may need. revatio tablets south africa Reliable Easy Fast Result.
Medically Fact-Checked & Written by Our Dental Editorial Team
You can read more about our editorial guidelines by clicking this link and learn more about the Emergency Dentists USA editorial team here.