Helping Thousands of People Each Year Find Dental Services
Emergency dental surgery, cavities, general dental care.
Find immediate help, no insurance required.
Get relief from chipped, cracked or lost teeth, abscesses or toothaches.
Emergency Dentists Syracuse, NY
24 hours Dentist Syracuse, New York
Emergency dentists are a must everywhere, as dental mishaps can happen suddenly, regardless of the time. That is why emergency dentists are so important, as they operate 24 hours a day and 7 days a week. You no longer have to wait until the end of the weekend or until the morning to go and visit the dentist. It is important to visit the dentist as soon as something goes wrong, as you should never take dental issues lightly. Even the tiniest of problems could indicate something much more serious, as dental issues are sometimes the first symptoms of other, bigger physiological problems. Emergency dentists are also a blessing to those who cannot visit a normal dentist during the weekdays due to full-time jobs clogging up their schedule, and since normal dentists don't operate during the weekend, emergency dentists are the best place to go to.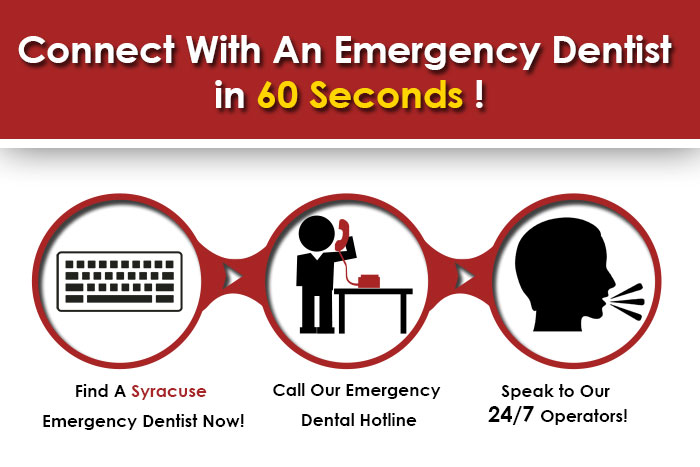 Emergency Dental Syracuse
It's only obvious that more than 1 emergency dentist would be needed for the 5th most populated city in New York. It is located in the heart of New York and has a large population of around 145,000 people. People living there certainly don't need to worry about their dental health as some capable emergency dentists operate in that area.
If you happen to have a dental accident or any other dental emergency in the middle of the night but don't know what to do. Calling 911 should solve the problem. However, it is still a good idea to have a few names and numbers of emergency dentists nearby, and so, we have provided you with a list of emergency dentists that might come in handy.
Syracuse Emergency Dentists List
---
Emergency Dentists USA Referral Service Syracuse
Phone Number: 1 (855) 401-2701
Address: Referral Service to multiple Dental Offices in Syracuse
Description When traveling through the Syracuse, there are many ways in which a dental emergency could quickly present itself. If you're having a dental emergency it's important to get help fast. Call our hotline and we'll help you find a dentist near you fast!
---
Quest Dental Group
Address: 2946 Erie Blvd E, Syracuse, NY 13224
Telephone: (315) 445-2678
Website: questdentalgroup.com
Description:
All the dentists working in this dentistry are highly trained and experienced and they can provide a whole range of different dental services as such as laser dentistry, root canal therapy, oral cancer exams, treatment of periodontal disease, teeth whitening, etc.
Monday 7:30am – 5pm
Tuesday 7:30am – 5pm
Wednesday 7:30am – 5pm
Thursday 7:30am – 5pm
Friday 8am – 5pm
Saturday Closed
Sunday Closed
---
Downtown Dental Syracuse
Address: 120 E Washington St Suite 101, Syracuse, NY 13202
Telephone: (315) 422-0894
Website: downtowndentalsyracuse.com
Description:
They can provide emergency care for knocked out teeth, lost crown/fillings and cracked/ broken/ dislodged/ loose teeth. Call them today if you have an emergency or to schedule an appointment.
Monday 8am – 5pm
Tuesday 8am – 5pm
Wednesday 8am – 5pm
Thursday 8am – 5pm
Friday 8am – 5pm
Saturday Closed
Sunday Closed
---
Aspen Dental
Address: 3590 W Genesee St, Syracuse, NY 13219
Telephone: (315) 565-2935
Website: www.aspendental.com/dentist/ny/syracuse
Description:
Monday 7am – 5pm
Tuesday 7am – 5pm
Wednesday 7am – 5pm
Thursday 10am – 8pm
Friday 8am – 1pm
Saturday Closed
Sunday Closed
---
Creative Dental Concepts of CNY
Address: 1000 E Genesee St #401, Syracuse, NY 13210
Telephone: (315) 475-6641
Website: cerecuse.com
Description:
Monday 7:30am – 4pm
Tuesday 7:30am – 5pm
Wednesday 7:30am – 5pm
Thursday 7:30am – 5pm
Friday 7:30am – 12pm
Saturday Closed
Sunday Closed
---
Stop in here to check out our page on Huntington, NY emergency dentists.