Helping Thousands of People Each Year Find Dental Services
Emergency dental surgery, cavities, general dental care.
Find immediate help, no insurance required.
Get relief from chipped, cracked or lost teeth, abscesses or toothaches.
Emergency Dentist Winston-Salem NC
This is the Winston-Salem NC emergency dentists website for Emergency Dentists USA. The reason we created this site was to help you find an emergency dentist near you in Winston-Salem NC quickly and easily. The fastest method for you to get an appointment with an urgent care dentist near you is to call the emergency dental referral service hotline listed at the top of this page. They are available 24/7 and it's a FREE service that will connect you to the most appropriate dentist for your emergency needs, and that dentist will be near you in Winston-Salem.
Another thing you may try is look through our emergency dentist directory listed at the bottom. There are some dentists who have urgent care appointments and you can give them a call directly at their offices.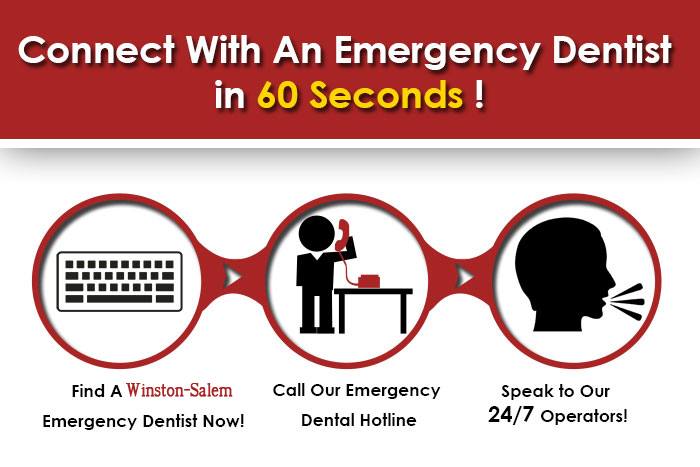 Call 24/7: 1 (877) 507-0879
After looking through our directory, if you're not able to access a dentist, make sure you use the Winston-Salem emergency situation phone line we provide to seek appointments with urgent care dentists in Winston-Salem. Our urgent care dental hotline is available round the clock, so quit your suffering right now and contact an after hours dental clinic in Winston-Salem NC!
This city is sometimes known as "Camel City" because of its involvement in the tobacco industry, and also as a large hub for furniture manufacturing. CBS Moneywatch named this city one of the ten best cities to retire in on a 2012 list, and the metro area covers around 132 square miles. You can see points of interest here on your visit like The Bethabara Historic District, where you can hike, bird watch, and see many different types of plants and trees. One of the neatest attractions in Winston-Salem is SciWorks: the interactive museum for children with 25,000 feet of walking space and an outdoor environment park. You can observe otter, deer, and other waterfowl in their respective environments here, but it's much more than just a zoo! This city has one of the largest shopping malls in North Carolina, and movies such as "The Longest Ride" and "The 5th Quarter" were shot here.
"Winston-Salem is a city that has something for everyone, and that includes dental care when you need it most. With a 24-hour option at one clinic and after-hours care at several more, you won't be left without a solution for an unexpected dental problem."
Emergency Dental Tips
Chipped or damaged teeth require you to follow these emergency recommendations. Don't do anything before you find a safe place to keep the damaged bits of your tooth. Create a cold pack with a cloth and some ice cubes, hold it up against the side of your mouth for reduced irritation. Right after these preparations you are advised to find a Winston-Salem emergency dentist and get a scheduled appointment fast.
Emergency Dentists Winston-Salem List
Allow us to resolve your urgent dental situation with the Round-the-clock dental care hotline we've offered to connect you to a local dentist office. We have taken time to perform the searching to suit your needs through going over the emergency dentists in Winston-Salem plus taking out those we know to offer after hours, weekend or evening treatment. A niche market place has developed providing dental health care services to individuals in need of help.
---
Referral Service of Emergency Dentists USA in Winston-Salem NC
Telephone 1 (855) 401-2701
Directions Referral Services to A variety of Dental Practices throughout Winston-Salem NC
Doctors Multiple
Summary Today it's time to telephone, we're open round the clock, and you can talk to our own emergency dentists Winston-Salem NC telephone service. Our staff will assist you in searching for the best dental office to provide for you in repairing your dentistry crisis. If you need to discover a weekend dental practice, or a nighttime dental professional, we're the Winston-Salem service available for you. Our contacts and relationships sets us in immediate contact with the best dental practices for emergencies all over the U.S.A.
---
Salem Dental Associates: Nguyen Yen T DDS
Dentist: Dr. Yen Nguyen DDS
Address: 2375 Brewer Rd, Winston-Salem, NC 27127
Website: www.dentalinsurance.com/dir/dr-yen-nguyen-dentist-winston-salem-nc-27127-116946.html
Phone Number: (336) 245-2690
Description: Salem Dental Associates are a NC dentist that will see you quickly, compassionately, and with the best demeanor possible. When a new patient walks in the door, it's important that they are treated as important, and that they are presented all of the options available for treatment. You may have an urgent problem such as wisdom teeth coming in, or just the need for a standard checkup: this clinic will be here for you 24 hours a day during the week, and is eager to use their expertise to make sure your dental health stays above par.
Office hours:
Monday open 24 hours
Tuesday open 24 hours
Wednesday open 24 hours
Thursday open 24 hours
Friday open 24 hours
Saturday – Closed
Sunday – Closed
---
Winston Smiles Dentistry
Dentist: Dr. John Pruitt, Dr. David E. Miller
Address: 1410 Plaza West Rd, Winston-Salem, NC 27103
Website: winstonsmiles.com
Phone Number: (336) 765-1881
Description: Winston Smiles Dentistry has made the decision recently to help families with busy schedules by being open on Saturdays from 8AM until 2PM, and they can be of assistance for the pain that is enveloping your entire body. There is nothing quite as comforting as being in the middle of a massive family dental emergency, and having a clinic step up and be the best that they can be in terms of service and satisfaction.
Office hours:
Monday 8 am to 5 pm
Tuesday 8 am to 6 pm
Wednesday 7 am to 5 pm
Thursday 7 am to 6 pm
Friday 7 am to 5 pm
Saturday 8 am to 3 pm
Sunday – Closed
---
Lyndhurst Dental Associates
Dentist: Tony Porter DDS, Marty Holder DDS, Ashley White DDS and Michael E. Bost DDS
Address: 3031 Lyndhurst Ave, Winston-Salem, NC 27103
Website: lyndhurstdds.com
Phone Number: (336) 765-9154
Description: For more than 50 years, patients have recommended this practice to others in the community: their commitment to swift and exemplary service is hailed by many in this metro area. Open until 5PM Monday through Thursday, this is where you can make sure that you don't have any cavities, check in on the dental health of your children, or come when you need emergency dental care. It may be the need for root canal therapy, or x-ray diagnostics to see where the pain is coming from: either way, this clinic has you covered.
Office hours:
Monday 7 am to 5 pm
Tuesday 7 am to 5 pm
Wednesday 7 am to 5 pm
Thursday 7 am to 5 pm
Friday – Closed
Saturday – Closed
Sunday – Closed
---
Andrew C Geer Llc
Dentist: Dr. Andrew Geer
Address: 3244 Reynolda Rd, Winston-Salem, NC 27106
Website: reynoldasmiles.com
Phone Number: (336) 922-2542
Description: Open until 6PM the first 3 days of the week, this is a clinic that is staffed with the best in the business and ready to give you the best dental care possible. You may have a sudden aching in your teeth, or the need to have emergency services performed quickly: this clinic is here for you. If someone you love has had an accident such as a knocked-out tooth or the need for an extraction, you can rest assured that the helpful staff here will give you proper diagnostics, x-rays to see what is wrong, and help you formulate a plan to stay on track as far as your teeth and dental health are concerned.
Office hours:
Monday 7:30 am to 6 pm
Tuesday 7:30 am to 6 pm
Wednesday 7:30 am to 6 pm
Thursday 7:30 pm to 12 am
Friday 12 am to 4 pm and 7:30 pm to 12 am
Saturday 12 am to 3:30 pm
Sunday – Closed
Ideally this was a successful attempt to find an emergency dentist in Winston-Salem,NC and that we could actually help! Be sure to participate in some research of any dentist office you are planning on visiting, we recommend utilizing Winston-Salem Chamber of Commerce Dentist Page.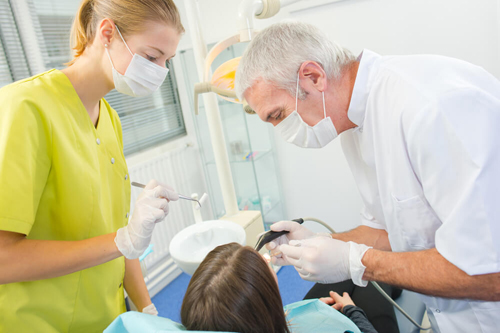 North Carolina here are further city listings for your state.
Medically Fact-Checked & Written by Our Dental Editorial Team
You can read more about our editorial guidelines by clicking this link and learn more about the Emergency Dentists USA editorial team here.