When Do Babies Get Teeth and When Do They Fall Out?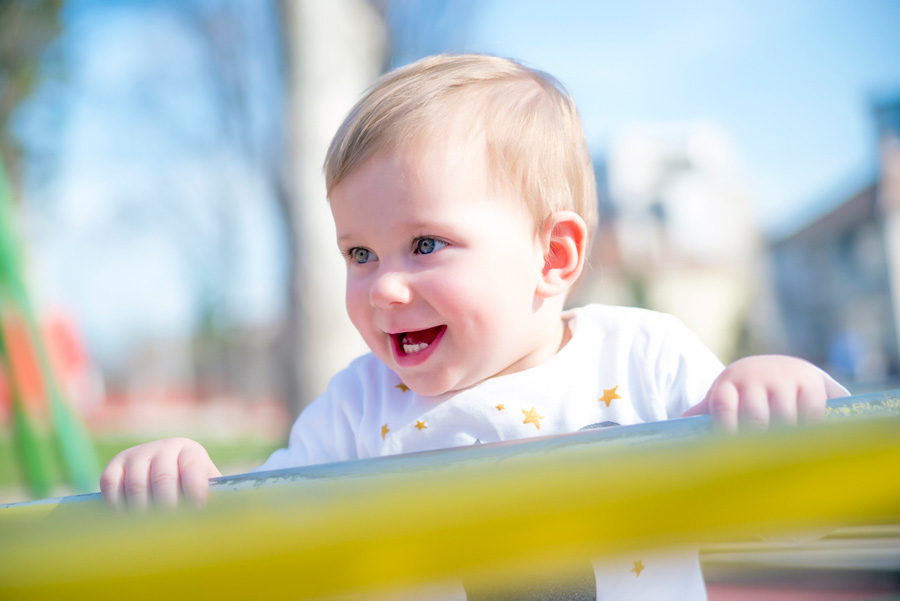 Babies are more than cuteness and slobber. A lot is happening in that small body to help the baby to grow up healthy and strong. Developmental milestones for babies and children are very important. It's okay if they hit a milestone a bit early or late, or even skip one or two, as long as they meet the major developmental milestones. Two of these milestones include getting teeth and also losing those teeth.
When babies should begin cutting teeth is a question most new parents are asking. And many people have all sorts of answers. The truth is most people have it right when it comes to the time frame of when teeth begin to grow. The same can be said with when those teeth fall out for adult primary teeth to start coming in. When do they start coming in?
Baby Teeth and When They Come In
There are many names for a child's teeth such as milk teeth, deciduous teeth, or temporary teeth. There are 20 baby teeth,and when adult teeth come in, there are a total of 32. Teething, the process of baby teeth emerging through the gums, most commonly begins between four to six months old. It can also occur before four months,and it's also fairly common for some babies to be closer to 12 months before they cut their first tooth.
Every child is different,and the span for cutting teeth is broad. If your child hasn't cut a tooth yet, it's likely they are on the older end of the spectrum and they may be a late teether- which is okay!
Typically, the first teeth to emerge are the lower and upper central incisors- the front teeth. Again, this is not the same for every child. The rest of the baby teeth typically occur in this order and age:
Upper teeth:
Lateral incisor: 9-12 months old
Canine Teeth: 16-22 months
First molar: 13-19 months
Second molar: 15-33 months
Lower teeth:
Lateral incisor: 10-16 months
Canine Teeth: 17-23 months
First molar: 14-18 months
Second molar: 23-31 months
Baby teeth will typically breakthrough in pairs. Children are around three years old by the time their entire primary set of teeth have grown in completely. Just in time for preschool! Parents and guardians will likely know when the process of teething begins.
Babies' gums become sore and cause them teething pain. Teeth are rough on an infant's sensitive gums, which is why teething babies are cranky. It isn't abnormal for them to start drooling, get a rash from their drool, be unable to sleep, and start chewing on everything. If they seem to be in too much teething pain and discomfort, it is a smart idea to consult with their pediatrician.
Losing Baby Teeth
Losing teeth as a child is either a time of excitement or anxiety. Having a loose tooth can freak some children out while others can't wait to rip it out and show it off. Kids most commonly start experiencing their baby teeth falling out between 6-7 years old.
Just how they grow in, baby teeth typically start falling out from front to back starting with the central incisors. The rest of the baby teeth usually fall out in a certain order and age as you can see with this teething timeline: 
Upper teeth:
Central incisor: 6-7 years old
Lateral incisor: 7-8 years old
Canine Teeth: 10-12 years old
First molar: 9-11 years old
Second molar: 10-12 years old
Lower teeth:
Central incisor: 6-7 years old
Lateral incisor: 7-8 years old
Canine Teeth: 9-12 years old
First molar: 9-11 years old
Second molar: 10-12 years old
The baby teeth start to become loose because as a permanent tooth begins to grow in, the root of the baby tooth weakens and dissolves until there is no root left. The baby tooth then painlessly falls out. It is not advised to pull out baby teeth by force despite the temptation it poses. Pulling a tooth that is not ready to fall out can lead to damaged tissue pain, discomfort, bleeding, and even infection.
If a tooth is absolutely ready to come out, then it is wise to use a tissue and twist it a little bit. Any redness or soreness the following day will require a trip to the pediatric dentist to ensure there is no infection.
Natal Teeth
It's common sense that newborns don't have teeth; this is true for the majority of births, but in rare cases, some babies can be born with teeth. These are called natal teeth. Around one in 2,000 newborns will have natal teeth. Natal teeth typically don't have a well-developed root and are loose.
Loose natal teeth need to be removed surgically. The risk of the infant inhaling the tooth into their airways is too great if it is not removed. A natal tooth also has the potential to cause damage to the tongue.
Another form of newborn teeth is neonatal teeth. This is when teeth cut through the gums within 30 days of birth; this is rarer than being born with natal teeth. Neonatal teeth typically require an x-ray, so a pediatrician can decide a course of action if one is needed.
When to Call a Pediatrician
There are many misconceptions when it comes to the teething process. One of the biggest misconceptions is that the teething process causes a fever. Many infants will experience a slight rise in body temperature, but not enough to be classified as a fever. A fever of 100 degrees or more is not caused by teething. Your child is likely dealing with an infection somewhere or a sickness.
It's common for infants between 6 and 12 months to get an infection. The infection can be caused by the loss of antibodies from birth or their constant chewing. Other symptoms that aren't related to teething is diarrhea, runny nose, and rashes not caused by drool. If your child is acting sick, they probably are,and it is unrelated to teeth coming in. Teething makes for a cranky baby, but not a sick one.
Relate Posts to Read:
When Do Permanent Teeth Come In?
Medically Fact-Checked & Written by Our Dental Editorial Team
You can read more about our editorial guidelines by clicking this link and learn more about the Emergency Dentists USA editorial team here.