Pacifier Teeth: Will Your Baby Develop Pacifier Teeth?
It is common knowledge that pacifiers can help soothe babies by providing them with comfort. A pacifier is a special kind of rubber, silicone or plastic nipple which infants suck on. Pacifiers can help comfort and soothe babies, making them a great option for parents who have a fussy baby. Pacifiers not only help soothe and comfort babies, but they can also help create a more relaxed environment for parents who may feel stressed or overwhelmed when their baby is fussy. This can be beneficial to both a baby and a parent as a baby goes through infancy.
It is normal for babies to suck their thumbs or use pacifiers for comfort, but after a certain age, complications from prolonged pacifier use can result in oral development issues in a baby. Although pacifiers are a great way to soothe a fussy baby, prolonged pacifier use can result in the incorrect development of a baby's teeth. This is why it is important for a parent to use pacifiers the right way. It is also important for parents to practice weaning their babies off of pacifiers after a certain age to prevent the incorrect development of their teeth and/or other oral health issues.
What Are Pacifier Teeth?
Babies who overuse their pacifiers can develop certain dental problems and development issues in their mouths. One common problem a baby can develop after prolonged pacifier use is pacifier teeth. Prolonged pacifier use can cause misalignment in a baby's jaw, affecting the development of their teeth. This means that long-term use of pacifiers can also affect how a baby's mouth and teeth grow. Pacifiers can cause a baby's upper front teeth to tip forward, resulting in crooked teeth and future bite problems, leading to other potential problems in the positioning of the teeth as well as in the alignment of the jaw.
As a baby grows and develops, anything that is in their mouth for a long period of time can result in dental and oral development issues. Some dental issue which can occur as a result of pacifiers include:
Bite problems
Incorrect jaw alignment
Front teeth that protrude
Crooked teeth
Issues in the roof of a mouth
What Are the Benefits of Pacifiers?
If used the right way, there are many different benefits of pacifiers. These benefits include:
Minimizes the risk of sudden infant death syndrome
Provides relief during certain medical procedures
It is easier to wean babies off of pacifiers than thumb sucking
Calms and soothes babies
How Do I Avoid Pacifier Teeth?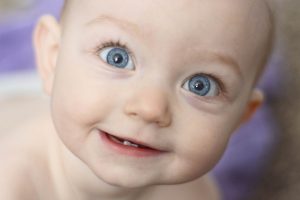 To avoid the development of pacifier teeth, it is important to start weaning your baby off from their pacifier by two years old. To help with the process of breaking the habit, a parent can start by rewarding their child with something each day or night their baby does not use their pacifier.
In addition to ensuring that your baby does not develop pacifier teeth, you should also be sure to follow your child's regular dental routine, cleaning your child's teeth twice a day. Avoid prolonged use of a pacifier and only use it when your baby is extremely fussy. You should also try to break the habit before your baby's permanent teeth start to grow it.
While weaning a baby off of their pacifier, a parent can also search for alternatives to pacifiers.
How Do I Wean by Baby off of a Pacifier?
If you are trying to wean your baby off of their pacifier and are searching for alternatives to help your baby during the process, there are many different things you can consider. Some solutions that can help you wean your baby off of their pacifier include:
Replacing a pacifier with a comfort item such as a blanket or toy
Rocking your baby to sleep
Maintaining a regular sleep routine
Rewarding your baby for not using their pacifier
Gradually decreasing how often your baby is using a pacifier
Consult with a Dentist Today
The American Academy of Pediatric Dentistry states that similar to long-term thumb sucking, long-term use of pacifiers can affect the oral development of babies. When infants start teething, it is important to make sure you establish a regular oral health routine and have your child visit a dentist before their first birthday to ensure that their teeth and gums are in good shape. In addition, you should avoid long-term pacifier use, particularly after your baby is two years old or when their adult teeth start growing in.
As mentioned above, many oral health professionals recommend that a child visit the dentist before their first birthday to ensure the baby is developing well and to identify any issues or oral health problems early on. Another issue apart from pacifier teeth that can occur during infancy is tooth decay which can result from baby bottle use. This can occur when acid on teeth formed by bacteria damages tooth enamel, which can cause future cavities.
If you notice any issues with the development of your child's teeth, you should schedule an appointment with your dentist to rule out any oral health issues which could cause problems down the road. If your child uses a pacifier and their adult teeth are beginning to grow in, it may be the right time to start weaning them off of the pacifier to prevent these development issues. Prolonged use of pacifiers can result in crooked teeth, alignment issues, and development issues which could affect the oral health of your child. Practice a good routine to wean your baby off of their pacifier to avoid any of these future problems. If you have any questions or concerns about the oral health of your child, consult your dentist today and be sure to start a consistent oral hygiene routine for your baby early on in their life to ensure the proper development of their teeth.
Relate Posts to Read:
Baby Bad Breath: Most Common Causes and Remedies