This Baby Teeth Timeline Will Help You Know What to Expect in the First 2 Years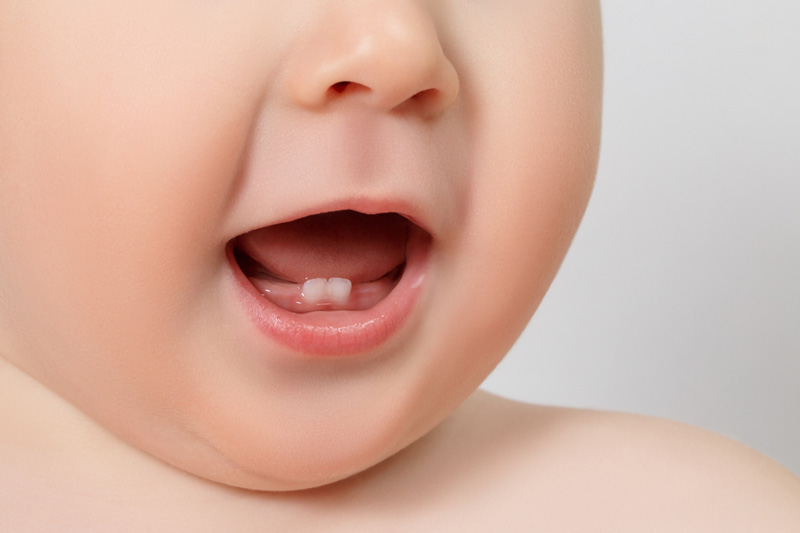 There is nothing quite as amazing as bringing new life into the world, and while waiting for the arrival, parents spend a lot of time researching what to expect during childbirth. Yet when it comes to the development of teeth, also known as teething, parents are sometimes at a loss wondering what they can do to ensure that the health of the teeth is at its best. In this post, we have put together a baby teeth timeline that will explain everything that you need to know in the first two years.
Understanding the Process

Ah, the teething process. The part every parent dreads—more sleepless nights, the feeling of uselessness knowing that there's nothing you can do. But secretly there a small sense of happiness deep down. Your child's teeth are developing and breaking through. They are already growing up. Every child's teeth are different and form in different ways. It is important for parents that have had a second child to understand this because if they start comparing the process to their first child, then they could become alarmed for nothing. Of course, a dentist appointment should be made when the teeth first appear so that they can be examined to ensure that everything is happening as it is supposed to.
Before Teeth Are Even Visible

Just because you can't see the teeth doesn't mean that they aren't there. Below the gums, the teeth are forming and getting ready to push themselves through. But just because they aren't there yet doesn't mean that you can't look after them. Harmful bacteria will still gather on the gums and so it is recommended for parents to gently wipe the baby's gums with a warm damp cloth. This should be done several times a day or after every feed. It will help to clear the bacteria and keep the gums in perfect condition, which, in turn, promotes healthy teeth. There are even small, soft rubber coverings that you can purchase which slides over the fingertip enabling you to wipe away any remaining food particles.
The Teething Process

Six months old is the common age for children to start getting their first teeth to come through. The very first visible teeth tend to be the bottom front teeth and are known as the central incisors. After that, the upper central incisors will likely appear. Once the first few teeth have come through, they generally start to break through in pairs one on the top and one on the bottom. This isn't always the case, but it is quite natural as it reflects the symmetry of the bite. Luckily, the teething process rarely happens all at once. This allows the child to gain some relief and enables the parents to hopefully get a better night's sleep. Sometimes, it could happen in bursts, the first few coming through first then nothing for a while, then a few more, and so on. In most cases, all of a child's baby teeth are fully developed by the age of two to three and a half.
Taking Care of Baby Teeth

Unfortunately, some parents assume that because baby teeth eventually fall out, it doesn't really matter if they are brushed or looked after as thoroughly as they should be. This is a very large mistake. In fact, baby teeth pave the path for the adult teeth. They create the proper spacing for the second set of teeth and also play a part in how the child will talk and eat. If baby teeth result in decay, it could very easily ignite gum disease that will have large repercussions for the formation and health of the adult teeth. One of the major causes of cavities in baby teeth is putting a child to bed with a bottle of milk or juice.
Brushing Baby Teeth

So, now that we have established that brushing baby teeth are important, it's time to discuss toothpaste. For children, a child-friendly toothpaste should always be used as their natural instincts will tell them to swallow the toothpaste. If a fluoride-based toothpaste is used and the child eats it, they could become very sick. That being said fluoride is still needed to help fight against cavities. Children can get sufficient amounts of fluoride from water. Getting your child into the routine of drinking decent amounts of water every day will enable them to get that fluoride that is needed. Most parents like to try and get their child in the routine of brushing their teeth themselves; however, nine times out of ten the child won't (or can't yet) clean them properly. Again, parents let it slide as they think it's simply practice for when the adult teeth come through. However, as we have already established, it is extremely important to take care of the baby teeth, and so it might be best for the parent to brush the teeth themselves. In the dental industry, many dentists actually brush their own children's teeth right up until the child reaches 12 or 13. By this point, the child is familiar with the exact process of a thorough dental hygiene routine, and it has now developed into a habit that they will probably carry on for the rest of their life. It's completely understandable to want your child to develop the habit on their own, and so you could always encourage the child to start brushing their teeth themselves before redoing it properly.
It is a well-known fact that a majority of adults wish that they had taken better care of their teeth in their younger years. When children's teeth arrive, it's important that they understand how important it is to take care of them and brush them properly. Establishing and practicing a strong oral hygiene routine will start your children off on the right path for good oral health later in life. Don't forget to book in for a dental check-up when the baby teeth start coming through, just to ensure that everything is forming correctly.
Relate Posts to Read:
Do Baby Teeth Have Roots? And Other FAQs