Do Whitening Strips Work?
Over the counter teeth whitening procedures earn manufacturers billions of dollars every year, but do whitening strips work?
At-home teeth whitening is a cheaper alternative to in-office procedures. Products claim to take away the stains of coffee, wine, cigarettes, and other things that cause the white of our teeth to dull over time. There are also medications that discolor teeth. Regardless of why your teeth aren't white anymore, you've likely considered using whitening strips to remedy the situation.
One of the main concerns people who question the effectiveness of whitening strips have is the fact that the product is regulated by the government. There are many products on the market that don't work, regardless of what the maker claims. But this doesn't mean you have to live with discolored teeth.
What Should You Know about Whitening Strips?
Everyone's teeth will get darker with age. Older people tend to have teeth that are dull yellow or brown, even if they have been careful about their dental care their entire life. Unless you drink and eat nothing but water over the course of your life, your teeth will be exposed to things that cause discoloration and eventually it will make a difference.
Whether or not teeth whitening products work and how well they will work depend on a couple of things. First, it matters what type of discoloration is causing the problem.
Intrinsic discoloration develops over time. It becomes the natural color of a person's teeth and is difficult to remedy. In-office treatments can penetrate the layers of the teeth and help whiten intrinsic discoloration, but at-home products rarely have an effect.
Extrinsic discoloration, on the other hand, comes from deposits on the surface of the teeth. It's caused by exposure to foods, but also might occur when a person takes certain medications. In these cases, at-home treatments are more likely to produce results.
To learn more about the different types of tooth discoloration, check out this information from Colgate.
It's important to note that if you haven't taken care of your teeth, bleach and whitening products aren't going to help much. Whitening teeth requires the teeth be healthy and won't do much to affect color if there is decay or cavities. Not to mention if your teeth are damaged,and the whitening agent gets into a hole in your teeth it will cause extreme pain. It's important to make sure your teeth are healthy before using any whitening products or whitening strips, at-home or otherwise.
What Whitening Products Work Best?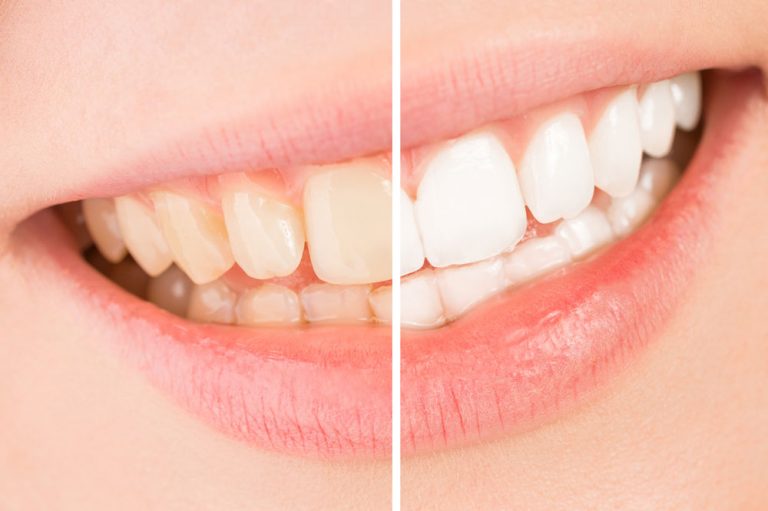 There are mixed opinions concerning how effective various whitening products are. Some dentists believe at-home whitening strips are no more effective than whitening procedures done by a professional. Other people believe that whitening strips aren't that effective, but other procedures, such as UV light works better.
And still, others believe none of the whitening products – rinses, mouthwashes, whitening strips, UV lights, etc. – are that effective.
The bottom line? If you're interested in a whitening product, do some research concerning which products get the best reviews and give it a try, as long as your teeth are healthy. If you notice an improvement in the color of your teeth,you can assume that whitening product works for you. If you don't like the results, then that particular product is ineffective.
Using Whitening Strips for a Major Event
Many people decide to whiten their teeth for a specific event, such as a wedding or anniversary. If this is the case for you and you want to be sure the product you use is effective, you have two options.
If there is time, you can try a few of the "better" whitening strips you can buy at the store and see which works for you. A bit of trial and error should get you something that works and allow you to whiten your smile by a few shades by the big day.
For people with less time or those who lack the patience to experiment with whitening trial and error, dentists have tried and true methods for whitening.
A dentist who performs whitening when you need a fast result can paint over your teeth with a brightening formula. And if you want to invest in a whitening solution long-term and time and money are no object, veneers are the way to go. They are the best option for those who want a perfect smile and for whom money is no object.
If you'd like to know more about porcelain veneers,read this information from WebMD.
What are the Best At-Home Whitening Strips?
Of all the whitening strips available, Crest Whitestrips are known for having the best results. It's also possible to buy whitening trays in the store and get some whitening effects.
Mouthwashes and rinses with hydrogen peroxide rarely provide noticeable results, but if you commit to using a rinse, it could give you moderate results. And by committing, you'll need to rinse every day several times a day for several minutes for several months to see results. Be careful because this much effort put into whitening can cause teeth to become sensitive and you'll be dealing with a whole other set of issues, even if your teeth are whiter.
Speaking of the commitment required for whitening products, most of the success comes from long-term whitening. Unless you plan to stop eating and drinking after you've whitened your teeth, there's a good chance the whitening you do will be undone over time. In-office whitening procedures usually last about two years and require follow-up maintenance about once every six months.
It is possible to get in-office results with an at-home product, but you'll need to spend more than you would for a general whitening strip product. Most take home treatments from the dentist cost at least $500 and aren't covered by insurance because they are considered cosmetic.
Choosing the Whitening Strips that are Right for You
Your best bet is to speak to your dentist about your whitening goals and use the information you're provided to choose the best method for you. In some cases, you'll have limited choices because of time or money, but if the sky is the limit, chances are you'll be able to whiten your smile dramatically.