Gentle Dental Care: How to Seek Out Help for Sensitive Teeth

Sensitive teeth—a common problem
Many people have sensitive teeth. Tooth sensitivity can be quite unpleasant sometimes, whether this is an ongoing or recent condition. For many of us, chewing and tasting is one of the main ways we experience pleasure—biting into a velvety ice cream cone, crunching a sweet piece of candy, taking the first sip of an excellent cappuccino. We may take it for granted that we can enjoy these experiences. For those with a sensitive tooth when it comes to hot or cold food, as well as sweet or acidic food, it's not so easy. We use our teeth for so many things and, when they ache, it can have an enormous impact on the quality of our life.
As your dentist will tell you, sensitive teeth can be caused by a variety of factors, but tooth decay is a common culprit. Receding gums, erosion of the tooth's enamel, too decay, exposed tooth nerves, chipped teeth, gum disease, teeth clenching, and teeth root plaque, as well as damaged tooth enamel caused by poor oral hygiene and even brushing too hard, can all cause your teeth to hurt in a way that makes you want to down painkillers and lie in bed all day. If our teeth are worn or cracked, this can often cause some nerve pain. Going to work can be tough at times, and you may find yourself less willing to socialize. There are some other reasons your mouth may be sore: recent dental procedures, products used to whiten your teeth, and trauma to the face can cause your mouth to become sensitive as well. What's more, you can make sensitive teeth worse by brushing too hard with a stiff-bristled toothbrush. Often, people tend to brush too hard in their enthusiasm to keep their mouths clean. We find that that gentle, consistent, comprehensive brushing keeps your mouth just as clean, if not cleaner, than aggressive brushing. Plus, when you brush too hard, you can scratch your gums, creating more spaces for bacteria to settle in, grow, and to continue feeding on any bacteria that come their way.
How to treat pain from sensitive teeth

Tooth pain can be extremely frustrating—and there are as many different ways to treat tooth pain as there are causes for it—but there are a few things you can do to try to feel better. The first involves special toothpaste made to help with sensitive teeth. Toothpastes we like include some from Sensodyne (this kind is good too), Squigle Tooth, and Colgate. These toothpastes have different substances in them such as potassium nitrate—this can help protect the dentin. With this toothpaste, however, you'll need to use it consistently to ensure that the effects remain. Certain mouthwashes can also help with pain. Sometimes you'll find toothpaste for sensitive teeth that has whitening qualities as well.

This sounds obvious, but, if you don't already have one, get into a good brushing and flossing routine so that you won't give bacteria and plaque a chance to linger. And you can use toothpaste that will help rebuild the enamel of your teeth so that the surface of your teeth remains strong.

Purchase a toothbrush that has soft bristles (rather than medium or hard), if you don't already have one, and take it easy when you're rubbing the bristles along your gums because they're quite sensitive. You shouldn't bleed when you brush your teeth and you will want to make sure that you're brushing for two full minutes. You might even consider buying and wearing a mouth guard at night if you suspect you may be grinding your teeth a bit. When you do grind your teeth you're running the risk of opening up your dentin layers, which means they're vulnerable to bacteria. Some people may not even realize they're doing this, but they often experience some soreness in the morning. It's always a good idea, if you can, to eat foods that are not only good for your body but also good for your teeth. This can be done by avoiding overly acidic drinks and foods, like fruit juice, soda, fruit, pickled goods, and even tomatoes, which can wear away at your enamel. The loss of enamel on your teeth is permanent.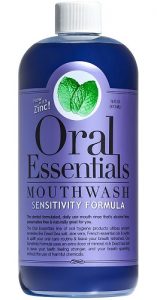 If you're suffering from sensitive teeth, one option you have is to ask your dentist to apply a coating, like a fluoride varnish or a type of plastic resin, to the surface of your teeth. The time this coating lasts varies from six months to several years. Regular X-rays can also help identify areas where the plaque is building up too much or where decay may be occurring in your teeth.

To treat some types of tooth pain, you may want to find out whether or not you're grinding your teeth in your sleep, which can cause headaches and pain throughout the day. Some people also tend to clench their teeth throughout the day, especially in periods of stress or when they're working hard, so this can be something to be aware of. You might want to try to use essential oils in the evenings and in the morning to help your body feel more relaxed. Burning incense can also help to soothe tired muscles.
Some people find that reducing the amount of coffee and tea they're drinking helps with sensitive teeth, as the acids in these drinks can exacerbate tooth pain. You can even start by trying watering these drinks down, rather than going without them altogether. We also recommend that you begin brushing your teeth with warm rather than cold water, which is less of a shock to the system. You can even start to chew sugar-free gum, which helps your mouth to make saliva that helps remineralize your enamel. Gum containing sugar, however, will definitely make any sensitivity issues worth.
Whitening your teeth can also make any tooth pain you're experiencing worse, as the substances used can aggravate your teeth. They can irritate the nerves, which may be more exposed than is normal.
The bottom line is that the best way to treat sensitive teeth is to keep up a consistent oral healthcare regime. In this way, the bacteria and plaque buildup in your mouth will be kept to a minimum, reducing chances of infection.